World Commuity Solving Problems
World Community Grid - Download
System requirements - BOINC
Your computer must satisfy the following requirements to run BOINC.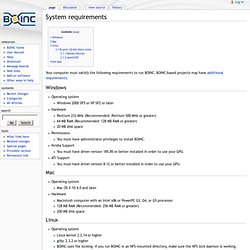 GPU computing - BOINC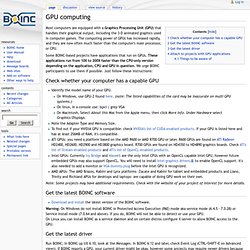 Most computers are equipped with a Graphics Processing Unit (GPU) that handles their graphical output, including the 3-D animated graphics used in computer games. The computing power of GPUs has increased rapidly, and they are now often much faster than the computer's main processor, or CPU. Some BOINC-based projects have applications that run on GPUs.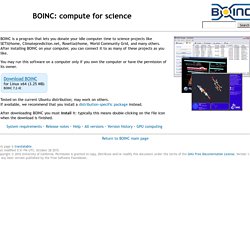 BOINC: compute for science
BOINC is a program that lets you donate your idle computer time to science projects like SETI@home, Climateprediction.net, Rosetta@home, World Community Grid, and many others.
Volunteer Computing Needs You
World Community Grid needs you to spread the word!Here is a smart way of benefiting humanity. Use your computer downtime to add power to World Community Grid.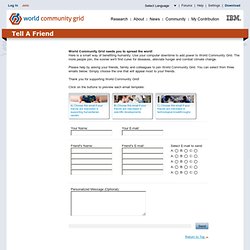 Tell A Friend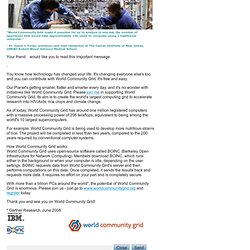 "World Community Grid made it possible for us to analyze in one day the number of specimens that would take approximately 130 years to complete using a traditional computer."
World Community Grid - Tell A Friend E-mail Preview
"World Community Grid has enabled my lab at Scripps to engage in critical computational research to design new anti-HIV drugs based on molecular structure.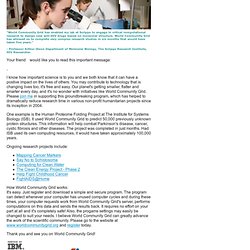 Tell A Friend E-mail Preview
"Scientists believe that the grid of client computers around the world will complete the Help Conquer Cancer project image analysis that would otherwise take up to 162 years in roughly two years."
Tell A Friend E-mail Preview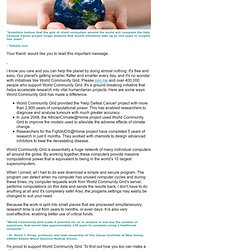 Sitemap
Download
1KP-Home
Frame at lower right scales
Nutritious Rice for the World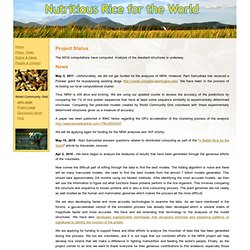 Project Status
Nutritious Rice for the World Research Project Completion Member News
News Article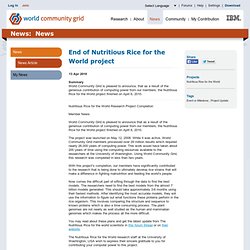 For the past four years, Lauren Moran has devoted herself to groundbreaking cancer research, chronicling the fickle interaction between molecules and proteins. Despite having a full-time job -- "stat geek" on the New York Yankees' media relations staff -- Moran screens drug candidates daily. And continuously. She conducts experiments while talking on the phone to her parents, attending games at Yankee Stadium, and watching episodes of The Office in her Bronx apartment.
How IBM's World Community Grid Is Helping Cure AIDs, Cancer, and