EPA
Íonz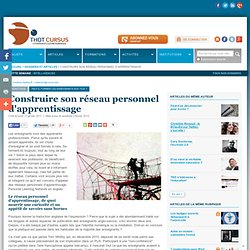 Les enseignants sont des apprenants professionnels. Parce qu'ils savent et aiment apprendre, ils ont choisi d'enseigner et se sont formés à cela. Se forment-ils toujours, tout au long de leur vie ? Selon le pays dans lequel ils exercent leur profession, ils bénéficient de dispositifs formels plus ou moins étoffés pour cela; ils lisent et s'informent également beaucoup, cela fait partie de leur métier.
A Collection of PLE diagramsNOTE: You can log in with the guest account (edtechpost_guest, same password) to add your own PLE image to the wiki or email them to me at edtechpost@gmail.com. Index Tool-Oriented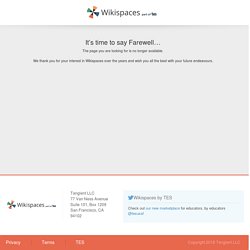 Graasping the Basics - Une Introduction à graasp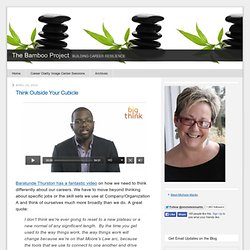 The Bamboo Project Blog
Alan Weinkrantz has a series of interesting blog posts over at Chris Brogan's Owner Mag on the idea of the StartOver economy. This is an economy where things are moving quickly and where yesterday's success is no guarantee that tomorrow will bring the same. This idea of the StartOver economy should resonate with all of us. Often the StartOver is a result of forces outside of our control--the impact of technology on our jobs or the unrelenting downsizing that is going on world-wide. If we haven't experienced a layoff ourselves, we certainly know plenty of people who have. For mid-career professionals, the StartOver can occur when we've reached a pinnacle of success in our field and realize that we're bored with where we're at or that we need to explore a long-deferred dream.
PagePrincipale
Environment » eLearning Learning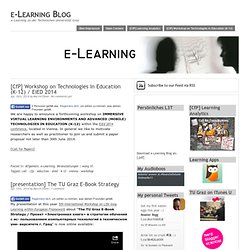 [CfP] Workshop on Technologies In Education (K-12) / EiED 2014 We are happy to announce a forthcoming workshop on IMMERSIVE VIRTUAL LEARNING ENVIRONMENTS AND ADVANCED (MOBILE) TECHNOLOGIES IN EDUCATION (K-12) within the EiEd 2014 conference, located in Vienna. In general we like to motivate researchers as well as practitioner to join us and submit a paper proposal not later than 30th June 2014. [Call for Papers] [presentation] The TU Graz E-Book Strategy My presentation at this year 5th International Workshop on Life-long Learning within European Framework about "The TU Graz E-Book Strategy / Проект «Электронная книга» в стратегии обучения с ис- пользованием компьютерных технологий в техническом уни- верситете г.
e-Learning Blog