Weightloss/ Self- Improvement
Art by LaetitziaAs we all know, communication is essential in society. Advancements in technology have transformed the way that we correspond with others in the modern world. Because of the constant buzz in our technological world, it's easy to forget how important communicating face-to-face is. When conversing old-school style, it's not only speech we verbalize that matters, but what our nonverbal gestures articulate as well.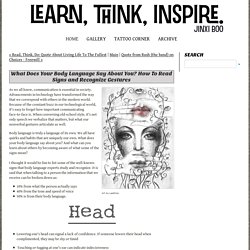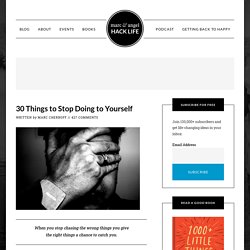 post written by: Marc Chernoff Email When you stop chasing the wrong things you give the right things a chance to catch you. As Maria Robinson once said, "Nobody can go back and start a new beginning, but anyone can start today and make a new ending." Nothing could be closer to the truth. But before you can begin this process of transformation you have to stop doing the things that have been holding you back.
The 15 Best Fat-Burning Foods 1. Walnuts All nuts do contain some amount of the omega-3 fat alpha-linolenic acid, but most only contain trace amounts. One ounce provides almost 3g of alpha-linolenic acid. 2.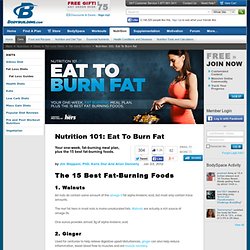 Buy a bottle of perfume and you could pay as much for its advertising as its contents. The Sceptical Shopper sniffs out some niche alternatives ... From INTELLIGENT LIFE magazine, January/February 2012 Wearing scent is one of life's pleasures. Humans have been dousing themselves in concoctions of olfactive molecules since at least the Bronze Age, and any habit that persistent has to have something going for it. Yet it does seem odd that most of the time we mask our own, genetically unique smell with others so widely available you can catch a whiff of them in cities across the planet: Opium on the streets of Barcelona, Eternity in Istanbul.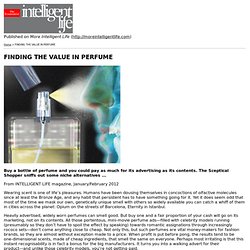 post written by: Marc Chernoff Email In various ways, these 30 books convey some of the philosophy of how Angel and I live our lives. I honestly credit a fraction of who I am today to each title. Thus, they have indirectly influenced much of what I write about on this site. A medley of both fiction and nonfiction, these great reads challenged my internal status quo, opening my mind to new ideas and opportunities, and together they gave me a basic framework for living, loving, learning and working successfully.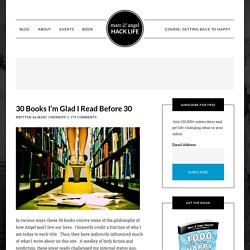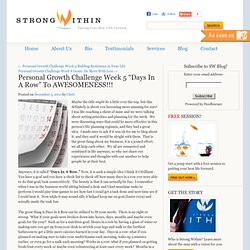 Personal Growth Challenge Week 5 "Days In A Row" To AWESOMENESS!!! | Strong Within
Maybe the title might be a little over the top, but this definitely is about you becoming more amazing for sure! I was life coaching a client of mine and we were talking about setting priorities and planning for the week. We were discussing ways that could be more effective in this person's life planning regimen, and they had a great idea. I made sure to ask if it was ok for me to blog about it, and they said it would be alright with them.
Developing good habits is the basic of personal development and growth. Everything we do is the result of a habit that was previously taught to us. Unfortunately, not all the habits that we have are good, that's why we are constantly trying to improve. The following is a list of 30 practical habits that can make a huge difference in your life. You should treat this list as a reference, and implement just one habit per month.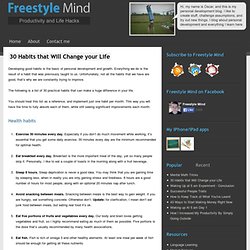 Learn This
Well, without always taking the time to make notes and write up a full book review, I thought I would blast out a summary of 14 books I've read recently and my major takeaways and ratings of these books. Author: D.Levitt & Stephen J. Dubner This a great book and sequel to the first, Freakonomics.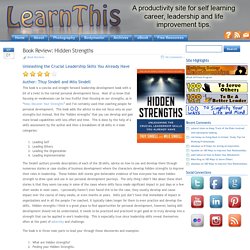 The Bold Life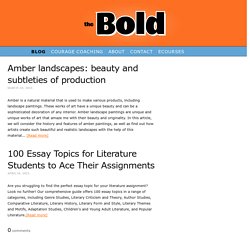 The responsibility for the quantity and quality of love in our relationships belongs to each of us. We have the choice to infuse love into every moment of our day and to build an amazing life. Hubs and I will celebrate our 42nd wedding anniversary on Tuesday. We were married when I was 17 and pregnant. We learned very early, and sometimes the hard way, that improving and maintaining a loving relationship takes commitment willingness and effort.
Six Pack Abs, Ripped Abs, HOW TO GET SIX PACK ABS IN 16 WEEKS OR LESS
Before you sign up on the right, make sure to watch the video below Get My Abs Workout Program Right Now My FREE membership has its advantages!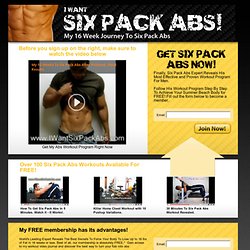 Having trouble remembering the exercises? Don't worry, with time you'll know them all by heart, especially if you're working out regularly. Here is a break down of Bootcamp's exercises in each of the four categories. The in app exercise picture along with the description are listed below.
For many people struggling with their weight, the incredibly supportive blog community can help you connected, focused, and uplifted. Here are several blogs from that community that include stories from men and women trying to lose weight and people who have already met their goals and are now working to maintain their weight. These blogs from medical professionals and individuals will help you find motivation when it comes to fitness, nutrition, and feeling good about yourself. Girls Losing It With the majority of the weight loss blogs coming from women, there are many great stories and posts from the female perspective. Many of them are listed below.
Top 100 Weight Loss Blogs | U.S. PharmD
Make it Fly! by Brigitte Cobb is subtitled "The step-by-step guide to make ANY idea, project or goal take off." It's a project management book with a difference – it's not about project management and it's not aimed at project managers. It's just a method to get things done.