Fav Blogs
Where I live the words: lesbian, gay, and bisexual are used to insult people. Or like, teenagers use them, like, for serious bullying. And i hate how it really feels insulting to be called bisexual because for crying out loud, i /am/ bisexual. March 6, 2014 | 0 comments "You shouldn't have gone alone!" In response to me telling a close male friend of mine a bad experience I had with sexual harassment during a doctors appointment.
Microaggressions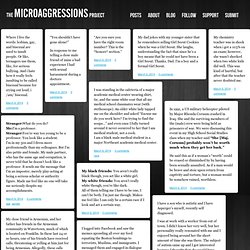 Not Your Average Feminist
All Girl Army
Tomorrow, March 8, I will be traveling to Austin, Texas to take part in the Planned Parenthood Lobby Day. I will post about this in a couple of days probably, but I just wanted to do a quick post about something that I've been thinking about lately. Here goes: Birth Control.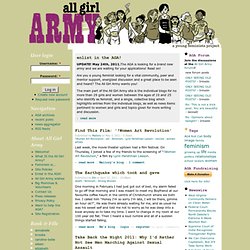 Feministing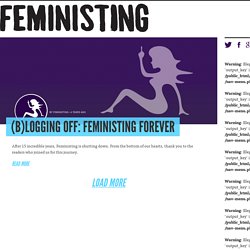 Dear Chancellor Folt: A Native American student letter. Compare the NYT Mag's Hillary Clinton cover to their cover images for male politicians. Lori Adorable reviews Remedy. This video about women in the arts is kinda cool, but also ignores that creative things happen outside of the "art world."
TRIGGER WARNING: This video contains a handful of graphic scenes involving violence against women. Parents should preview the video first before sharing with young children. VIDEO DESCRIPTION This is the second in a series of three videos exploring the Damsel in Distress trope in video games. In this installment we look at "dark and edgy" side of the trope in more modern games and how the plot device is often used in conjunction with graphic depictions of violence against women. Over the past decade we've seen developers try to spice up the old Damsel in Distress cliche by combining it with other tropes involving victimized women including the disposable woman, the mercy killing and the woman in the refrigerator.
Feminist Frequency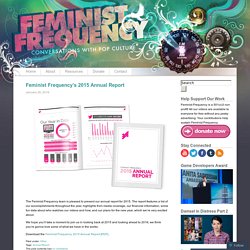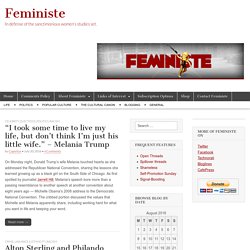 Feministe
Shameless Self-Promotion Sunday Promote yourself. N.B. remember your netiquette.
Bitch Media
Here's the news on our radar today! • Yesterday was the anniversary of Roe v. Wade! Current polling shows that 52 percent of Americans support access to legal abortions. [AlJazeera] • Speaking of reproductive rights and the utter fear of going back to the 20th century, the women of Downton Abbey have been confronted with some serious issues surrounding birth control and unwanted pregnancy this season.