DESIGN NEWS
Design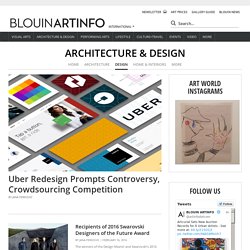 Marking one of its most remarkable collaborations to date, Swarovski in mid-November staged an intimate dinner in the Galeries des Batailles at the Palace of Versailles following a private... Bouroullec brothers, Europe, Gabriel Chandelier, inauguration, Palace of Versailles, Swarovski, Video, vidéo, Design, Paris, Architecture & Design Seventy years from now, how will the world be different?"I probably won't even, like, see my grandchildren.
Design !ndex
Le vintage… à la pointe de la modernité! Si vous aimez travailler le verre et que vous souhaitez revisiter un objet d'une de ces 4 catégories: potsvinspiritseau et boissons non alcoolisées Participez au concours Verallia. Date limite de dépôts des dossiers: 31 Janvier 2014! Bonne chance à tous!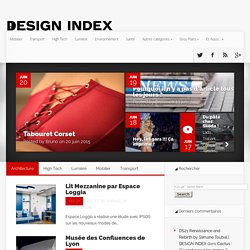 mONSTER dESIGN gROUP / aDVANCED dESIGNERS oNLY !!!
Indian native and UK resident Anish Kapoor and Japanese architect Arata Isozaki have designed a concert hall with a peculiar twist called Ark Nova. It is a giant purple air-inflated membrane structure, which is widely referred to as the world's first inflatable concert hall. The unconventional structure is modeled at least partly on Kapoor's Leviathan installation. The hall which comes equipped with the necessary stage and sound equipment and surrounding area, various programs will be[.....]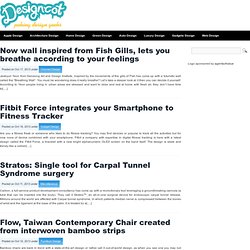 Design Cot : In Design, Web design, Graphic Design, Home design, Fashion design, Auto design, Green design inspirations around the web
Design You Trust – Design and Beyond!
The CP1 Lounge Chair was created by the famous Charles Pollock for Bernhardt Design. Charles Pollock, in case you didn't know, was the one who dreamed up the office chair back in 1963. He died in 2013 in a fire, but came up with one last creation before he died. Continue reading "Daily Gadget Inspiration #83" » Unbelievable way of opening doors by rotating it with a gentle push.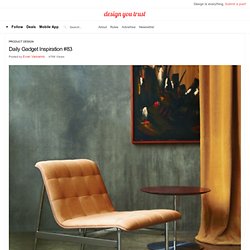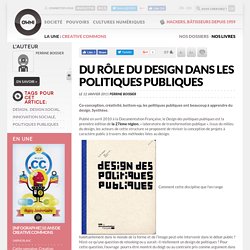 Co-conception, créativité, bottom-up, les politiques publiques ont beaucoup à apprendre du design. Synthèse. Publié en avril 2010 à la Documentation Française, le Design des politiques publiques est la première édition de la 27ème région, « laboratoire de transformation publique ». Issus du milieu du design, les acteurs de cette structure se proposent de réviser la conception de projets à caractère public à travers des méthodes liées au design. Comment cette discipline que l'on range habituellement dans le monde de la forme et de l'image peut-elle intervenir dans le débat public ?
A partir d'aujourd'hui et jusqu'à dimanche, l'Institut français de Cologne et la villa Noailles présentent le travail de Julie Richoz, lauréate du Grand Prix Design Parade en 2012. La designer y dévoile notamment ses projets conçus à l'occasion de résidences à la Cité de la céramique de Sèvres, au CIRVA (Centre International de Recherche sur le Verre et les Arts plastiques) et à la bourse de création de la Galerie Kreo, obtenues dans le cadre du Grand Prix Design Parade. Lire la suite »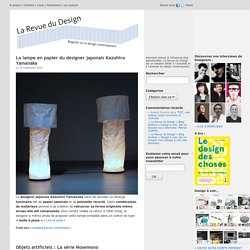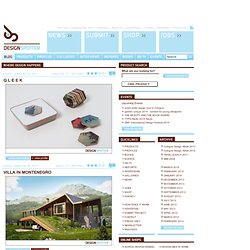 Submit your products and projects here Crowdfunding, Kickstarter, ACCESSORIES, APPS, ARCHITECTURE, AUTOMOTIVE, BICYCLE, BOOKS and MAGAZINES, CLOCK, COMMUNICATION, CONCEPTS, DECORATION, ECO, GREEN, E-NEWS, FASHION, FURNITURE, GADGETS, GRAPHIC, GREEN, HANDMADE, HOTELS, INDUSTRIAL, INTERIOR DESIGN, JEWELRY, KITCHEN, KIDS, ONLY, LIGHTING, MATERIAL, MOBILE, PROJECTS, SHOES, STORES, SHOPS, TABLEWARE, URBAN STREET ART, WALLPAPER, WATCHES, WEBDESIGN and spread the message via social media :-)
Last spring the Swedish Central Bank (SCB) announced a competition to find new designs for the Swedish bank notes. Eight designers was shortlisted and from them a winner was chosen, Göran Österlund and his Kulturresan (the culture journey). Göran Österlund isn't new to designing money and was in fact part of the design team that developed the current bills, 30 years ago. Not really fair to the other designers to have someone who knows how the SCB thinks and I believe that it shows in the final design. The bills are more an extension of the current line of bank notes, a safe bet and not a whole new design.
Below The Clouds