DESIGN NEWS
Design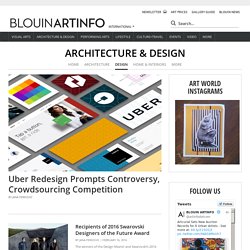 One late afternoon early this year—about a week after First Lady Michelle Obama was photographed at her husband's second swearing-in ceremony in a custom ultramarine shift dress and matching cardigan—Reed Krakoff, the designer of that svelte ensemble, sat... SHANGHAI — The sprawling James Bond exhibition "Designing 007: 50 Years of Bond Style" features more cars, girls, gadgets and tuxedos than you can wave a golden gun at.
Design !ndex
mONSTER dESIGN gROUP / aDVANCED dESIGNERS oNLY !!!
Design Cot : In Design, Web design, Graphic Design, Home design, Fashion design, Auto design, Green design inspirations around the web
Design You Trust – Design and Beyond!
The Victoria & Albert Museum has been given unprecedented access to the David Bowie Archive to curate the first international and exclusive retrospective of the extraordinary career of David Bowie – one of the most pioneering and influential performers of modern times. David Bowie is will explore the creative processes of Bowie as a musical innovator and cultural icon, tracing his shifting style and sustained reinvention across five decades. Continue >>> By Dmitrij Paškevič [via Creative Blog ] Like us on Facebook & Twitter for Creative Updates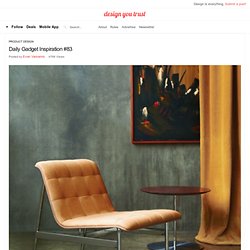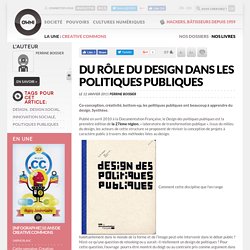 Co-conception, créativité, bottom-up, les politiques publiques ont beaucoup à apprendre du design. Synthèse. Publié en avril 2010 à la Documentation Française, le Design des politiques publiques est la première édition de la 27ème région , « laboratoire de transformation publique ». Issus du milieu du design, les acteurs de cette structure se proposent de réviser la conception de projets à caractère public à travers des méthodes liées au design. Comment cette discipline que l'on range habituellement dans le monde de la forme et de l'image peut-elle intervenir dans le débat public ?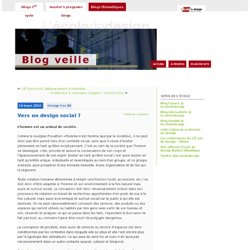 Vers un design social ?
L'homme est un animal de société. Comme le souligne Proudhon «l'homme n'est homme que par la société»1, il ne peut donc pas être pensé hors d'un contexte social, sans quoi il cesse d'exister pleinement en tant qu'être social pensant. C'est au sein de la société que l'homme se développe, crée, procrée et assure la conservation de son corps et l'épanouissement de son esprit. Exister en tant qu'être social c'est aussi exister en tant qu'entité unique, individuelle et revendiquée au sein d'un groupe, et ce groupe a besoin, pour prospérer d'une entraide mutuelle, d'une organisation et de lois qui le régissent.
Below The Clouds