Global Aspects of Public Health International Organizations
Information and statistics relating to the field of public health from international organizations. Nov 11
ALISS (Association of Librarians and Information Professionals in the Social Sciences)
Aliss Quarterly landing page
WHO | Regional Office for Africa
WHO/AFRO Library site
WHO's Institutional Repository for Information Sharing
World Health Statistics
WHO Global Infobase : Home
Health
Africa Development Indicators
Statistics in Africa - Africa Development Indicators (ADI) 2010
310.1 million Sub-Saharan Africa's urban population in 2009 56 Percentage of seats held by women in Rwanda's national parliament 1,049 Number of mobile phones per 1000 people in Seychelles 24 Percentage of rural population in Sub-Saharan African with access to improved sanitation 154.7 million Nigeria's population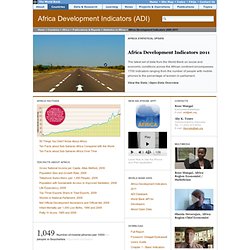 OECD and Africa
Statistics from A to Z - Beta version
Data & Statistics - African Economic Outlook
ESDS International Guideto data resources
This guide is intended to be used as a resource discovery tool for additional internationally available data and information resources.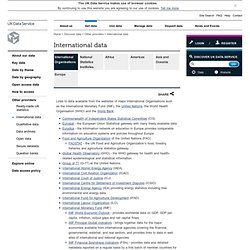 MDGs in Action Quick facts and success stories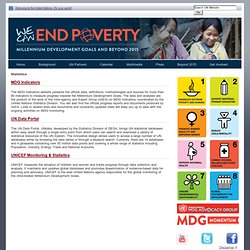 UN Millennium Development Goals
stats | Millennium Indicators
The biennial Gender Chart depicts the situation of women and girls in developing regions as reflected in a number of indicators, some of which are also used to monitor the MDGs. It shows that although there has been some progress in a number of the gender dimensions, more needs to be done, in every country and at every level, to achieve the pivotal third MDG and to reduce persisting levels of inequality based on sex, wealth, location, ethnicity and other markers of disadvantage.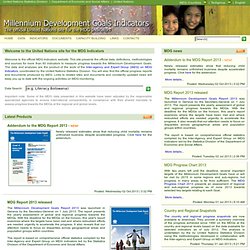 Health-related Millennium Development Goals (MDGs)
UNICEF
Mother-to-Child Transmission, Paediatric Treatment, Prevention, Children Affected by AIDS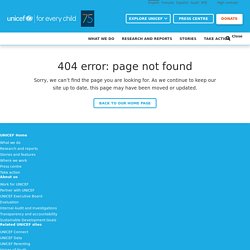 Health - Statistics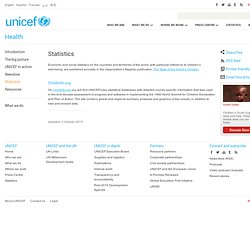 Economic and social statistics on the countries and territories of the world, with particular reference to children's well-being, are published annually in the organization's flagship publication, The State of the World's Children . The latest statistics related to Health can be found in " Table 3: Health (PDF) ". These same statistics can be found, organized by country, in the ' Information by country ' section of this website.
UNODC Statistics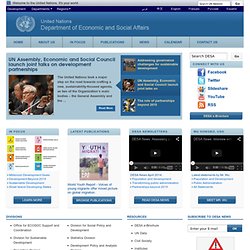 Renewed global partnership critical for post-2015 development agenda, says UN panel 28 March 2013, New York A United Nations panel of eminent persons yesterday called for a renewed global partnership that enables a people-centred development agenda beyond 2015, the target date for achieving the anti-poverty targets known as the Millennium Development Goals. FULL ARTICLE UN forum urges young innovators to use science and technology to change the world 27 March 2013, New York
DESA | UN Department of Economic and Social Affairs
UN Population Division