Symbol
Symbol 24:59
Symbol 54:37
Symbol 51:15
Symbol 50:16
50:16 · The ancient structure has been found both in pre-Columbian America and in Bronze Age Europe. In Europe it is especially associated with the Celtic tribes .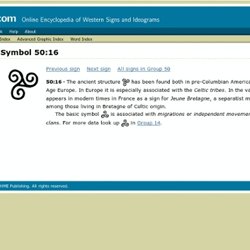 Symbol 50:21
Symbol 48:13
Symbol 48:6
Symbol 47:11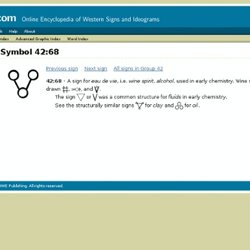 Quick links
Symbol 42:68
Symbol 42:72
Symbol 42:40
Symbol 42:14
Symbol 41a:11
Symbol 36:6
Symbol 32:2
Symbol 32:1
32:1 · An ideogram common in Scandinavia in the Viking era. Both this and its mirror image (the same sign, but with a counterclockwise rotation as seen from the centre of the sign) were used on Celtic vessels before the birth of Christ, and in many other areas. There is a structurally similar Mayan hieroglyph,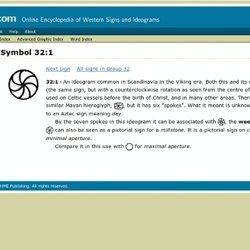 Symbol 32:3
32:3 · The Tibetan symbol for the origins of the universe shows a seed of the universe rotating clockwise in the spiral of potential energy .
Symbol 27:17
Symbol 20:23
Symbol 23:16
Symbol 17:25
Symbol 17:8
17:8 · As an old Italic deity of sowing and harvest, Saturn became the Roman god of agriculture, gardening and vineyard cultivation.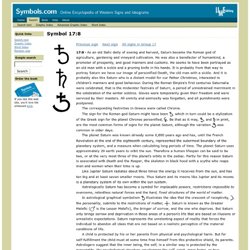 Symbol 15:7
14:9 · A basic element in Western ideography, the clockwise spiral (starting from the middle) is strongly associated with water , power , independent movement , and migrations of tribes . The sign's association with water may rather focus recurring rainy seasons, than water in general. Well in accordance with the law of the polarity of meanings of elementary graphs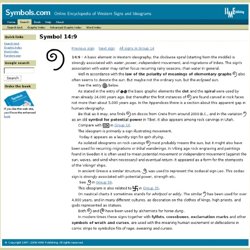 Symbol 14:9
Symbol 14:20
Symbol 9:7
Symbol 3:15
Symbol 3:24
Quick links Google search Order the book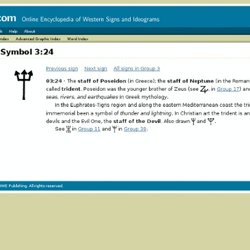 Symbol 21:2
Symbol 15:5
Symbol 26:31
26:30 · This sign is a common theme in folk art all over the earth, especially in the Nordic countries. It is likely that one of the earliest structures of this type was Phoenician. The sixpointed star is seen as a sun symbol by many semioticians, and is believed to be a sun symbol for the Celts.
Symbol 26:30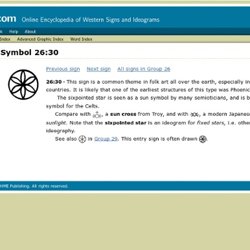 28:29 · The above entry sign, but with a square in its middle, can be seen on a painting from the fifteenth or sixteenth century, a portrait of Vlad, the Pole Piercer, more commonly known as Count Dracula (from Rumanian dracu = devil).
Symbol 28:29
Symbol 31:2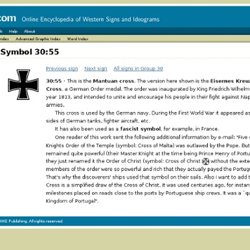 Symbol 30:55
30:55 · This is the Mantuan cross . The version here shown is the Eisernes Kreuz, the Iron Cross , a German Order medal.
30:24 · The sign for the Eastern star , i.e. the planet Venus as the Morning star. It is quite common among the tribal peoples in Africa and the Americas, and drawn both with and without a surrounding circle. For its historical background and origins, see
Symbol 30:24
Symbol 26:23