Recipe Sites
Drinks
The Daily Meal | Restaurants, Recipes, Chefs, Food Trends, Entertaining and Travel Guides. Cooks.com - Recipe Search and More. Bacon cups. I had an occasion calling for bacon themed food and my mind immediately turned towards the famed bacon mat.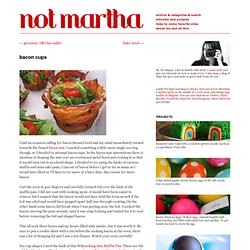 I needed something a little more single-serving though, so I decided to attempt bacon cups. In the bacon mat instructions there is mention of draping the mat over an overturned metal bowl and cooking it so that it would turn out in as a bowl shape. I decided to try using the backs of various muffin and mini cake pans, I ran out of bacon before I got to try as many as I would have liked so I'll have to try more at a later date. Swing Wine Bar in Olympia: Menu. Call for our nightly specials.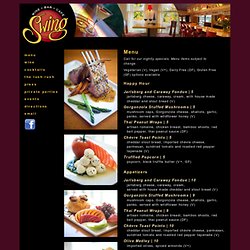 Menu items subject to change. Vegetarian (V), Vegan (V+), Dairy Free (DF), Gluten Free (GF) options available Happy Hour. Epicurious. Food Network - Easy Recipes, Healthy Eating Ideas and Chef Recipe Videos. Foodspotting - Find and recommend dishes, not just restaurants.
---