FASHION LIFE'N STYLE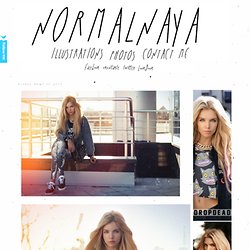 Sunday, March 30, 2014 IAMVIBES VEST, IAMVIBES.CO.UK/IAMVIBES…, in SWIM CRYSTAL COLLECTIVE BY IAMVIBES BLACK ANGEL AURA LEGGINGS,IAMVIBES.CO.UK/PRODUCT/CRYS…, in LEGWEAR Posted by Katy Kutcher at 13:51 7 comments Email This BlogThis! Share to Twitter Share to Facebook
NORMALNAYA
Les Bons Plans | Le Bonbon.fr
How to do anything
Home | NO Magazine
Design Don't Panic
Whitezine | Design Graphic & Photography Inspirations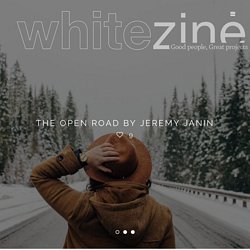 Simon Bouisson is a young french film maker and a new media artist. He likes to travel around the globe making videos as a fun and original diary. Tokyo Reverse is an awesome video of a man travelling across the city backwards but the film is mou...
Kirin Ichiban FrozenOn ne le sait pas fatalement, mais les étés japonais sont particulièrement torrides. Et même dans ce pays où la bière a gagné ses lettres de noblesses depuis plus d'un siècle, difficile d'avoir envie de boire une blonde quand le mercure dépasse les 40°c…Après de nombreuses réflexions et recherches techniques, Kirin, la bière premium japonaise invente la Kirin Ichiban… Ouverture pop-up store Pantone Colorwear !Rien de tel qu'un peu de couleurs pour agrémenter son quotidien et embellir la grisaille parisienne ! Good news! Pantone Colorwear vient d'ouvrir son premier pop-up store européen à Paris, 51 rue du Temple dans le Marais et pour 4 mois durant !Vous retrouverez ainsi au sein de ce pop-up store, tout ce qui fait l'ADN de la marque…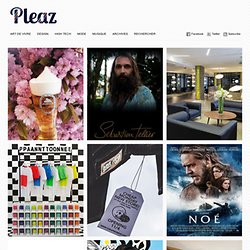 PLEAZ, le blog des dernières tendances
For the legendary expats of Tangier, a life devoted to beauty reaches full flower in this North African hothouse of history and hedonism. More... In his elegantly spare Paris apartment, architect-of-the-moment Joseph Dirand introduces sensuous materials and classical elements to sublime effect. More... The season's strategically worn bandeau tops and shoulder-baring dresses are a sharp and sexy complement to masculine dressing.
T Magazine - Continuous Style Coverage - The New York Times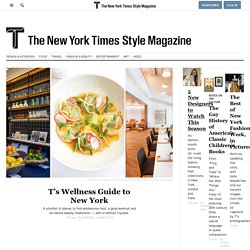 Walter Van Beirendonck - Official Website
L'univers des hommes modernes : mode, lifestyle et luxe avec Gentside
Dazed & Confused Magazine | Fashion, Art, Fashion, Music, Film, Ideas
"Choses vues" by Emery Doligé
Anti Moral Jackpot Infos sur les Arnaques du web, les news et astuces du web
Jane's Stuff Everyone knows you can't trust a Wayne. I mean, right? Sex, Sex, Sex ... and Love With no real reason to settle down, when does the search end?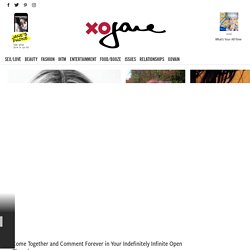 xoJane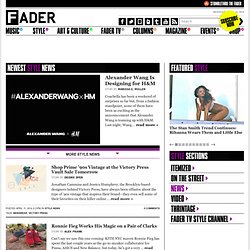 Shop Prime '90s Vintage at the Victory Press Vault Sale Tomorrow Jonathan Cammisa and Jessica Humphrey, the Brooklyn-based designers behind Victory Press, have always been effusive about the type of '90s vintage that inspires their brand—they even sell some of their favorites on their killer online … read more » POSTED April 11, 2014 2:21PM IN STYLE NEWSTAGS: Menswear, victory press Ronnie Fieg Works His Magic on a Pair of Clarks
The Tripwire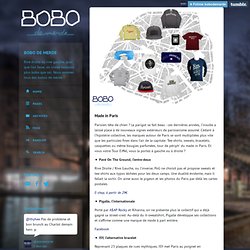 Bobo de Merde*
La chaos et la simplicité ou l'inestimable parisien Le moral dans les catacombes, Paris nous est bien gris. Les yeux usés par les déceptions, on rêve de New York, Montréal, Beyrouth ou parfois pire… de province ! Consolons-nous comme on peut, nous ne sommes pas les seuls : 54% des franciliens voudraient quitter la capitale (#ludansLibé). Une vie contraignante et onéreuse, l'art du réseau élevé au-dessus du sens de l'amitié, une crise prétexte aux abus… Si l'on devait paraphraser La Fontaine, selon que vous serez puissant ou misérable, Paris vous sera blanc ou noir.
Sex Mode & Digestion, Digital Magazine
Après quelques dates parisiennes très remarquées, Zip fait son grand retour au Rex, où il n'était pas venu depuis 2011! Il sera accompagné d'Alex & Laetitia. Tous les trois se connaissent bien, ce qui augure d'une nuit sous les hospices du partage et de la bonne humeur!Soul Capsule, Ricardo Villalobos, Fumiya Tanaka, Baby Ford…La liste est longue et le "name dropping" n'en finit plus chez Perlon, le label fondé par Zip. Les dernières sorties n'ont pas manqué d'être remarquées et remarquables. On pense à The Mole et le magistral Lockdown Party remixé par Dj Sprinkles.
WAD Magazine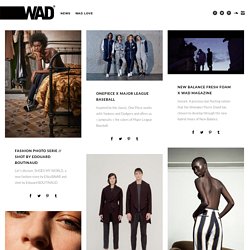 Bhmagazine.fr - Lifestyle magazine
Glamour is What We Are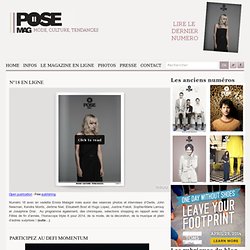 Pose Mag : Mode, tendances et culture
Numéro 18 avec en vedette Enora Malagré mais aussi des séances photos et interviews d'Owlle, John Newman, Kendra Morris, Jérôme Niel, Elisabeth Bost et Hugo Lopez, Justine Fraioli, Sophie-Marie Larrouy et Joséphine Draï. Au programme également, des chroniques, sélections shopping en rapport avec les Fêtes de fin d'année, l'horoscope triple A pour 2014, de la mode, de la décoration, de la musique et plein d'autres surprises ! (suite…)
24/7 Konbini | We're always open
Nicky Siano a écrit une lettre d'adieu à Frankie Knuckles Le DJ résident du studio 54 revient sur 40 ans d'amitié avec le parrain de la house, décédé cette semaine. Les gangsters britanniques adorent (aussi) les réseaux sociaux Voitures de luxe, liasses de billets et cravates fines #nofilter Video Games Killed the Radio Star Al Batard est toujours chauve et écrit toujours sur des jeux ultraviolents où les monstres explosent comme dans les films de Michael Bay The VICE Guide to Travel L'élection de Miss Chamelle Charlet a participé à un concours de beauté pour chamelles, enquêté sur les critères de beauté de cette bête et rencontré des propriétaires prêts à dépenser des sommes phénoménales afin de posséder le plus bel animal. Les raëliens réparent aussi des vagins Les disciples africains de Raël luttent activement contre l'excision.
Vice Magazine