FASHION LIFE'N STYLE
NORMALNAYA. Les Bons Plans | Le Bonbon.fr. How to do anything. Home | NO Magazine. Design Don't Panic. Whitezine | Design Graphic & Photography Inspirations. PLEAZ, le blog des dernières tendances. T Magazine - Continuous Style Coverage. Walter Van Beirendonck - Official Website. L'univers des hommes modernes : mode, lifestyle et luxe avec Gentside. Dazed & Confused Magazine | Fashion, Art, Fashion, Music, Film, Ideas. "Choses vues" by Emery Doligé. Anti Moral Jackpot Infos sur les Arnaques du web, les news et astuces du web. XoJane. The Tripwire. Shop Prime '90s Vintage at the Victory Press Vault Sale Tomorrow Jonathan Cammisa and Jessica Humphrey, the Brooklyn-based designers behind Victory Press, have always been effusive about the type of '90s vintage that inspires their brand—they even sell some of their favorites on their killer online … read more » POSTED April 11, 2014 2:21PM IN STYLE NEWSTAGS: Menswear, victory press Ronnie Fieg Works His Magic on a Pair of Clarks.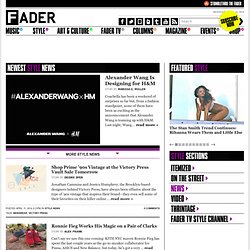 Bobo de Merde* Sex Mode & Digestion, Digital Magazine. WAD Magazine. Bhmagazine.fr - Lifestyle magazine. Glamour is What We Are. Pose Mag : Mode, tendances et culture. 24/7 Konbini | We're always open. Vice Magazine.
---