Ressources
European Internet Foundation
In 2014 Germany will be the host country for EuroDIG. It will be hosted by the Association of the German Internet Industry, eco and under the patronage of the Federal Ministry for Economic Affairs and Energy and in co-operation with the Federal Foreign Office as the hosting location. The overarching theme for EuroDIG will be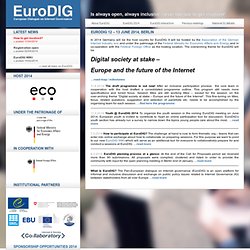 EuroDIG
Coming Soon page
Subreddit on FreeCulture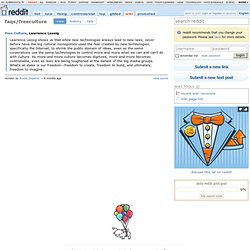 Free Culture, Lawrence Lessig Lawrence Lessig shows us that while new technologies always lead to new laws, never before have the big cultural monopolists used the fear created by new technologies, specifically the Internet, to shrink the public domain of ideas, even as the same corporations use the same technologies to control more and more what we can and can't do with culture. As more and more culture becomes digitized, more and more becomes controllable, even as laws are being toughened at the behest of the big media groups. What's at stake is our freedom—freedom to create, freedom to build, and ultimately, freedom to imagine.
Surveillance & Society Homepage
Diplo Internet Governance Community - Stay networked. Get informed. Broadcast your projects.
From CFPWiki Opening Day: Privacy Tuesday, June 14, 2011
Video - CFPWiki
ITU's facts&figures of Internet Usage
- Ideas for a Better Internet
EPRA
Future of Privacy Forum