Edtech tools
"Now think of yourself as a battery. You really are, you know. Your brain runs on chemically converted electrical current...Okay, the point is this: everything you think, everything you do, it all has to run off the battery. Like the accessories in a car... Watching TV, reading books, talking with friends, eating a big dinner...all of it runs off the battery.
The Counter Cultural -- and Counter-Intuitive Response -- to Gadget Overload (A Rant)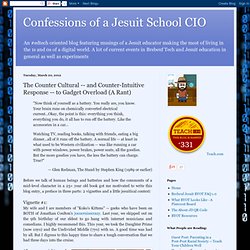 EducatorStudio : Wise Words: A weekly dose of
In the first part of the series we explored Game Goals and how they influence the educational impact. http://geekreflection.blogspot.com/2013/04/shall-we-play-game-part-ii-why-game.html After today, there is probably about one more post in this series, namely because I am hoping to share feedback that I have received from teachers and gamers about the series so far, but it may take a back seat to my need to rant about PARCC tech requirements soon.
Shall we play a game (part III) - Demographics and Hidden Curriculum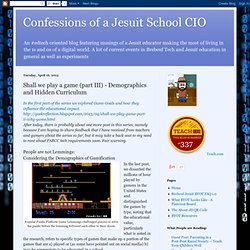 Shall we play a game (part III) - Demographics and Hidden Curriculum
YouTube Video Add-in
Installation Instructions: For PowerPoint 2003 and earlier versions: 1.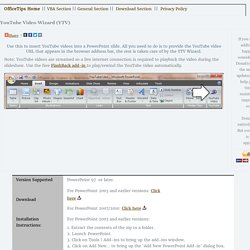 wow. Response to the last post has been impressive. thanks for the comments and feedback on part I (Gaming goals and Profit Motive) . Let's keep it going...
Shall We Play A Game? part II - Why Game Mechanics Matters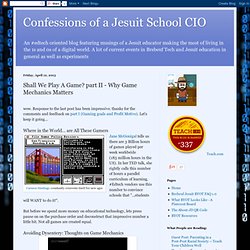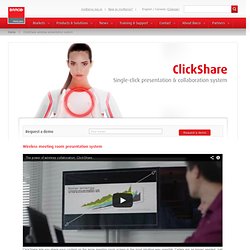 ClickShare wireless presentation system | Barco
With ClickShare, getting your presentation on the large meeting room screen is just a matter of connecting a USB-device to your laptop PC or MAC, and clicking the button. Three easy steps: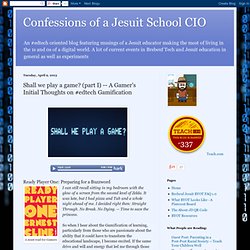 Ready Player One: Preparing for a Buzzword I can still recall sitting in my bedroom with the glow of a screen from the second level of Zelda. It was late, but I had pizza and Tab and a whole night ahead of me. I decided right then: Straight Through.
Shall we play a game? (part I) -- A Gamer's Initial Thoughts on #edtech Gamification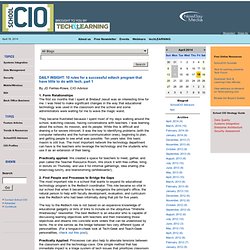 10 rules for a successful edtech program that have little to do with tech, part 1
Apr 1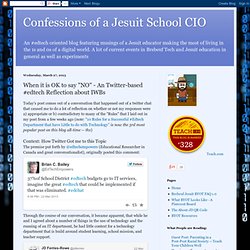 Today's post comes out of a conversation that happened out of a twitter chat that caused me to do a lot of reflection on whether or not my responses were a) appropriate or b) contradictory to many of the "Rules" that I laid out in my post from a few weeks ago ( note : "10 Rules for a Successful #Edtech Department that have Little to do with Technology" is now the 3rd most popular post on this blog all-time -- thx )
When it is OK to say "NO" - An Twitter-based #edtech Reflection about IWBs
jdferries : BAT-Monkey is Ready to chalk
Answering "What's Next?" - Classroom Technology Beyond BYOT (with pictures and bullet-points)
One of the problems with pulling off an important (if small) Educational Technology revolution is the inevitable questions from excited faculty, students, and trustees: "What's Next?"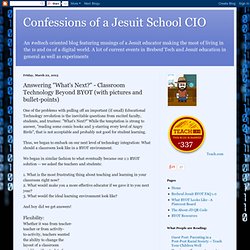 On Security Awareness Training
One of the basic things that the IT department has to do at our school is play with toys (yay!). Since we are a 1:1 BYOT school, we are often testing devices to see a) how well they work in our environment (the network, the classrooms, etc.), b) whether they are worth recommending to partents, and c) what we need to know when there are problems.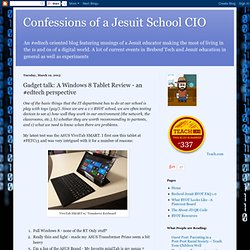 Gadget talk: A Windows 8 Tablet Review - an #edtech perspective
Gadget talk: A Windows 8 Tablet Review - an #edtech perspective
Bridging the Gap Between Tech-Geek and Teach-Geek
Education / Confessions of a Jesuit School CIO: Ten Rules for a Successful #edtech program that have little to do with technology
Zooming out to see the big picture: The @40ishoracle and I have spent a lot of time travelling and talking about BYOT and Digital Citizenship, and professional development techniques (including free coffee, comfy chairs and Twitter chats). In the last few trips, we have been asked to modify some of our presentations to focus on something that we constantly touch, but very seldom present on specifically: How did we get ourselves into the position as a school to be able to do some of the cool things that we have done?
Ten Rules for a Successful #edtech program that have little to do with technology
14 février 2013 - Google+
40ishoracle: Two tech types sit at an
jdferries : Anyone else think the Pearson
jdferries : How many #edtech s does it
Create, edit and present with Google Slides offline
One of the two consortia designing tests for the Common Core State Standards has released new guidance on the minimum technology standards states will need to meet to give those tests, beginning in 2014-15. The Partnership for the Assessment of Readiness for College and Careers said the guidance, unveiled late Friday afternoon, is meant to provide direction to states and districts on the extent to which current technology meets testing standards, or whether upgrades will be required.
Consortium Releases Technology Guidelines for Common-Core Tests - Digital Education
BYOT Planning -- What a Difference a Semester Makes
This cheesy Kevin Costner flick that tends to make all humans with a Y-chromosome weep like children has this great line in it: " I believe Lee Harvey Oswald acted alone. I believe there ought to be a constitutional amendment outlawing Astroturf and the designated hitter."
All your BYOTChat are belong to JD
The @40ishoracle and I have been discussing our lack of postings recently.
BYOT 101 - A Photo Series
jdferries : BYOT 101: The Photobooth posture
jdferries : BYOT101 - A Photo Series
jdferries : BYOT101 - A new photo series.
Technology
Why the SMART Board May Have Been a Dumb Choice
Photo by jdferries
Centennial Post - Deciphering The (Lexile ) Numbers - Education as Big Business
Centennial Post - Deciphering The Numbers - Danger of Education as Big Business
Backchannelling in the Classroom « Engaged and Relevant
BYOD roll-out wrap-up
BYOT DayByDay: Wrap-up: Understanding Digital Natives and Making Inconvenient Choices
BYOT DayByDay 15: Anecdotes & an Analysis of Tech Issues
So what's next?
The eText Conundrum - A BYOT Fiasco Resolved Over 6 Days, Part I
Developing Critical Thinking Skills...By Being Flexible
BYOT DayByDay 4&5: Vignettes over Two Days
BYOT DayByDay 3: Getting Lost in the Details and an iOS rant
BYOT DayByDay 2: High-Tech, High Teach
BYOT DayByDay 1: Let the games begin! (and knock on some wood)
BYOT DaybyDay: 0 - The chaos before the storm
Educational Analytics: An Idea that Might Not Be Ready for Prime(number) Time
The First Five Days of School with BYOT
How can my classroom go BYOT if my school does not? | TestSoup
Google launches YouTube curriculum to educate students on digital citizenship (video)
#bbw12 Day 2: Discovering You are the Red-headed Stepchild + keynote coverage and some not-quite-so-public info
#bbw12 Day1b: Social Media, Data, and Inspiration
#bbw12 Day 1 (part a): Sightseeing, #iceiscold, and Thoughts on the Future
Summer Reading: Kenneth Burke's Permanence and Change
A Blackboard Prelection: Open and Curious - #bbw12 Day 0
Crosspost: #Edtech Lingo Bingo with @40ishoracle
ICTmagic Resources / Create beautiful and informative infographics with this great, easy to use site. Just upload your images and drag them into place. The free account has 5 template themes.
Google I/O -- Tablets, Drives,
ISTE Daily: Final Day, Wrap-Up and Takeaways
Twitter Encouraging Girls To Learn To Code
ISTE Daily: Day 2 - Keynote w/ Dr. Ken, Blossom, and a Prescient Pink Floyd Reference
Is modern technology creating a culture of distraction?
Introducing Infographics - Make It About Them
Confessions of a Jesuit School CIO
Ed Tech Lingo Bingo 2012
Dear EdTech Entrepreneurs… | Edvoices
To the Clouds! - An Educator's Guide to the New G-drive and Associated Apps
Google Plus Hangouts on Air feature now available to all users
BYOT? Bring it on | An international forum for all schools seeking to make the best use of BYOT.
7 New Educational Startups Founded By Minorities in Tech
Integrating Technology: Avoid Being Derailed by the Details
The Vendor Corollary to Lord-of-the-Flies: an open letter to edtech companies on Twitter
Manual