Android Resources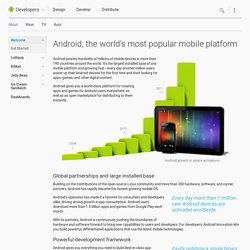 Rapid innovation Android is continuously pushing the boundaries of hardware and software forward, to bring new capabilities to users and developers. For developers, the rapid evolution of Android technology lets you stay in front with powerful, differentiated applications.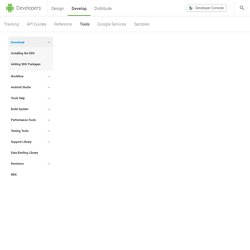 Before installing the Android SDK, you must agree to the following terms and conditions. This is the Android Software Development Kit License Agreement 1. Introduction 1.1 The Android Software Development Kit (referred to in this License Agreement as the "SDK" and specifically including the Android system files, packaged APIs, and Google APIs add-ons) is licensed to you subject to the terms of this License Agreement. This License Agreement forms a legally binding contract between you and Google in relation to your use of the SDK. 1.2 "Android" means the Android software stack for devices, as made available under the Android Open Source Project, which is located at the following URL: http://source.android.com/, as updated from time to time. 1.3 "Google" means Google Inc., a Delaware corporation with principal place of business at 1600 Amphitheatre Parkway, Mountain View, CA 94043, United States.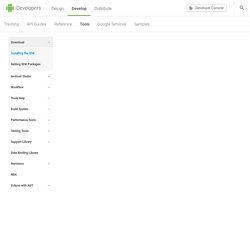 You should have already downloaded the Android SDK Tools . (If you downloaded the ADT Bundle, you should instead read Setting Up the ADT Bundle .) The SDK Tools package is not the complete SDK environment.
Terms
An Activity is an application component that provides a screen with which users can interact in order to do something, such as dial the phone, take a photo, send an email, or view a map. Each activity is given a window in which to draw its user interface.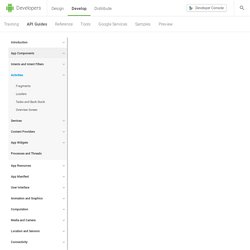 Native Apps
Web Apps
Android is designed to run on many different types of devices. For developers, the range and number of devices means a huge potential audience: the more devices that run Android apps, the more users who can access your app. In exchange, however, it also means that your apps will have to cope with that same variety of hardware. Fortunately, Android has built-in tools and support that make it easy for your apps to do that, while at the same time letting you maintain control of what types of devices your app is available to. With a bit of forethought and some minor changes in your app's manifest file, you can ensure that users whose devices can't run your app will never see it on Google Play, and will not get in trouble by downloading it.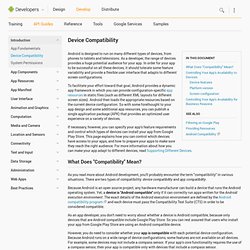 Best Practices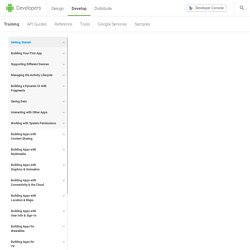 Welcome to Training for Android developers.