Personal development
The most important morning ritual for every great boss. When you're the boss - and especially when you run your own company - you rarely get feedback from the people you most need to hear from: Your employees.
So while you can ask for ideas, hold open meetings, be accessible and approachable, and do everything possible to get feedback, sometimes the only person you can count on to tell you the unvarnished truth is you. Make the following a part of your morning ritual. On your way into the building, tell yourself: "I don't have all the answers. " Being the boss doesn't mean all your views and opinions are valid, and it definitely doesn't mean they all should be shared with employees. BrainHacks. ExecWatch Vol 11 Issue 6. What do you have in common with Bill Gates, Warren Buffet, Oprah Winfrey and Paul Bono?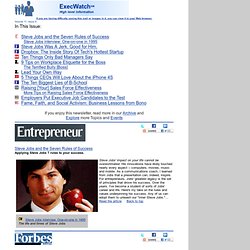 To Nancy F. Koehn, the history of the Irish rock band U2 has it all as a business case study: teamwork, leadership, creative destruction, branding, and strategy. You're Probably a Micromanager - Ron Ashkenas. By Ron Ashkenas | 2:30 PM November 29, 2011 My recent post on why people micromanage triggered over 100 comments, stories, and suggestions — many of them relating experiences on the receiving end of micromanagement.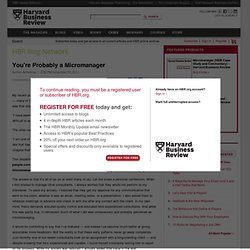 What was striking was that only two readers actually admitted to being micromanagers themselves. One said: "I have been micromanaged and guess what? When I rose through the ranks I did the same. 3 Bad Habits of Entrepreneurs and How to Break Them. There are lots of lessons in entrepreneurship that only need to be learned once—creating a balance sheet or projecting cash flows, for example.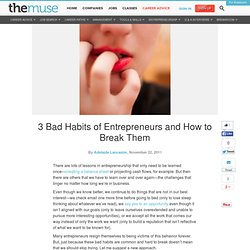 But then there are others that we have to learn over and over again—the challenges that linger no matter how long we're in business. Even though we know better, we continue to do things that are not in our best interest—we check email one more time before going to bed (only to lose sleep thinking about whatever we've read), we say yes to an opportunity even though it isn't aligned with our goals (only to leave ourselves overextended and unable to pursue more interesting opportunities), or we accept all the work that comes our way instead of only the work we want (only to build a reputation that isn't reflective of what we want to be known for). Many entrepreneurs resign themselves to being victims of this behavior forever. But, just because these bad habits are common and hard to break doesn't mean that we should stop trying. Great icebreaker: The tale of the winking applicant. This sales-centric joke may be the perfect way to ease the tension at the beginning of your next sales (or management) meeting.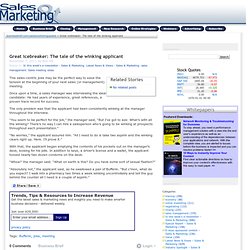 Once upon a time, a sales manager was interviewing the ideal candidate: He had years of experience, great references, a proven track record for success. The only problem was that the applicant had been consistently winking at the manager throughout the interview. 8 Things Everybody Ought to Know About Concentrating. "Music helps me concentrate," Mike said to me glancing briefly over his shoulder.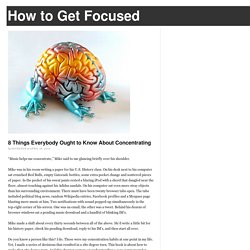 Mike was in his room writing a paper for his U.S. History class. On his desk next to his computer sat crunched Red Bulls, empty Gatorade bottles, some extra pocket change and scattered pieces of paper. In the pocket of his sweat pants rested a blaring iPod with a chord that dangled near the floor, almost touching against his Adidas sandals. On his computer sat even more stray objects than his surrounding environment. The Top 20 Most Inspiring Steve Jobs Quotes - TNW Apple. From 1984′s Macintosh computer to the game-changing iPad in 2010, Steve Jobs is perhaps the most visionary and innovative CEO of the past 30 years.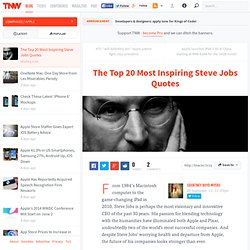 His passion for blending technology with the humanities have illuminated both Apple and Pixar, undoubtedly two of the world's most successful companies. And despite Steve Jobs' worrying health and departure from Apple, the future of his companies looks stronger than ever. When Steve Jobs announced his resignation on August 25, 2011, all eyes and ears wanted to know more.
Young Entrepreneur Wearing Success With T-Shirt Startup | Small Business Successes. Ryan Vesler hasn't forgotten the good old days.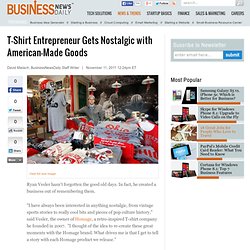 In fact, he created a business out of remembering them. "I have always been interested in anything nostalgic, from vintage sports stories to really cool bits and pieces of pop culture history," said Vesler, the owner of Homage, a retro-inspired T-shirt company he founded in 2007. "I thought of the idea to re-create these great moments with the Homage brand. What drives me is that I get to tell a story with each Homage product we release. " How to Conquer Your Sales Fears. Five common sales worries business owners face -- and ways you can combat them to close the deal.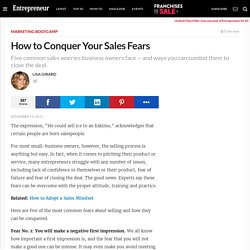 The expression, "He could sell ice to an Eskimo," acknowledges that certain people are born salespeople. For most small-business owners, however, the selling process is anything but easy. Nine Things Successful People Do Differently - Heidi Grant Halvorson - The Conversation. Learn more about the science of success with Heidi Grant Halvorson's HBR Single, based on this blog post.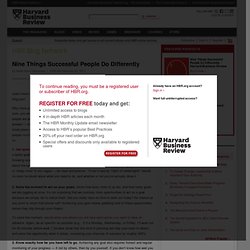 Why have you been so successful in reaching some of your goals, but not others? If you aren't sure, you are far from alone in your confusion. Steve Jobs and the Seven Rules of Success. Innovators push the boundaries of the known world. They're change agents who are relentless in making things happen and bringing ideas to execution. Steve Jobs' impact on your life cannot be overestimated. His innovations have likely touched nearly every aspect -- computers, movies, music and mobile. Business Analysis: Become A Numbers Person | Brian Tracy's Blog. Most entrepreneurs are motivated by ideas, concepts, hopes, desires, and optimism.
They like to interact with people, to market and sell. They enjoy negotiating, communicating, and persuading.
---