Online Instruction Tools
Get flash to fully experience Pearltrees
Still skeptical about the value of using Twitter as a tool to engage introverted students in classroom lessons?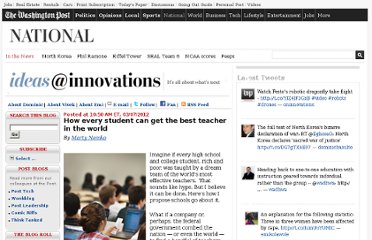 Posted at 10:50 AM ET, 03/07/2012 Mar 07, 2012 03:50 PM EST TheWashingtonPost This undated handout photo, taken in 2010, provided by the University of British Columbia shows an unidentified student at the University of British Columbia using an interactive clicker in a classroom. (Martin Dee - AP) Imagine if every high school and college student, rich and poor, was taught by a dream team of the world's most effective teachers.
Powerpoint has produced more bad design in its day that perhaps any other digital tool in history with the possible exception of Microsoft paint. In this post we're going to address the epidemic of bad presentation design with ten super practical tips for designer better looking and more professional presentations. Along the way we'll see a number of awesome slide designs from Note & Point along with some custom examples built by yours truly.