Inspiration
New ways of interaction on Vimeo
EXPM - CHANNEL on Vimeo
An Experiment with Remote on Vimeo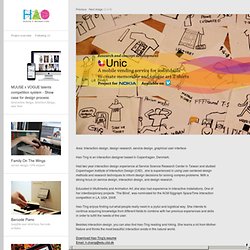 Area: Interaction design, design research, service design, graphical user interface Hao-Ting is an interaction designer based in Copenhagen, Denmark. Had two year interaction design experience at Service Science Research Center in Taiwan and studied Copenhagen Institute of Interaction Design (CIID) , she is experienced in using user-centered design methods and research techniques to inform design decisions for solving complex problems. With a strong focus on service design, interaction design, and design research.
haotingchang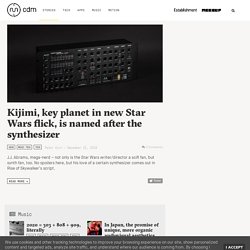 Rodrigo Carvalho's experiments meld choreographic data with generative visualization. Photo courtesy the artist. When it comes to dance technology, it isn't enough to team dazzling engineers with dancers. Making digital technology meaningful to those steeped in the craft of dance means artists getting their hands dirty. Dance has a history in experimental exploration, from Merce Cunningham's pioneering work with the LifeForms software (directly in his choreography) to digital dance hybrids created by the likes of Troika Ranch (Dawn Stoppiello/Mark Coniglio). The Motion Bank and Frankfurt, Germany could be the scene for dance tech's next act.
Via the experimentation of the movement+music+visual collective in Ireland, we see another great, free tool built on Apple's Quartz Composer developer tool. Tryplex is a set of macro patches, all open source, that makes Kinect skeleton tracking easier. There's even a puppet tool and skeleton recorder. Aesthetically, the video below is all stick-figure stuff (which is the only reason I can imagine why it's getting any dislikes on YouTube). But it shouldn't take much imagination to see the potential here.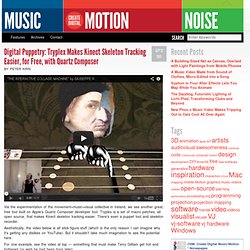 Digital Puppetry: Tryplex Makes Kinect Skeleton Tracking Easier, for Free, with Quartz Composer
Tell Them Nothing of the Things I Thought About and Created While I was Sleeping
Mary Huang :: portfolio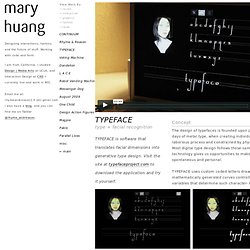 Concept The design of typefaces is founded upon principles from the days of metal type, when creating individual fonts was a laborious process and constrained by physical requirements. Most digital type design follows those same conventions, but technology gives us opportunities to make type design more spontaneous and personal. TYPEFACE uses custom coded letters drawn from mathematically generated curves controlled by distinct variables that determine such character- istics as x-height and slant. This design approach allows for a more natural, handwriting- like rendering.
Ultraconcentrated2013 Control Room (Forward Command Post)2013 Substrate2013 Primitives (This Could be an Extraordinary Find)2013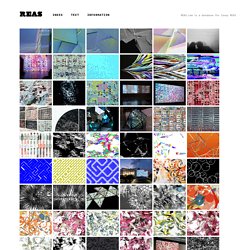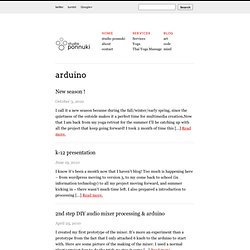 I call it a new season because during the fall/winter/early spring, since the quietness of the outside makes it a perfect time for multimedia creation.Now that I am back from my yoga retreat for the summer I'll be catching up with all the project that keep going forward! I took 2 month of time this […] Read more – 'New season !'. I know it's been a month now that I haven't blog!
Arduino | ponnuki
We are all transistors. We amplify. We resist. We always operate in a space, whether social, political or Hertzian.
We are All Transistors
AV Festival
Submitted by mongrel on Tue, 2006-08-01 22:42. This site is an incomplete archive of some of the mongrel work held for historical reasons. Mongrel emrged out of the combined practices of Richard-Pierre-Davis, Mervin Jarman, Graham Harwood and Matsuko Yokokoji, somewhere at Artec, London 1995-1997 There are many kinds of Mongrel in this world, Mervins Mongrel Street and Richards Mongrel X . This particular kind Mongrel was centred around the practice of Graham Harwood and Matsuko Yokokoji 1995-2008 with input from many people all over the world but especially Richard Wright who joined Mongrel in 2004 helping us form MediaShed. in 2006.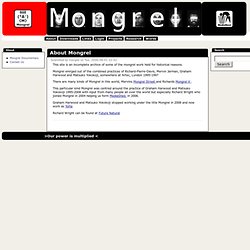 About Mongrel | Mongrel
The Dumpster: A Visualization of Romantic Breakups for 2005
Miller Puckette
MediaArtTube DYNAMIC PROJECT ARCHIVE and Tool for Research and Education. Cross-pollination of disciplines, theories, practises, techniques, ideas and concepts on the platform of technology produced by Technēcists. MediaArtTube displays internationally recognized works and experiments on technology-based art and creative technology. MediaArtTube also hosts virtual exhibitions in the form of featured playlists.
MediaArtTube's Channel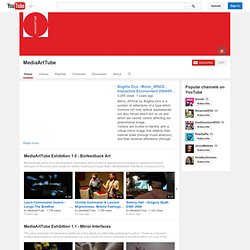 Index : Jonas Fritsch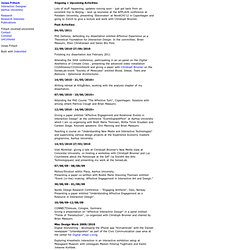 Ongoing + Upcoming Activities Lots of stuff happening, updates coming soon - just got back from an excellent trip to Beijing - next up keynotes at the APPLAUS conference at Potsdam University, presenting 'Ekkomaten' at NordiCHI'12 in Copenhagen and going to Zürich to give a lecture and work with Christoph Brunner. Past Activities PhD Defence, defending my dissertation entitled Affective Experience as a Theoretical Foundation for Interaction Design.