Despachos
Blog of pill & pillow. PARTY. INVENTIONI.ST | Helping brands invent their future. Create. Timpulse - Who Works With 'Creative Coders?' rAndom International. Media Molecule - We make games. Bestiario. Derivative TouchDesigner 077. Nanika Limited. Tellart | Experience Design & Engineering. Moment Factory | ABOUT US. These levels define the degree to which a multimedia environment involves itself directly in a spectator's experience.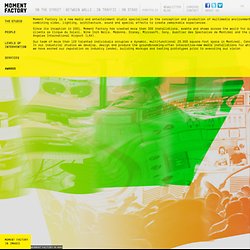 Each level aims at a higher enhancement of reality. 1. Ambient Environment An environment that supports an event or performance. 2. Immersive Environment An environment that immerses the audience in a blend of light, image and sound. Tableau physical email. POIETIC STUDIO. BREAKFAST - A physical-digital interactive agency based in New York. Works | troika.uk.com. ZIGELBAUM + COELHO - Home. Ustwo™ - digital user interface design. Uniform. Wieden+Kennedy. Studio Mercury [ny]
Britzpetermann. Research Agency | Lift Lab. Wieden + Kennedy. DWFE. DWFE Green=Boom. Society 46. Randomwalks :: randomwalks is a multi-disciplinary data visualization studio. Estado Lateral Media Lab. Analog. Mosaic - Consumer Centric Field Marketing, Merchandising and Sales. Adaptive Path. Julian Oliver: Critical Engineering. I am a New Zealander, Critical Engineer and artist based in Berlin.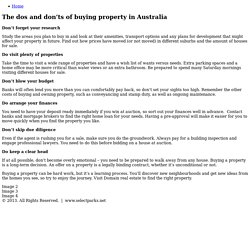 My projects and the occassional paper have been presented at many museums, international electronic-art events and conferences, including the Tate Modern, Transmediale, Ars Electronica and the Japan Media Arts Festival. My work has received several awards, ranging from technical excellence to artistic invention and interaction design. Nordkapp — We Make the Future Happen. Teague Labs. What Is It | Interaction Design and Digital Production. Seeper - Interactive Arts + Technology Collective. This is onformative a studio for generative design. Mokafolio is on vacation! Thomas Traum - Selected Works – MMXI. Remote Location +44(0)7957 245287. Quayola. About | The Mega Super Awesome Visuals Company | MSAV.
Memo Akten enquiries: info@memo.tv Subscribe to my low-traffic newsletter.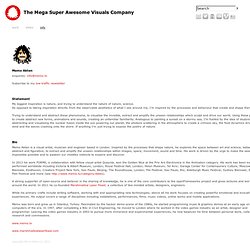 Aircord. FIELD Custom Graphic Design Tools. It's Gonna Be Awesome. Interaction \/ Minivegas Studio. We believe in creating content people can experience, interact with, and be moved by.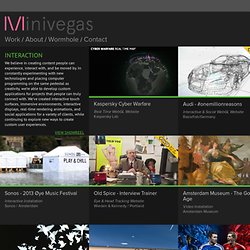 In constantly experimenting with new technologies and placing computer programming on the same pedestal as creativity, we're able to develop custom applications for projects that people can truly connect with. We've created interactive touch surfaces, immersive environments, interactive displays, real-time rendering animations, and social applications for a variety of clients, while continuing to explore new ways to create custom user experiences. Participate || home. | mobile apps & pervasive experiences | location based services. Turned On Digital | Mobile Strategy, Development and Distribution. Blast Theory. Blast Theory.
IDEO | A Design and Innovation Consulting Firm. IDEO Labs. Labs. Really Interesting Group. Home: glue Isobar: A Modern Communications Agency. Haque :: design + research. NearInteraction. Dentsu London. CUTE Center and Mixed Reality Lab. Lightning Laboratories - Strategic Innovation & Consulting for Startups and Enterprise - Gene Becker, Founder. Urbanscale | Design for networked cities and citizens.
Pervasive Media Research Group. BERG. Work | Dentsu London. In 2002, mcgarrybowen was founded by three partners who held top leadership positions at some of the world's most accomplished advertising agencies.
They founded mcgarrybowen on the belief that the agency should exist to serve clients, build brands, and grow businesses. Less than a decade later, their determination to hold true to this founding belief led mcgarrybowen to be named Agency of the Year by Advertising Age in 2009, and again by both Advertising Age and Adweek in 2011. Today, mcgarrybowen remains an independently operating agency network, built lean and smart to deliver the speed and unique thinking our clients rely on. Welcome to the Pervasive Media Studio | pervasive media studio.
---