Philosophy
You know that ringing sound that you will perceive when you are in a very quiet area? Some people say this is an auditory-illusion brought about the ear's inability to detect frequencies below the threshold of the human senses. This is completely wrong. That ringing covers up something else altogether. If you are quick, patient, and maybe a little lucky, you will be able to hear past the ringing. What you will hear are voices whispering to each other.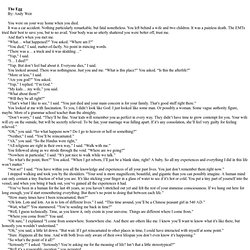 The Egg By: Andy Weir You were on your way home when you died. It was a car accident.
Background[edit] Greene initially formulated some of the ideas in The 48 Laws of Power while working as a writer in Hollywood and observing that today's power elite shared similar traits with powerful figures throughout history.[4] In 1995, Greene worked as a writer at Fabrica, an art and media school, and met a book packager named Joost Elffers.[6][9] Greene pitched a book about power to Elffers and six months later, Elffers requested that Greene write a treatment.[6] Although Greene was unhappy in his current job, he was comfortable and saw the time needed to write a proper book proposal as too risky.[11] However, at the time Greene was rereading his favorite biography about Julius Caesar and took inspiration from Caesar's decision to cross the Rubicon River and fight Pompey, thus inciting the Great Roman Civil War.[11] Greene would follow Caesar's example and write the treatment, which later became The 48 Laws of Power.[11] He would note this as the turning point of his life.[11]