Cracked
We may look down on all the primitive peoples who are confused by lightning and think thunder is the voice of the gods, but the truth is to this very day there are natural phenomena that our scientists still don't being to understand.
7 Awesome Acts of Nature (That Science Can't Explain)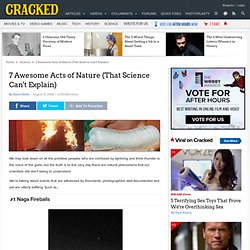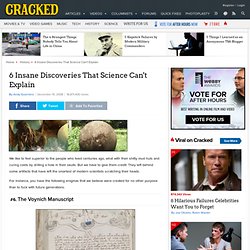 6 Insane Discoveries That Science Can't Explain
We like to feel superior to the people who lived centuries ago, what with their shitty mud huts and curing colds by drilling a hole in their skulls.
The human race has scaled the tallest mountains, charted the deepest oceans and played a quick front nine on the freaking moon, but there's one frontier that still largely mystifies us: our own bodies.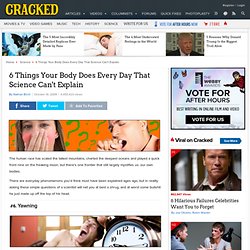 6 Things Your Body Does Every Day That Science Can't Explain
5 Ways To Hack Your Brain Into Awesomeness
Much of the brain is still mysterious to modern science, possibly because modern science itself is using brains to analyze it.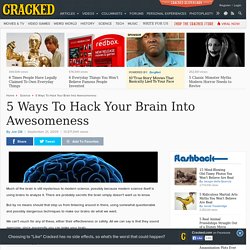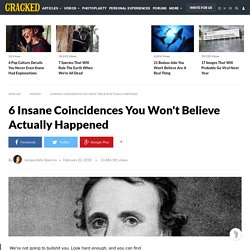 We're not going to bullshit you. Look hard enough, and you can find "amazing" coincidences anywhere.
6 Insane Coincidences You Won't Believe Actually Happened
The field of science is capable of some amazing things, mostly because it's filled with all the Albert Einsteins and Doogie Howsers the world has produced over the centuries. But it may shock you that some of the most mundane, everyday concepts are as big a mystery to scientists as they are to the average toddler.
8 Simple Questions You Won't Believe Science Can't Answer