Marketing & Social Media
Google+: Popular posts, eye-catching analytics, photo fun and... We think Google+ should get better every time you use it.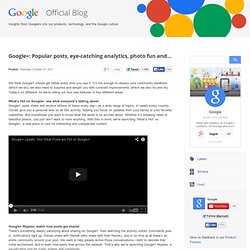 It's not enough to obsess over community feedback (which we do); we also need to surprise and delight you with constant improvements (which we also try and do). Today's no different, so we're rolling out four new features in four different areas. What's Hot on Google+: see what everyone's talking about Google+ users share and receive billions of items every day—on a wide range of topics, in nearly every country. Circles give you a personal lens on all this activity, helping you focus on updates from your family or your favorite celebrities. How To Find Local Influencers On Google Plus. Google has been making a big deal out of privacy lately, but Google+ just launched a slew of new features designed to make people easier to find.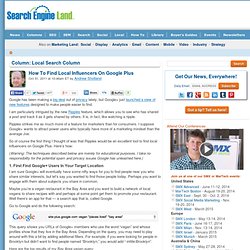 I am particularly intrigued by the new Ripples feature, which allows you to see who has shared a post and track it as it gets shared by others. It is, in fact, like watching a ripple. How to monitor social media mentions in five minutes a day. One of social media's biggest obstacles is the amount of time required to do it properly.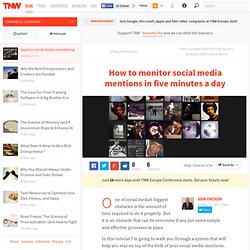 But it is an obstacle that can be overcome if you put some simple and effective processes in place. In this tutorial I'm going to walk you through a system that will help you stay on top of the bulk of your social media mentions. The best part? 10 WordPress Plugins that will Actually Increase Your Productivity. I've been on a bit of a productivity kick recently, trying to get my life organized.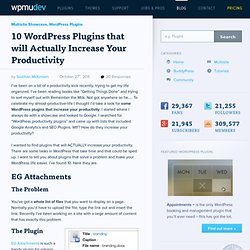 I've been reading books like "Getting Things Done" and trying to sort myself out with Remember the Milk. Not got anywhere so far….. To celebrate my almost-productive-life I thought I'd take a look for some WordPress plugins that increase your productivity. I started where I always do with a showcase and looked to Google. How to Time Your Facebook Posts to Reach the Most Fans. Jeff Widman co-founded PageLever to provide better Facebook analytics for marketers.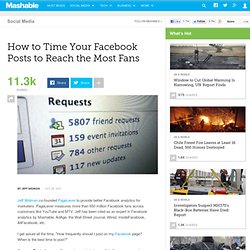 PageLever measures more than 650 million Facebook fans across customers like YouTube and MTV. Jeff has been cited as an expert in Facebook analytics by Mashable, AdAge, the Wall Street Journal, Wired, InsideFacebook, AllFacebook, etc. I get asked all the time, "How frequently should I post on my Facebook page? The Viral Marketing Cheat Sheet. Perhaps nothing is as effective and efficient in spreading your message as a viral marketing campaign.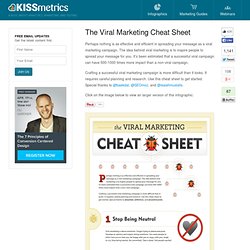 The idea behind viral marketing is to inspire people to spread your message for you. It's been estimated that a successful viral campaign can have 500-1000 times more impact than a non-viral campaign. Finding Your Writing Groove | A 3-Step Process. If writing is part of your marketing mix, there are always good days and bad days when it comes to what you're actually producing.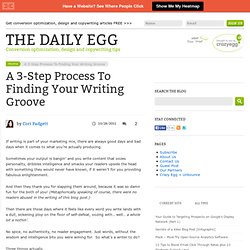 Sometimes your output is bangin' and you write content that oozes personality, dribbles intelligence and smacks your readers upside the head with something they would never have known, if it weren't for you providing fabulous enlightenment. And then they thank you for slapping them around, because it was so damn fun for the both of you! (Metaphorically speaking of course, there were no readers abused in the writing of this blog post.) Then there are those days where it feels like every word you write lands with a dull, sickening plop on the floor of self-defeat, oozing with… well… a whole lot a nothin'.
Dave Haft - Social Media Analytics Explained. Understanding your market's demographics.
Why Twitter And Foursquare Are Dying. Tools. Market Research Focus Group - Starbucks. 5 Steps In The Marketing Research Process. Untitled. Pharmaceutical Issue Averted Situation: A leading pharmaceutical manufacturer's large-scale launch of a breakthrough over-the-counter medication was jeopardized when patient side-effects were revealed and rumors began spreading online.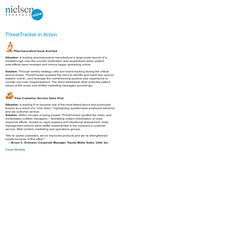 Solution: Through weekly strategy calls and brand tracking during the critical launch phase, ThreatTracker enabled the client to identify and reach key opinion leaders online—and leverage the overwhelming positive user experience to counter non-user misperceptions. The client addressed other potential patient issues at the onset, and shifted marketing messages accordingly. 3 Steps for Developing an Online Reputation Management Strategy. Ron Jones | September 19, 2011 | 0 Comments inShare72 How can you set up the right strategy to help protect your brand from negative influences?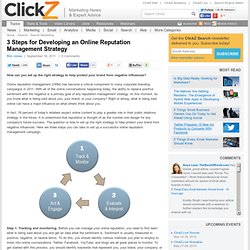 The New Relationship Marketing: Wisdom From Mari Smith. Recently I interviewed my very good friend Mari Smith, the "Queen of Facebook."
She's coauthored the most popular book on Facebook called Facebook Marketing: An Hour a Day and has an exciting new book on relationship marketing. You've also seen her outstanding articles on Social Media Examiner pretty much since our inception, and she's also the anchor of Social Media Examiner TV. She now has a brand-new hot book out called, The New Relationship Marketing: How to Build a Large, Loyal, and Profitable Network Using the Social Web. Catch the full interview (audio) at the end of this article. The Growth Of Social Media (INFOGRAPHIC) A new study suggests half of all American adults are now on social networks. In fact, out of American adults who use the Internet, Pew found that nearly two-thirds use social media sites like Facebook or Twitter.
Search Engine Journal agrees social media is here to stay, despite some dismissing it as a fad: [T]ake a look below at the steep curve of the user growth rate in all age ranges and demographics, and the continuing pervasiveness of social networking into every facet of work, play and life in general. 5 Ways to Clean Up Your Social Media Identity. There's an implicit pressure on social media enthusiasts to be connected in more than one way. It's not enough to have a Facebook page, you need a Twitter account as well.
What do you mean you're not on LinkedIn? Well, at least you have a blog on Wordpress or Tumblr, right? There is no requirement to spread your digital self thin, but many of us are still juggling more than one online profile (I'm currently balancing at least five). Each of these profiles offers us a chance to connect with new communities in different ways, but each network needs to be managed and updated.
Sysomos - Business Library for Social Media. Robust real-time monitoring dashboard that collects all relevant online conversations and reveals insights through detailed metrics and intuitive graphics. Discover Sysomos Heartbeat Tools for reaching out to key influencers, providing customer support, finding new sales leads, managing workflow and more. See all Sysomos features Comprehensive research and analytics solution with automated sentiment, demographics, influencer identification, historical analysis and smart reporting.
Explore Sysomos MAP. Social Media Strategy: Capturing YouTube Analytics. Match Your Channels To The Goal. Platform | Syncapse. Syncapse Collaboration & Workflow tools activate smarter marketing. Syncapse empowers global social marketing teams for maximum impact with integrated social engagement automation tools. Customizable technology enables social collaboration across departments, brands and geographies; syndicated content for stakeholder use around the world and centralized data storage to better understand social engagement activities. Scalable for large brand teams and distributed franchise operations, flexible controls allow you to adapt technology to your business processes, compliancy standards and brand requirements. Social Talk Plus . Com.
The Fandura Blog | Social Marketing | Marketing Resources | Occasional Shenanigans. The 4 Essentials Of A Social Media Strategy: Fandura.com. Social network. Social networks and the analysis of them is an inherently interdisciplinary academic field which emerged from social psychology, sociology, statistics, and graph theory. Georg Simmel authored early structural theories in sociology emphasizing the dynamics of triads and "web of group affiliations. "[2] Jacob Moreno is credited with developing the first sociograms in the 1930s to study interpersonal relationships.
Social graph. How to Compete. Social media news, strategy, tools, and techniques. Getting the competitor analysis right when pitching | The Equity. Getting the competitor analysis right when pitching | The Equity. Brian Solis Defining the convergence of media and influence.
---