Marketing & Social Media
Google+: Popular posts, eye-catching analytics, photo fun and...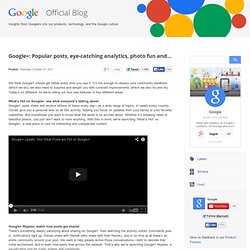 We think Google+ should get better every time you use it.
How To Find Local Influencers On Google Plus
Google has been making a big deal out of privacy lately, but Google+ just launched a slew of new features designed to make people easier to find. I am particularly intrigued by the new Ripples feature, which allows you to see who has shared a post and track it as it gets shared by others. It is, in fact, like watching a ripple.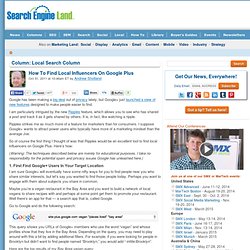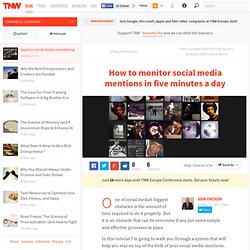 One of social media's biggest obstacles is the amount of time required to do it properly.
10 WordPress Plugins that will Actually Increase Your Productivity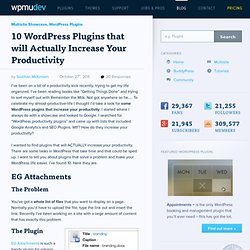 I've been on a bit of a productivity kick recently, trying to get my life organized. I've been reading books like "Getting Things Done" and trying to sort myself out with Remember the Milk. Not got anywhere so far….. To celebrate my almost-productive-life I thought I'd take a look for some WordPress plugins that increase your productivity. I started where I always do with a showcase and looked to Google.
Jeff Widman co-founded PageLever to provide better Facebook analytics for marketers.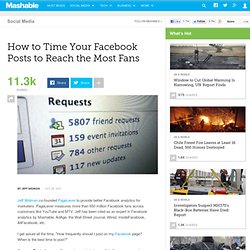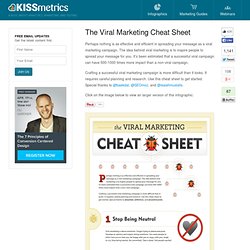 Perhaps nothing is as effective and efficient in spreading your message as a viral marketing campaign. The idea behind viral marketing is to inspire people to spread your message for you. It's been estimated that a successful viral campaign can have 500-1000 times more impact than a non-viral campaign.
The Viral Marketing Cheat Sheet
Finding Your Writing Groove | A 3-Step Process
If writing is part of your marketing mix, there are always good days and bad days when it comes to what you're actually producing.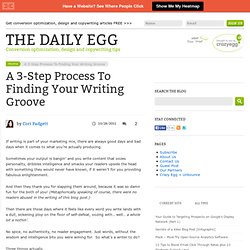 Dave Haft - Social Media Analytics Explained
Understanding your market's demographics
Why Twitter And Foursquare Are Dying
Market Research Focus Group - Starbucks
5 Steps In The Marketing Research Process
unnamed pearl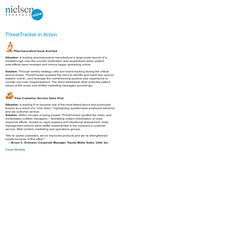 Pharmaceutical Issue Averted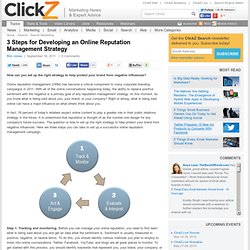 3 Steps for Developing an Online Reputation Management Strategy
Ron Jones | September 19, 2011 | 0 Comments inShare72 Online reputation management (ORM) has become a critical component to many corporate branding campaigns in 2011.
The New Relationship Marketing: Wisdom From Mari Smith
Recently I interviewed my very good friend Mari Smith, the "Queen of Facebook."
The Growth Of Social Media (INFOGRAPHIC)
A new study suggests half of all American adults are now on social networks.
There's an implicit pressure on social media enthusiasts to be connected in more than one way. It's not enough to have a Facebook page, you need a Twitter account as well.
Social Media Monitoring Comprehensive real-time monitoring dashboard to collect all relevant online conversations to gain insights with detailed metrics and intuitive graphics. Watch Heartbeat in action Engagement Social CRM to engage with key influencers, provide customer support, find new sales leads, and keep track of your teams. Go ahead and engage
Sysomos - Business Library for Social Media
Social Media Strategy: Capturing YouTube Analytics
Match Your Channels To The Goal
Syncapse Collaboration & Workflow tools activate smarter marketing. Syncapse empowers global social marketing teams for maximum impact with integrated social engagement automation tools. Customizable technology enables social collaboration across departments, brands and geographies; syndicated content for stakeholder use around the world and centralized data storage to better understand social engagement activities.
Platform | Syncapse
Social Talk Plus . Com
The Fandura Blog | Social Marketing | Marketing Resources | Occasional Shenanigans
The 4 Essentials Of A Social Media Strategy: Fandura.com
A social network is a social structure made up of a set of social actors (such as individuals or organizations) and a set of the dyadic ties between these actors.
social graph
How to Compete
Getting the competitor analysis right when pitching | The Equity
Getting the competitor analysis right when pitching | The Equity
Great Blog to get excellent insight into marketing information. by jaydonaldson Oct 25