ART NEWS, INFORMATION AND TUTORIALS
ImagineFX.com | Home
J. Marcus Jenkins
In the previous post, I've explained how to properly draw the eye. Further, I will explain how to draw the nose easily from scratch and with not too much strain. This Photoshop Text Effect Tutorial teaches you step by step how to create a cool Chrome, Metallic, Medieval Text Effect using easy Photoshop Tools like Blending Options, Gradient Tool and more! Photoshop CC tutorial showing how to make a vintage, retro, pulp fiction-style, magazine cover from the 1940s and 1950s. This tutorial about how to make useful cool photoshop effects,abstract twirl background for desktop computer wallpaper,logo and unique design. When you need to create special effects such as clouds effect, in this adobe Photoshop tutorials for beginners teach you a nice smoke effect.
Good-Tutorials - Newest Tutorials
The social network for professionals in entertainment - Animation, Movies, Visual Effects, Games, Illustration, Concept Artists, and more. If you make cool stuff, join us!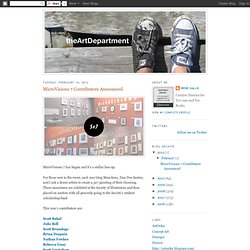 MicroVisions 5 auction is now live on eBay.Opening bids start at $50.00.Auction ends Wednesday, May 26th. Each year, Dan Dos Santos and I ask about a dozen artists to create a 5x7 painting of their choosing. These miniatures are exhibited at the Society of Illustrators and placed on auction with all proceeds going to the Society' student scholarship fund. This year's contributors pulled out all the the stops and created an amazing exhibit. A huge thank you to the artists that have given so generously of the time and talent: Scott Altmann, Scott Bakal, Rick Berry, Bill Carman, Jon Foster, Donato Giancola, Michael Kaluta, Tim O'Brien, Omar Rayyan, Allen Williams, and Boris Vallejo. The Society Scholarships are among the illustrations industry's toughest awards.
The Art Department
howtodigitalpaint.com
January 17, 2014 Posts Comments Skinny Artist Create, Connect, Inspire, & Live your Art! Hang with us! Featured Articles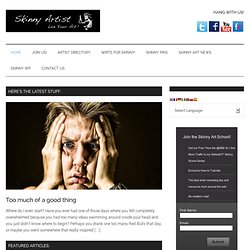 Skinny Artist | Live your Art!
Forum Donate Now Goal amount for this month: 4000 USD, Received: 130 USD (3%) Please donate to support this community and the costs we incur to keep the site free and online for all. Get all the details on the upcoming live streaming workshops and relief drive here! The Holiday Sale is no now too! Get comp and color on demand at better than 80% off for a limited time!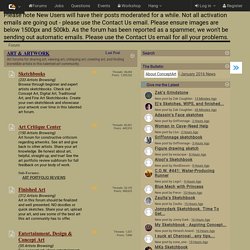 ConceptArt.org Version 3.0
Drawn
Beautiful dystopic things for your Friday. According to the description: "This film was made over the last two years in our evenings, weekends and days off. We had no budget but a lot of help from our very talented and generous friends." See? Make your own way! It's the best way, if you can swing it.