Photos
Analog Double Exposure Photographs by Florian Imgrund. A Man Feeding Swans in the Snow. JULIA FULLERTON-BATTEN. 70 Photos That Will Take Your Breath Away. We here at DPShots believe that the easiest way to learn photography is to learn it by example.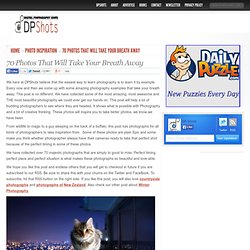 Every now and then we come up with some amazing photography examples that take your breath away. This post is no different. We have collected some of the most amazing, most awesome and THE most beautiful photography we could ever get our hands on. 500px is Photography. The Sweet Escape" by Richard Silvera. The King" by Andrew Deer. Animal pictures of the week: 24 February 2012. A white stoat throws shapes in the snow of the Swabian Alps in German.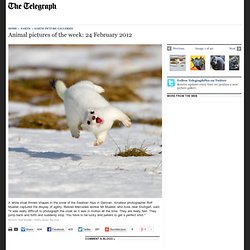 Amateur photographer Rolf Mueller captured the display of agility. Retired Mercedes worker Mr Mueller, who lives near Stuttgart, said: "It was really difficult to photograph the stoat as it was in motion all the time. They are really fast. They jump back and forth and suddenly stop. You have to be lucky and patient to get a perfect shot. " The street views Google wasn't expecting you to see – in pictures | Art and design. Fire in the Sky. Digital Interpretations of Surreal Solitude. Space Pictures This Week: Rebel Angel, Sloshed Galaxies. Weather pictures of the year 2011: lightning, auroras, snow and ice. A storm cloud threatens to develop into a full blown tornado behind a cluster of family homes.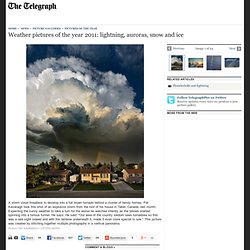 Pat Kavanagh took this shot of an explosive storm from the roof of his house in Taber, Canada, last month. Expecting the sunny weather to take a turn for the worse he watched intently as the billows started spinning into a furious funnel. He says: He said: "Our area of the country seldom sees tornadoes so this was a rare sight indeed and with the rainbow underneath it, made it even more special to see. " This picture was created by stitching together multiple photographs in a vertical panorama. Picture: PAT KAVANAGH / CATERS NEWS. Concert Photography & Band Portraits: Music Photographer Todd Owyoung.
Anything Worth Seeing / ANTILIMIT. Piccsy :: Recent posts. Photo Album. JULIA FULLERTON-BATTEN. Maailman ihanin tyttö. Creative photos by Chema Madoz. Digital-monochrome fine art black and white landscape print galleries.
---