Le'Eat & Le'Drink... Me gusta...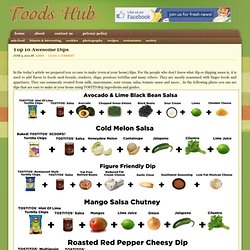 In the today's article we prepared you 10 easy to make (even at your home) dips. For the people who don't know what dip or dipping sauce is, it is used to add flavor to foods such breads, crackers, chips, potatoes tortillas and many others. They are mostly consumed with finger foods and appetizers. They can commonly created from milk, mayonnaise, sour cream, salsa, tomato sauce and more… In the following photo you can see dips that are easy to make at your home using TOSTITOS® ingredients and guides.
Cut watermelon flesh into 2-inch chunks and discard rind. Purée one fourth of watermelon in a blender with 1 Tbsp sugar, 1 tsp lemon juice, 4 cups ice, and a pinch of salt. Strain through a fine-mesh sieve into a large bowl, discarding solids.