To Make
あ、パンだ?! by TARO-TARO [クックパッド] 簡単おいしいみんなのレシピが112万品. Jewels' Juicy Turkey Jasmine Burger. Life is a funny creature isn't it?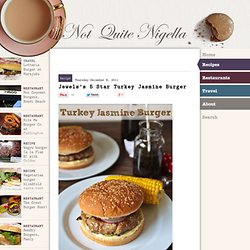 One day you might be your 12 year old self kissing the posters of Duran Duran goodnight and some years later you might find yourself talking to one of Duran Duran's wives on twitter and discussing Hallowe'en celebrations. And that's what I found myself doing with Julie Anne Rhodes (nickname Jewels), Duran Duran keyboardist Nick Rhodes's former wife and supermodel turned chef and blogger who is based in Los Angeles where she runs The Roving Stove, a personal chef and catering business. We were introduced on twitter by a mutual friend and we've been twitter and blog buddies ever since. Breakfast toast. It was the first time my kind-hearted boss shook his head in disappointment at me in front of everyone.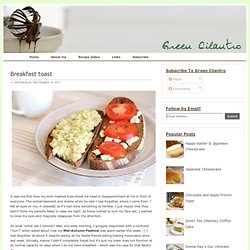 The embarrassment and shame when he said I had forgotten where I came from. I felt all eyes on me, in disbelief, as if I had done something so terrible. I just hoped that they didn't think my parents failed to raise me right. As blood rushed to turn my face red, I wanted to close my eyes and magically disappear from the attention.
Pickled Strawberry Jam - Recipe. Edamame Soup Recipe. Today's edamame soup recipe comes from a delightful new cookbook by London-based Charlotte Hume - The Great Big Veg Challenge - a book my mom (and parents of all picky eaters) could have benefited from.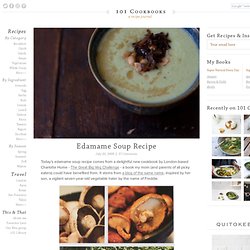 It stems from a blog of the same name, inspired by her son, a vigilant seven-year-old vegetable hater by the name of Freddie. Aside from corn and potatoes, Freddie won't eat vegetables. One evening, desperate, Charlotte signs up for a blog. Her idea was to take Freddie on an A to Z tour of the veg-kingdom, hoping the site would serve as a forum for inspiration and support. She starts off by opening the site up to... Tofu for Two » Edamame Avocado Soup.
This gentle soup made an amazing weekday lunch for the two of us.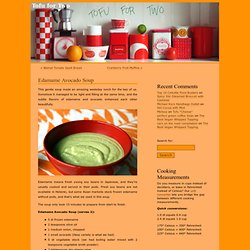 Somehow it managed to be light and filling at the same time, and the subtle flavors of edamame and avocado enhanced each other beautifully. Edamame means fresh young soy beans in Japanese, and they're usually cooked and served in their pods. Fresh soy beans are not available in Helsinki, but some Asian markets stock frozen edamame without pods, and that's what we used in this soup. The soup only took 15 minutes to prepare from start to finish. Edamame Avocado Soup (serves 2): Edamame and Pea Soup with Herbed Lemon Cream — Pinch My Salt. When I first read about Phoo-D's Edamame Soup with Wasabi Cream, I knew I had to make it.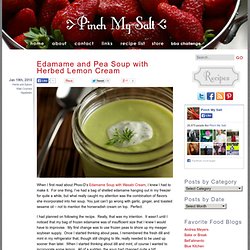 For one thing, I've had a bag of shelled edamame hanging out in my freezer for quite a while, but what really caught my attention was the combination of flavors she incorporated into her soup. You just can't go wrong with garlic, ginger, and toasted sesame oil – not to mention the horseradish cream on top. Perfect. I had planned on following the recipe. Really, that was my intention. Edamame Soup with Wasabi Cream. Thursday January 07th, 2010 in Healthy, Home Cooking, Soup Every now and then I get a wild and crazy food idea that refuses to go away.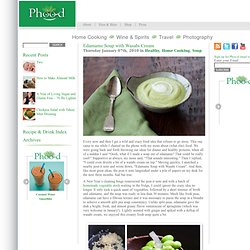 This one came to me while I chatted on the phone with my mom about (what else) food. We were going back and forth throwing out ideas for dinner and healthy proteins, when all of a sudden I said "Oooh, what if I made a soup out of edamame? Roasted Carrot & Cilantro Soup Recipe. Nothing says summer like a nice, big bowl of……hot soup?
I know what you're thinking, but this soup will seriously change your mind. My in laws went on vacation this week and left us to look after their garden. Also, they asked us to clean out their fridge. French Onion Soup Recipe. While we're on this soup/stew kick, I'd thought I'd give you a recipe for my take on a classic French dish.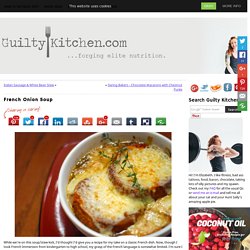 Now, though I took French Immersion from kindergarten to high school, my grasp of the French language is somewhat limited. I'm sure I understand more than the average Joe, but left to wander the streets of Paris, I may have a hard time finding my way to the best place for a nice, steamy bowl of French Onion Soup.
Pulled Chicken Tacos Recipe. If ever there was an ingredient I love purely for it's convenience, it would be this: Rotisserie chicken.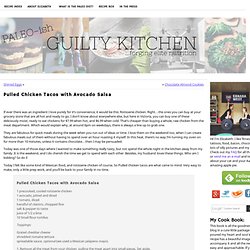 Right…the ones you can buy at your grocery store that are all hot and ready to go. I don't know about everywhere else, but here in Victoria, you can buy one of these deliciously moist, ready to eat chickens for $7.99 when hot, and $6.99 when cold. That's cheaper than buying a whole, raw chicken from the meat department. Back to Basics: Culinary Fundamentals (Butter) Recipe. Today on Guilty Kitchen, is the start of a new series that I like to call: Culinary Fundamentals.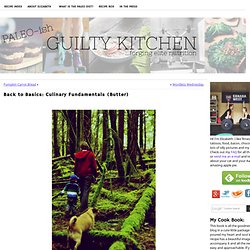 It's going to be a back to basics approach to food, kind of like my way of showing you that anyone can cook from scratch. Really from scratch, like butter and mayonnaise and bread. Those kinds of things. Grilling the Perfect Steak Recipe. Spring has sprung my friends! Today is more of a lesson in the fine art of grilling meat than it is a recipe, so no long lists of ingredients will haunt you this fine afternoon.
One of the most popular questions I get asked by friends, family and readers alike is "how do you tell when meat is cooked?" This is a loaded question. Everyone likes it differently and everyone you ask this humble question to will probably have thier own answer. It's Burger Time! Recipe. It's coming and I could not be any happier. No, not the baby. That, I can say, is something I am waiting for extremely patiently. Smoked Mackerel Pâté. Sometimes speed and convenience are quite important. Throw taste in there as well and you have yourself a near perfect lunch.
If this isn't the quickest, easiest, most delicious-ist pâté you've ever had then I'll happily eat my trilby (proof required before hat-eating will commence). Take a smoked mackerel fillet. Remove the skin Flake the fish into a bowl. Hanger Steak Sandwich Recipe. Do I look frazzled? Hair a mess? No makeup (gasp!)? Yeah, that's a pretty good summation of the previous eight weeks.
Turmoil, tears, triumph. We will overcome this period of our lives and one day we will look back on them with a selective blur and remember only those times that shine with happiness and laughter. Beef & Stout Pie. The transformation of 'stew' to 'pie' by the simple addition of a pastry case or lid is a great one. Although little more than starchy filler, hiding slow cooked meat within the confines of a flour and fat housing does wondrous things to the contents. Wondrous, magical things. A cheap staple food with a lengthy and sometimes less than illustrious history, the pie has undergone a renaissance of late. Beef Cheek Ragu. Braised Beef Cheeks Recipe.
Italian. Sides & Sauces. Bò Kho – Vietnamese Beef Stew : Food For Four. Easy and Tasty Vietnamese Beef Stew Recipe (Bo Kho) Bo Kho - Vietnamese Beef Stew. Ipoh "Kai Si Hor Fun" & my mother's recipe | ChopinandMysaucepan. Kimchi Jjigae - (김치 찌개) Braised Lamb Shanks in Port and Red Wine. Sweet. Super-eggy Scrambled Eggs Recipe. Tuesday Eats: how to poach an egg…
---