Ideas
Throughout history honey has been considered a food with unparalleled nutritional and physical benefits. For over 10,000 years (and maybe more) honey has been used as a staple food and as a medicine. This deliciously sweet substance is one of the few foods that can actually sustain human life all by itself.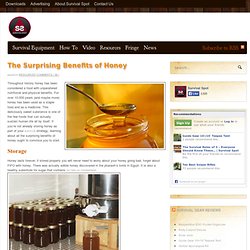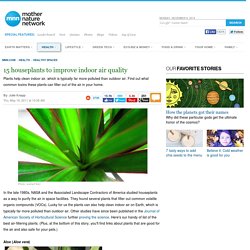 In the late 1980s, NASA and the Associated Landscape Contractors of America studied houseplants as a way to purify the air in space facilities. They found several plants that filter out common volatile organic compounds (VOCs). Lucky for us the plants can also help clean indoor air on Earth, which is typically far more polluted than outdoor air. Other studies have since been published in the Journal of American Society of Horticultural Science further proving the science . Here's our handy of list of the best air-filtering plants. (Plus, at the bottom of this story, you'll find links about plants that are good for the air and also safe for your pets.)
While doing research for this article, we were amazed at the number of uses for baking soda. When one looks back in history, before we had such a huge array of different cleaning products, baking soda was one of the items most frequently used. It worked great, it was economical and best of all it was safe to use. In fact, Grandma had hundreds of uses for baking soda.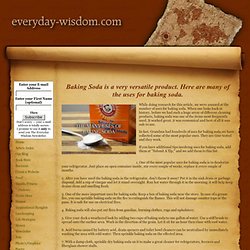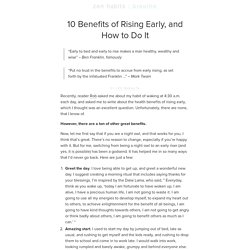 "Early to bed and early to rise makes a man healthy, wealthy and wise" – Ben Franklin, famously "Put no trust in the benefits to accrue from early rising, as set forth by the infatuated Franklin …" – Mark Twain By Leo Babauta Recently, reader Rob asked me about my habit of waking at 4:30 a.m. each day, and asked me to write about the health benefits of rising early, which I thought was an excellent question.
A home should be an expression of who you are. Sure, when you're young and broke, your room or apartment might be an expression of who your parents or the people who donate to Goodwill are, but gradually you collect items that express your personality, whether you receive them as gifts or purchase them yourself. If you are a technologically oriented geek, there are plenty of manufacturers and vendors catering to your tastes in home decor. Interactive LED Dining Table Windell Oksay of Evil Mad Scientist Laboratories built a dining room table with 448 LEDs inside. The lights respond to movement on and above the table surface!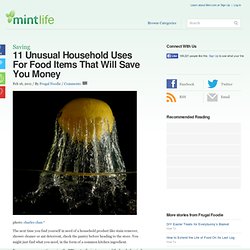 photo: charles chan * The next time you find yourself in need of a household product like stain remover, shower cleaner or ant deterrent, check the pantry before heading to the store. You might just find what you need, in the form of a common kitchen ingredient. From a green perspective, going the DIY route eliminates some of the harsh chemicals in your home, reducing your family's exposure to them.