Quotes
1. Life isn't fair, but it's still good. 2.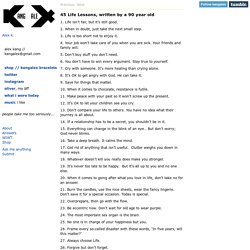 quotations, quotes, things said like: We move towards what we picture in our mind.
QuoteStumbler is a fun little tool that will help you discover new quotes. The QuoteStumbler database consists of roughly 18,000 quotes by famous authors, politicians, and other historical figures. When you first visit the page, you will be presented with a randomly selected quote. In that quote, certain words will be highlighted. When you click on one of those words, a new quote starting with that word will be displayed. If you like what you find here, it would be greatly appreciated if you would share this with your friends using the link below.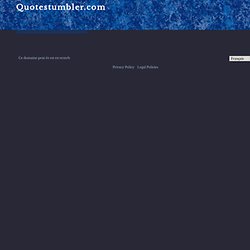 wallpaper724965.jpg (JPEG Image, 1920x1080 pixels) - Scaled (49%)
_l9kljbUOJf1qax5l3o1_500.jpg (JPEG Image, 500x375 pixels)
1. What you do today can improve all your tomorrows. ~Ralph Marston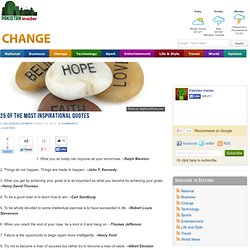 25 of the Most Inspirational Quotes
lhoj0b7USA1qb43gho1_500_large.jpg (JPEG Image, 500x334 pixels)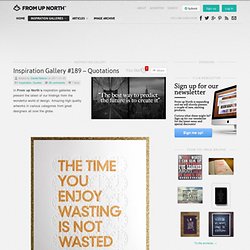 In From up North's inspiration galleries we present the latest of our findings from the wonderful world of design. Amazing high quality artworks in various categories from great designers all over the globe. Wasted time May the bridges I burn light the way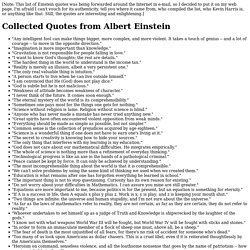 [Note: This list of Einstein quotes was being forwarded around the Internet in e-mail, so I decided to put it on my web page. I'm afraid I can't vouch for its authenticity, tell you where it came from, who compiled the list, who Kevin Harris is, or anything like that. Still, the quotes are interesting and enlightening.] "Any intelligent fool can make things bigger, more complex, and more violent.
16185515.jpg (JPEG Image, 300x300 pixels)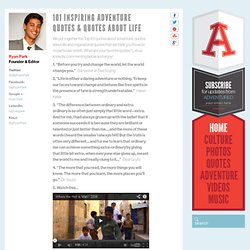 Inspiring Quotes, Adventure Quotes and Life Quotes | Quotes About Life
We put together the Top 101 quotes about adventure, quotes about life and inspirational quotes that we think you'll love (in no particular order). What are your favorite quotes? Let us know by commenting below and enjoy! 1. "Before you try and change the world, let the world change you."
newendingquote.jpg (JPEG Image, 875x583 pixels)
Eleanor+Roosevelt+Quote.jpg (JPEG Image, 3000x2400 pixels) - Scaled (23%)