Jquery
It's tough. You read tutorial after tutorial, but they all assume that you know more than you actually do.
You Still Can't Create a jQuery Plugin? - NETTUTS
Shoutbox Examples
Here's 10 tips that will makes you code more efficiently with jQuery.
blog / 10 useful jQuery authoring tips
Jcrop Image Cropping Demos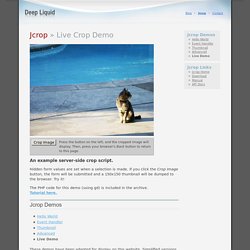 An example server-side crop script. Hidden form values are set when a selection is made. If you click the Crop Image button, the form will be submitted and a 150x150 thumbnail will be dumped to the browser.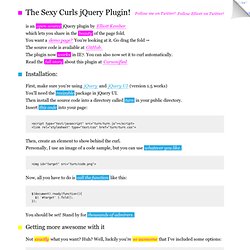 is an open-source jQuery plugin by Elliott Kember which lets you share in the beauty of the page fold. You want a demo page?
jFlip Gallery Demo
jQuery :path | DevKick Lab
jQuery liScroll - a jQuery News Ticker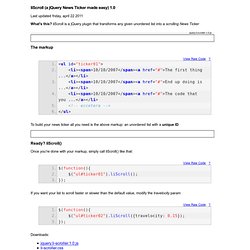 Last updated friday, april 22 2011 What's this?
Description A jQuery plugin from GSGD to give advanced easing options.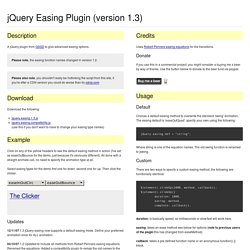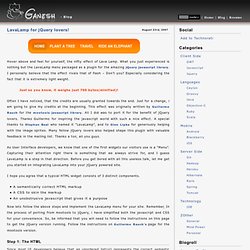 Hover above and feel for yourself, the nifty effect of Lava Lamp.
Download git clone git://github.com/stephband/jparallax.git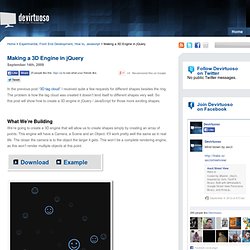 In the previous post "3D tag cloud" I received quite a few requests for different shapes besides the ring. The problem is how the tag cloud was created it doesn't lend itself to different shapes very well. So this post will show how to create a 3D engine in jQuery / JavaScript for those more exciting shapes.
Making a 3D Engine in jQuery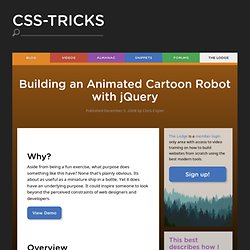 Published by Chris Coyier Why?
Nowadays the need for an easy way to add interactive charts becomes essential because we are shifting from PC to web application. jQuery and other libraries allow to make accessible data visualization in (x)HTML, giving us this needed functionality. In this article we are going to present 5 chart libraries that suit different needs from simple charts to high complex charts. Most of them are free for personal and commercial use.
Columnizer jQuery Plugin | Wulf
The Columnizer jQuery Plugin will automatically layout your content in newspaper column format.
Plugins
What is jQuery? jQuery is a fast, small, and feature-rich JavaScript library.
Demo > maxImage Scaling Plugin
Caution: This example is meant for expert users.
jQuery Spritely | Spritely
jMagnify (Ola effect on text) plugin: documentation and demo pag
Scrollable Fixed Header Table – A JQuery Plugin « Jerome Bulanad