Fonts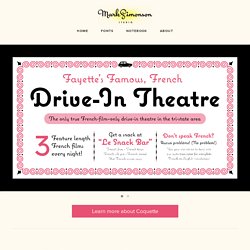 December 11, 2013. As a type designer, it's hard to anticipate how the fonts you make will be used. When I designed Coquette, I had only vague use scenarios in mind. I was thinking about traditional French scripts and Art Deco sensibilities primarily in terms of formal qualities.... Read More
Hoefler & Frere-Jones
I am always on the look out for new good quality free fonts, when I find a font I like I always download it and save it for future projects. I have added 20 of the most recent free fonts I have come across recently to this post, specifically I have focused on free fonts for use in headlines. When choosing the right font for a headline it is absolutely paramount to convey the correct look and feel, having an archive of fonts can really help your broaden your design. Of course we cannot always have expensive paid fonts at hand so hopefully some of these free fonts will provide help you on your future projects. Download the fonts and start creating beautiful typographic headlines!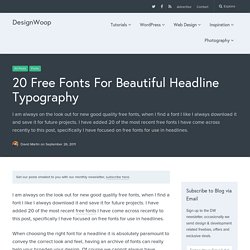 Le Typophage — Good News
Christophe Badani | Créateur de caractères typographiques | Type Designer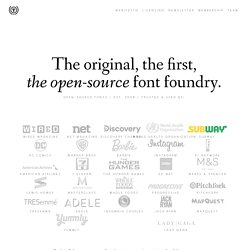 We're done with the tired old fontstacks of yesteryear. The web is no longer limited, and now it's time to raise our standards. Since 2009, The League has given only the most well-made, free & open-source, @font-face ready fonts. Like any revolution, we aim to make progress, & we need help. If you want to be a part of the movement, you should join us or subscribe to the newsletter. If you have any questions about The League or contributing, get in touch.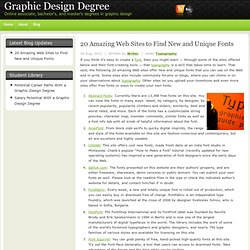 24 Aug, 2011 | Written by Writer | under Typography If you think it's easy to create a font, then you might learn — through some of the sites offered below and their font-creating tools — that typography is a skill that takes time to learn. That said, the following 20 amazing Web sites offer new and unique fonts that you can use on the Web and in print.
20 Amazing Web Sites to Find New and Unique Fonts » Graphic Design Degree
I really enjoy looking for new fonts every two months or so, It helps my font library grow which help me write this post. Picking out new fonts for project can be very challenging because typeface makes up 50% of your design. I normally stick to the standard San serif it makes it easy to code in css, but then again with the google font api it let you use must of the font you have in your library today. Here you have 17 New Creative Fonts To Download. Every year when I do my calendar printing to mark the days I need to look for new fonts and hang it right above my Mac, just make it easy to keep up with the days.
17 New Creative Fonts To Download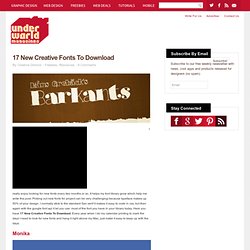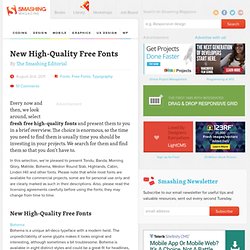 Advertisement Every now and then, we look around, select fresh free high-quality fonts and present them to you in a brief overview. The choice is enormous, so the time you need to find them is usually time you should be investing in your projects.
Fresh High-Quality Free Fonts For Designers
Adding new font to your list is always great to do. I know as a designer I like to use different types of fonts for every design i do, with Google new api for fonts I think we are getting closer to being able to use all fonts on all browsers by just coding into the css. In this post you will find 13 New Fonts to Download and 10 Amazing Font Tutorials.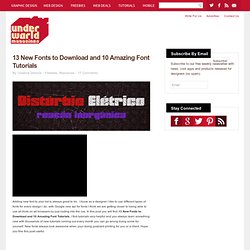 13 New Fonts to Download and 10 Amazing Font Tutorials
100 Días de tipografía
Go Retro and Classic: Cool Free Old School Fonts for You
Resources June 16, 2011 Old school fonts are one of the most popular font styles, and for a reason. They are simple yet very classy. They help make designs look retro or chic and always classic. Of course it depends on what the composition is and if these fonts are used on the right project, they usually prove to be priceless. Old school fonts definitely are must haves on your collection, so, without further ado, here's our collection of old school fonts that you should go ahead and download–if you haven't yet, that is.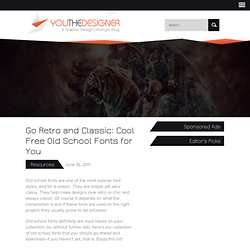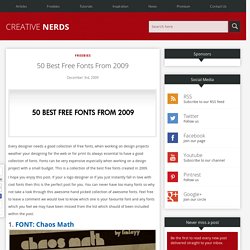 Home Vector Patterns Design Chair Contact Articles Freebies
25 Free Brilliant Fonts For Logo Design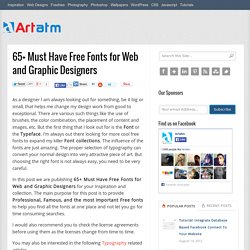 65+ Must Have Free Fonts for Web and Graphic Designers
As a designer I am always looking out for something, be it big or small, that helps me change my design work from good to exceptional. There are various such things like the use of brushes, the color combination, the placement of content and images, etc. But the first thing that I look out for is the Font or the Typeface. I'm always out there looking for more cool free fonts to expand my killer Font collections.
Welcome to Font Cubes, a comprehensive resource of the best free fonts for download. Here, you'll find the best cool free Mac Fonts, Android fonts for your cell phone or tablet, or Windows fonts. These cursive, calligraphy, handwriting, gothic, kids, script fonts and many more have been designed from the best font artists in the world for you. After you download free fonts here, you can also readily use them in creative software such as Photoshop.
Close or Register Login Worry-free, perpetual font licensing for everyone.