Fashion
Jovani Prom 4692 - MissesDressy.com - StumbleUpon. If you want to stand out and be seen from the crowd, try this Jovani 4692 peacock inspired dress.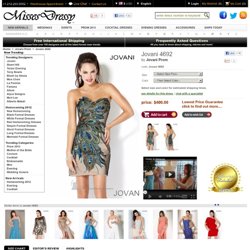 The strapless cocktail dress showcases a sweetheart neckline that bares the lovely neck and shoulders. It has a fitted bodice and a straight skirt to emphasize the figure. DIY Sweat-sacoche diy-laptop-sweat – the Trendy Girl - StumbleUpon. Throw 'em over! Draw your foot. Shes Crafty: DIY Multi-Chain &Ribbon Necklace | M.I.S.S. - StumbleUpon. Due to the resounding success of her last She's Crafty, my friend Pandora from Accessory Source is back with another lovely necklace DIY tutorial that would make a fantastic christmas present for a friend or relative!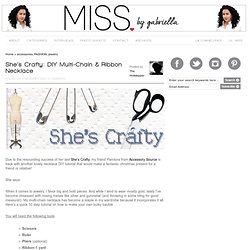 She says: When it comes to jewelry, I favor big and bold pieces. And while I tend to wear mostly gold, lately I've become obsessed with mixing metals like silver and gunmetal (and throwing in some bling for good measure!). DIY Fringe Scarf | Lakeland Local - StumbleUpon. Everyone needs a go-to fringe scarf in their fashion repertoire.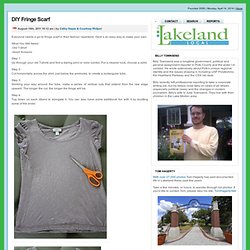 Here's an easy way to make your own. What You Will Need: -Old T-Shirt -Good Scissors Step 1: Go through your old T-shirts and find a daring print or color combo. 12 Ways to Tie A Scarf & & - Scarves.net - Scarves.net - StumbleUpon. How to tie a scarf ♥1.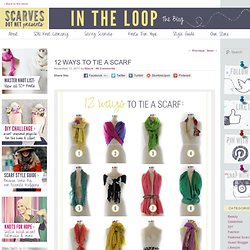 Yellow Scarf: Add a corsage to spice up your scarf.♥2. Pink and Purple Scarf: Use an infinity scarf as a shawl.♥3. Lime Green Scarf: Fold your scarf in half, put the middle around your neck. Wrap the sides around your neck and back through the loop you made in front of your neck.♥4. Tie-a-Tie.net | Learn How to Tie a Tie - StumbleUpon.
---