Mes Sites Préférés
Globe Genie - Joe McMichael. Body Browser - Google Labs. Galleries / Photography / Jason Powell. Galleries / Advertising / Associations Campaign. The 2007 Photobloggies. The 2006 Photobloggies. The 2005 Photobloggies. Baudouin Photographer. The selby - photos in your place. featuring photographs, paintings and videos by todd selby of interesting people and their creative spaces. La Senza presents The Cup Size Choir. MusicMe : musique gratuite, telechargement illimité, video-clips HD. Buy & Download Creative, High-quality & Affordable logos. Ads of the World™ | Creative Advertising Archive & Community. Lookiz.
The Big Picture. Many indigenous groups, including the Huni Kui, Ashaninka, and Madija, live in villages in the Brazilian rainforest near the border with Peru.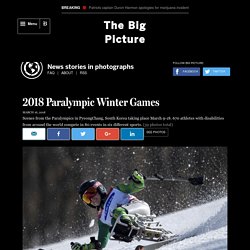 Over the past three years, the Ashaninka and Madija say that they have seen more and more incursions on their territory from uncontacted tribes, defined by Survival International as groups who have no peaceful contact with mainstream society. The "Bravos," or "Braves," as uncontacted Indians are called in the region, carry out raids on other villages, putting the communities along the Envira River on permanent alert.
Leaders of the Ashaninka tribe have asked the government and NGOs for help in controlling what they consider an encroachment on their area by these uncontacted indigenous groups, stating that the movement of these other tribes is the result of pressure caused by illegal logging across the border in Peru. Cheap flights | Free flight comparison at Skyscanner.net. Transavia.com. eBay - Achetez et vendez vos objets neufs ou d'occasion. Enchères, prix fixe, petites annonces - Et vous, vous achetez comment ?
Chaussure Kickers Homme. Agences Digitales. Exposition Monet 2010 - RMN - Grand Palais - Paris. Ill Studio - All Gone / L Vuitton.
---