Urban Archaeology
5 Entire Islands with Large Complex Buildings Completely Abandoned : Uphaa.com
Haunting Photos Of Abandoned Cities Around The World
Pripyat, UkraineSite of the infamous Chernobyl incident, the entire city had to be abandoned in 1986 due to nuclear radiation. Sanzhi District, TaiwanThe "Sanzhi UFO houses" were a major development project for some pretty unusual-looking vacation homes, which was abandoned in 1978 before it could be completed. The site was demolished in 2008, and is now being redeveloped. Craco, ItalyCraco was a medieval village built high up on a steep summit for defensive reasons, but recurring earthquakes eventually made it impossible to sustain. Today, less than 800 people live there in a commune, while the majority remains eerily uninhabited. Kolmanskop, NamibiaFormerly a bustling diamond mining town, after the market declined, inhabitants began leaving the town after WWI; by 1954, it was completely deserted.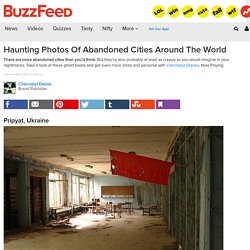 We think of feral dogs as dangerous, foreboding and to-be-avoid – but wild houses have a strange allure despite (or likely because) they are abandoned abodes, deserted homes gone from domestic spaces slowly back to nature. As photographer James D Griffioen muses, the Latin root refers both to while beasts but also to something that belongs to the dead, gone back to the Earth. Some of his shots capture this process at an incredibly late stage, such as the house above which is entirely camouflaged by the greenery that has grown to cover it – only discernible because the branches and vines conform to the shape of the structure. Others photos catch the domestic devolution at intermediate stages, snapshots of partial overgrowth where there is still some strange balance of building and nature – one could almost imagine someone still occupying this structure and simply never leaving it.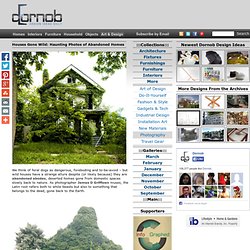 Houses Gone Wild
50 Stunning Examples of Urban Decay Photography - Noupe Design Blog
Abandoned Six Flags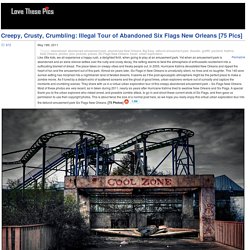 Hurricane Katrina killed this clown. According to the photographer, "An abandoned Six Flags amusement park, someone spray painted 'Six Flags 2012 coming soon' on the wall above the downed head. But they were clownin.' Six Flags will never rebuild here." That's sad, but much of New Orleans has not been restored to her former glory. This defunct amusement park on the city's eastern edge must surely serve as a constant reminder that Katrina tried to wash them off the map.
Abandoned Places: 10 Creepy, Beautiful Modern Ruins Abandoned Places | We humans are explorers by nature. The quest for discovery, both old and new, is part of what separates us from rest of the animal kingdom.
Abandoned Places: 10 Creepy, Beautiful Modern Ruins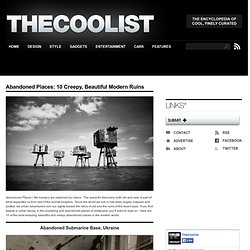 12 Ghost Cities Where You Can Choose Your Own Adventure