HMTL 5
15 Useful HTML5 Tutorials and Cheat Sheets | Tutorials. 1911 shares 8 Must-have Cheat Sheets for Web Designers and Developers As a web designer or developer, it's nearly impossible to remember multiple programming languages, frameworks, and keyboard shortcuts to various applications.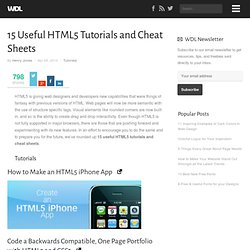 This is where cheat sheets can be a life saver. HTML5 Canvas Tutorials. Mobile HTML5 - compatibility tables for iPhone, Android, BlackBerry, Symbian, iPad and other mobile devices. HTML5 Presentation. HTML5 Canvas Demos and Applications To Make You Say WOW. Our today's post is on HTML5 Canvas Applications and Demos.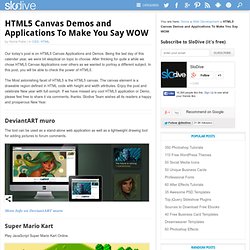 Being the last day of this calender year, we were bit skeptical on topic to choose. After thinking for quite a while we chose HTML5 Canvas Applications over others as we wanted to portray a different subject. In this post, you will be able to check the power of HTML5. HTML5 Rocks - A resource for open web HTML5 developers. SpyreStudios - Web-Design and Development Magazine.
Mobile HTML5 - compatibility tables for iPhone, Android, BlackBerry, Symbian, iPad and other mobile devices. HTML5 Doctor, helping you implement HTML5 today. Learn HTML & CSS - a book that teaches you in a nicer way. Web design Surrey, web development, web & mobile applications | 1minus1. CSS3 gradients - Adobe - The Expressive Web - Beta. CanvasText, An easy way to draw styled text into your HTML5 canvas. HTML Elements and Attributes. Mindmaps. Cross-Browser HTML5 Placeholder Text.
One of the nice enhancement in HTML5 web form is being able to add placeholder text to input fields.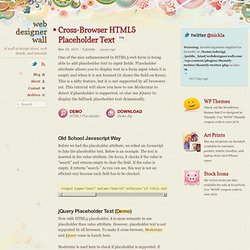 Placeholder attribute allows you to display text in a form input when it is empty and when it is not focused (it clears the field on focus). This is a nifty feature, but it is not supported by all browsers yet. This tutorial will show you how to use Modernizr to detect if placeholder is supported, or else use jQuery to display the fallback placeholder text dynamically. 40 Beautiful Free HTML5 & CSS3 Templates. Dec 01 2011 Over the last few years there has been great collections of quality free HTML & CSS templates published on Noupe such as 50 Free High-Quality and "New" (X)HTML/CSS Templates (2009) and 40+ Elegant Free CSS/(X)HTML Templates (2010).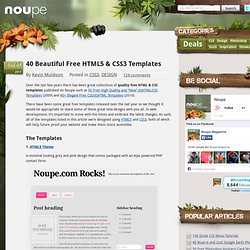 There have been some great free templates released over the last year so we thought it would be appropriate to share some of these great new designs with you all. In web development, it's important to move with the times and embrace the latest changes. As such, all of the templates listed in this article were designed using HTML5 and CSS3; both of which will help future proof your website and make them more accessible.
---