HMTL 5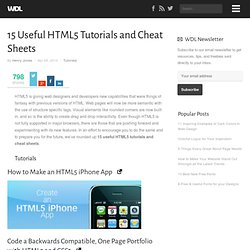 1911 shares 8 Must-have Cheat Sheets for Web Designers and Developers As a web designer or developer, it's nearly impossible to remember multiple programming languages, frameworks, and keyboard shortcuts to various applications. This is where cheat sheets can be a life saver.
In March 1936, an unusual confluence of forces occurred in Santa Clara County. A long cold winter delayed the blossoming of the millions of cherry, apricot, peach, and prune plum trees covering hundreds of square miles of the Valley floor. Then, unlike many years, the rains that followed were light and too early to knock the blossoms from their branches. Instead, by the billions, they all burst open at once. Seemingly overnight, the ocean of green that was the Valley turned into a low, soft, dizzyingly perfumed cloud of pink and white.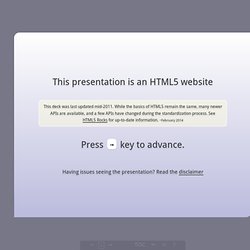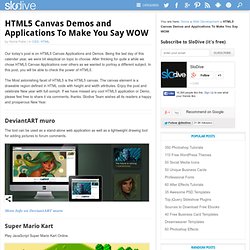 HTML5 Canvas Demos and Applications To Make You Say WOW
Our today's post is on HTML5 Canvas Applications and Demos. Being the last day of this calender year, we were bit skeptical on topic to choose. After thinking for quite a while we chose HTML5 Canvas Applications over others as we wanted to portray a different subject. In this post, you will be able to check the power of HTML5.
I have to be honest with you: I feel like a fraud writing about JavaScript for HTML5 Doctor. I would feel like a fraud writing about JavaScript for a click-driven ad-splattered content farm, never mind HTML5 Doctor. The thing is though, I'm writing about the classList API, and it's super easy. If your JavaScript-fu isn't great and you're wary of HTML5 APIs, this one is at the perfect temperature for toe-dipping, and it'll leave you pleasantly surprised at just how easy it is.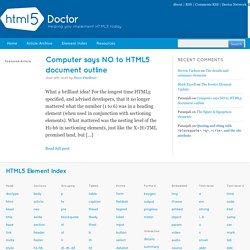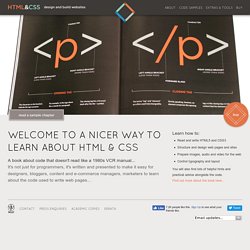 A book about code that doesn't read like a 1980s VCR manual... It's not just for programmers, it's written and presented to make it easy for designers, bloggers, content and e-commerce managers, marketers to learn about the code used to write web pages... Learn how to: Read and write HTML5 and CSS3 Structure and design web pages and sites Prepare images, audio and video for the web Control typography and layout You will also find lots of helpful hints and practical advice alongside the code.Find out more about the book here...
Learn HTML & CSS - a book that teaches you in a nicer way
Web design Surrey, web development, web & mobile applications | 1minus1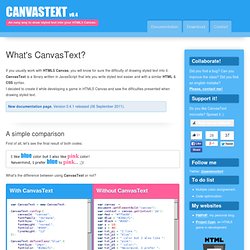 var canvas = document.getElementById("canvas");var context = canvas.getContext('2d');var Red ="#ff5e99";var Blue ="#29a1f1";var Black ="#000";var x =10;var y =40;var txt_p1 ="I like ";var txt_p2 ="blue";var txt_p3 =" color but I also like ";var txt_p4 ="pink";var txt_p5 =" color!";var txt_p6 ="Nevermind, I prefer ";var txt_p7 =" to ";var txt_p8 ="... ;)!"; context.font = '14px Verdana'; context.fillStyle = "#000000"; context.fillText(txt_p1,x,y); x += context.measureText(txt_p1).width;
CanvasText, An easy way to draw styled text into your HTML5 canvas.
Cross-Browser HTML5 Placeholder Text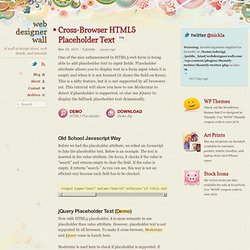 One of the nice enhancement in HTML5 web form is being able to add placeholder text to input fields. Placeholder attribute allows you to display text in a form input when it is empty and when it is not focused (it clears the field on focus). This is a nifty feature, but it is not supported by all browsers yet. This tutorial will show you how to use Modernizr to detect if placeholder is supported, or else use jQuery to display the fallback placeholder text dynamically.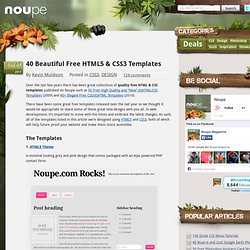 Dec 01 2011 Over the last few years there has been great collections of quality free HTML & CSS templates published on Noupe such as 50 Free High-Quality and "New" (X)HTML/CSS Templates (2009) and 40+ Elegant Free CSS/(X)HTML Templates (2010). There have been some great free templates released over the last year so we thought it would be appropriate to share some of these great new designs with you all. In web development, it's important to move with the times and embrace the latest changes. As such, all of the templates listed in this article were designed using HTML5 and CSS3; both of which will help future proof your website and make them more accessible.