Social Networks
5 Masterminds Redefining Social Media Marketing. The Social Media Strategist Series is supported by StrongMail, which helps marketers forge meaningful, profitable and long-lasting connections with customers through e-mail marketing and social media.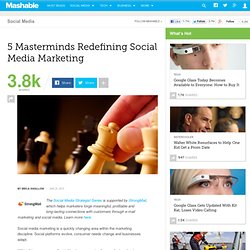 Learn more here. Social media marketing is a quickly changing area within the marketing discipline. The economics of gaining attention. A fascinating article at the Daily Beast chronicled an attempt to reverse engineer the Facebook social news feed.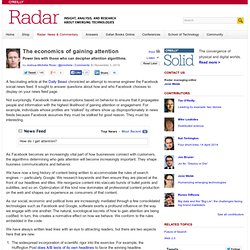 It sought to answer questions about how and who Facebook chooses to display on your news feed page. Not surprisingly, Facebook makes assumptions based on behavior to ensure that it propagates people and information with the highest likelihood of gaining attention or engagement. The Standard for Online and Internet Influence. Social Network Content Creation Has Plateaued [STUDY] With 500 million people using Facebook and Twitter seeing more than two billion tweets per month, one would assume that social media usage is skyrocketing.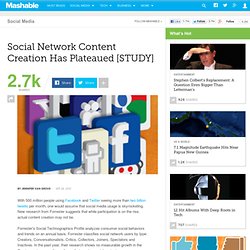 New research from Forrester suggests that while participation is on the rise, actual content creation may not be. Forrester's Social Technographics Profile analyzes consumer social behaviors and trends on an annual basis. US college blocks Facebook and Twitter in social experiment | Media. It is perhaps inevitable given the rise of social networking sites such as Facebook and Twitter that the number of places blocking access to them is also growing.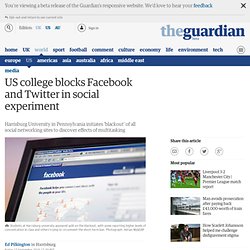 Burma, China, Iran, Harrisburg in Pennsylvania, the roll-call goes on and on. Harrisburg in Pennsylvania? Can that be true? Can a town better known for its steel industry and agriculture than for internet censorship really have joined the list? Join diaspora - blog. 10 Beautiful Social Media Infographics. This series is supported by Ben & Jerry's Joe, Ben & Jerry's new line-up of Fair Trade and frozen iced coffee drinks.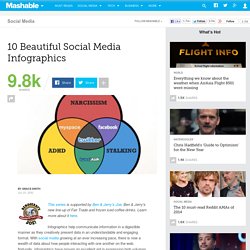 Learn more about it here. Infographics help communicate information in a digestible manner as they creatively present data in an understandable and engaging format. With social media growing at an ever increasing pace, there is now a wealth of data about how people interacting with one another on the web. Naturally, infographics have proven an excellent aid in expressing high volumes of social web information in a clear, visually appealing manner.
Here are 10 infographics that prove as beautiful as they are interesting. The Value of Social Media [STATS] Social media plays an important role in our lives and has drastically changed the world in ways more than one; It is now one of our important platforms of communication – we live and breathe it everyday, we rely on them for information and may even feel awkward not checking our Facebook account for notifications for 24 hours.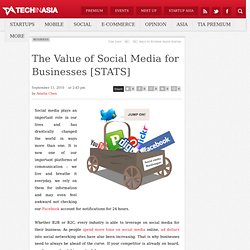 Whether B2B or B2C, every industry is able to leverage on social media for their business. As people spend more time on social media online, ad dollars into social networking sites have also been increasing. That is why businesses need to always be ahead of the curve. If your competitor is already on board, you have much catching up to do! And if you were thinking that visitors will first go to your site for information about your company… Omniture proves you wrong as they share the value of what social media brings. StumbleUpon.com: Personalized Recommendations to Help You Discover the Best of the Web.
Twitter. Facebook.
---