Buddhism
Archives
By David Over the years I've learned dozens of little tricks and insights for making life more fulfilling. They've added up to a significant improvement in the ease and quality of my day-to-day life.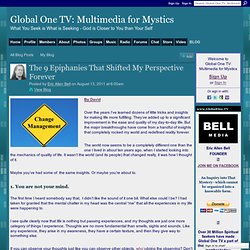 Ram Bahadur Bomjon He drew thousands of visitors and media attention by spending months in meditation.
Ram Bahadur Bomjon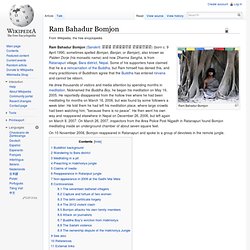 Hi Stumblers! Please see my spiritual newsletter My focus is not on rituals, symbolism or gods, but on the path that Buddhism points to and its vision on the nature of our every day "reality".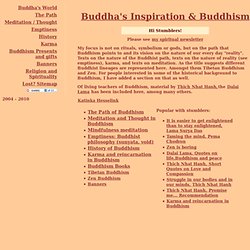 How to Fall into Spiritual Awakening
"The beautiful thing about a dogis he's never going to lie to you. If he's sad, he's going to tell you.If he's glad to see you,he's going to tell you. But there is somethinghidden unconsciouslyin the human conditionthat says what you areexperiencing is wrong.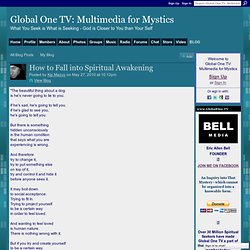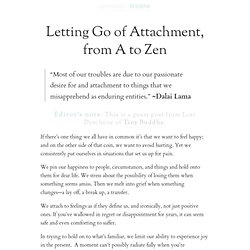 "Most of our troubles are due to our passionate desire for and attachment to things that we misapprehend as enduring entities." ~Dalai Lama
How to Transcend Ego in Meditation
"If you practice being present in meditation,you will find even beyond the thinkingthat there is this reflexive urgeto separate yourself from this moment.
Karma and Rebirth - Reincarnation in the Buddhist View
Paul Chek's Blog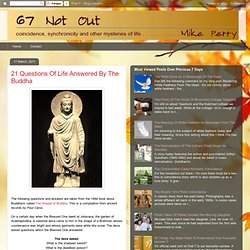 The following questions and answers are taken from the 1894 book about Buddhism called The Gospel of Buddha. This is a compilation from ancient records by Paul Carus. On a certain day when the Blessed One dwelt at Jetavana, the garden of Anathapindika, a celestial deva came to him in the shape of a Brahman whose countenance was bright and whose garments were white like snow.
67 Not Out: 21 Questions Of Life Answered By The Buddha
art of dharma. | A Buddhist Blog on Dharma, Compassion, Meditation, Yoga, Vegetarian, and more..