Technology
HAWAII'S EMERGING CLEAN-TECH SECTOR | Global Trade Magazine. This Huge Ship Just Sailed Around the World Powered by Nothing but Sunshine. Black Solar Cell Absorbs 99.7% of All Light. © Natcore Technology Scientists over at Natcore Tech have created what is now the "blackest" solar cell to date.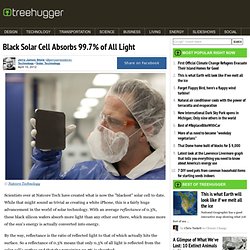 While that might sound as trivial as creating a white iPhone, this is a fairly huge advancement in the world of solar technology. With an average reflectance of 0.3%, these black silicon wafers absorb more light than any other out there, which means more of the sun's energy is actually converted into energy. By the way, reflectance is the ratio of reflected light to that of which actually hits the surface.
Biochemist creates CO2-eating light that runs on algae. Our atmosphere is filling up with CO2 and we seem to be the major cause of that.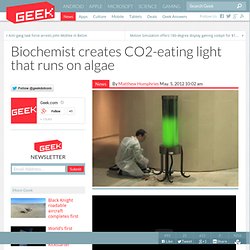 The generally accepted solution seems to be cutting back on emissions as quickly as possible, but implementing such cuts is problematic because everyone has to agree to do more, which essentially ends up costing a lot of time and money. There is an alternative to such measures, though.
---