Future Technology
Get flash to fully experience Pearltrees
In the future, robots will do literally everything for us (if we have anything to say about it). So why not build our office buildings, apartment towers and single-family homes? A small fleet of flying robots recently built a scale model of a building using Styrofoam bricks and a complex navigation system.
Home » Elite » High Speed Travel Tubes Can Take You From NY To Beijing In 2 Hours The Evacuated Tube Transport (ETT) system would take passengers from New York to Beijing in just two hours. Advocates of Evacuated Tube Transport (ETT) claim it is silent, cheaper than planes, trains, or cars and faster than jets. How it would work: put a superconducting maglev train in evacuated tubes, then accelerate using linear electric motors until the design velocity is attained. Passive superconductors allow the capsules to float in the tube, while eddy currents induced in conducting materials drive the capsules.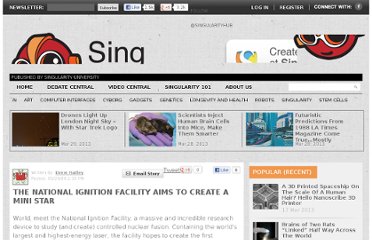 World, meet the National Ignition Facility: a massive and incredible research device to study (and create) controlled nuclear fusion. Containing the world's largest and highest-energy laser, the facility hopes to create the first controlled thermonuclear reaction ever. If they succeed, they will have achieved a dream of physics that many claimed impossible: man-made fusion as a source of energy. A mini star. Happy Friday.
Mizozo fake link What is Mizozo? Mizozo is a user generated content site which is in the process of a major shift in business. Originally a news site, Mizozo is now becoming the first truly transparent corporate entity.
Here comes something beyond our imagination. The Great Race 2025 is a futuristic concept car created by Honda. This design is surely inspired by some dragon games because the design looks like an unbelievable car with dragon wings that can be used to fight and travel any kind of track.
News in Science Thursday, 26 April 2012 Connor Duffy and staff ABC Giant leap Researchers say they have designed a tiny crystal that acts like a quantum computer so powerful it would take a computer the size of the known universe to match it. Details of the crystal, which is made up of just 300 atoms, are published today in the journal Nature . "Quantum computing is a kind of information science that is based on the notion that if one performs computations in a fundamentally different way than the way your classical desktop computer works," says study co-author University of Sydney 's Dr Michael Biercuk.
Okay, this is just freaky. We know LED lights are versatile enough to be used for practically anything, but LED contact lenses? Really?!
wow I didnt know the technology was that old already. Thanks for sharing :) by iant May 7
Last week, Google showed off the best vision for the future of augmented reality that we've seen with its Project Glass . As incredible as the video was, it was still just a concept video, so I mostly wrote it off as pipe-dream technology that's still years away from feasibility. Maybe not. Will Powell, an AR developer from Oxford, built his own DIY version of Project Glass . Powell's glasses work just like Google's in that you can use voice commands to set appointments, play some sappy song, and take pictures. The only difference, of course, is that this is a real working unit.
Oct 15, Electronics/Robotics The blob bot uses a jamming mechanism to change its shape and roll, enabling it to squeeze into small spaces. Credit: iRobot. (PhysOrg.com) -- iRobot's latest robot is unique on many levels. The doughy blob moves by inflating and deflating - a new technique its developers call "jamming." As the researchers explain in the video below, the jamming mechanism enables the robot to transition from a liquid-like to a solid-like state.