Graphics & Art
Seven Advertising Insights for the New Year - Small Agency Diary
Ableton Live DJ - Home
Robot For President YouTube - Hitler Banned From iSketch!Content Aware Image Resizing (found by J-Roen)SeaDragon @ TEDThe Bad Signage PoolDice StackingFantoche (2 times)RENT - online auditionsPolo without the horse3d motion portraitFruit VesselMonkey Loves PigeonJessica the Pet Hippo (found by Julia)Treadmill MadnessBending LightSleeping Concert In SpainPartial Face TransplantsCop riding Segway runs down suspectcolor matching coffee cupSão Paulo No Logosuper fun happy slide Daft HandsCrowd FarmzZzBabies Eating LemonsType the SkyScreaming BeansVisible Only Through a Digital CameraWalk it Out (found by Lauren)Inmate ThrillerThe Moment the Tallest Man Met the Shortest ManDavid Shrigley Music VideoBrain CloudPictures at Right Angles (found by Doodles)The New Internet HeroLaughing Yoga 2Jed MovieThe WindApneeTypography ToysLetter of the Day (found by Paul Drew)Origins of Punctuation Marks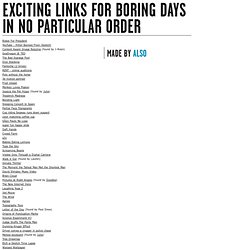 As you know, when iRobot isn't hard at work developing some adorable automated vacuum cleaners, it has a quite lucrative sideline in DARPA-funded research projects. On that front, it looks like we finally have some results to report back on that ChemBot project that first appeared on our radar early last year. Unveiled at the International Conference on Intelligent Robots and Systems (IROS) yesterday, this palm-sized troublemaker is being billed as "the first demonstration of a completely soft, mobile robot using jamming as an enabling technology." The "jamming" in question is something called "jamming skin enabled locomotion," which traps air and a collection of loosely packed particles in a package made of silicon rubber.
iRobot shape-shifting ChemBot is back, and it's bad (video) -- E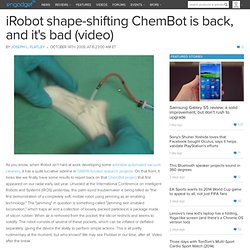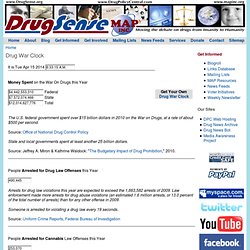 War On Drugs Clock
Research assessing the impact of the Personal Responsibility and Work Opportunity Reconciliation Act of 1996 (PRWORA) found that the termination of addiction disability payments has had a negative effect. According to the study, "While the aim of SSI addiction disability termination was, for conservatives, to force individuals to take greater responsibility in their lives and to decrease dependence on governmentally funded programs, this goal appears nearly impossible to achieve given the lack of resources had by this under-skilled and poor population. Nor did the policy change necessarily decrease their risk of continued involvement in drugs and crime. We estimate that losing a stable housing situation has placed respondents at greater risk for continued drug and alcohol use, something not considered by extant etiological work on individual substance abuse. These consequences could mean a greater dependence of this population on state and federally funded programs."
Fluid | Remon Tijssen | Dynamic Media Design
< leandro * _ * castelao >
The Hamilton Wood Type Catalog #14 is 125 pages of both classic and surprisingly iconic fonts, figures, icons and imagery. It's so full of great inspiration and I plan on spending my evening flipping through the 90+ pages I didn't make it through this morning. I used to run into a lot of problems finding good inspiration for vintage type and type treatments while in school and usually found a few labels, but nothing like this. If only I had ffffound this earlier!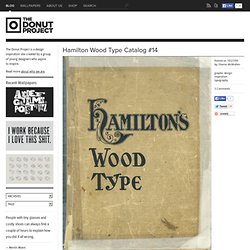 The Donut Project » Hamilton Wood Type Catalog #14
100 Illustrated Horror Film Posters: Part 1
For some, Halloween means costume parties and drunken debauchery. That's never really been my style. Personally, I like to spend my Halloween evenings eating candy and watching scary movies. Yeah, I'm a nerd – I know. This Halloween season has had me reminiscing of the brilliant horror and sci-fi movie posters of years past. Particularly, I am a fan of the illustrated posters that used to be the staple of nearly every science fiction and horror film released.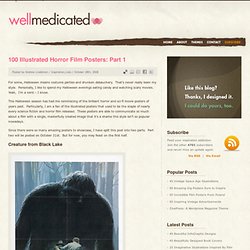 Although 2008 was a very good year for sans-serifs, there was also an impressive crop of serif fonts. Strikingly original, Marat by Ludwig Übele was the most remarkable of them all: sturdy, compact, and very legible. Its superior quality and unique appearance met with great response from MyFonts' customers, making it 2008's best selling serif text font of the year. Although it works beautifully at small text sizes, its bold weights are full of character and can double as attention-grabbing headline faces. Besides the professionally equipped Marat Pro, there's Marat Std, a more affordable basic version.
Top 10 fonts of 2008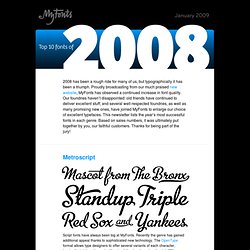 Glenn is an amazing freelance graphic designer from Auckland, New Zealand. He started his career by designing corporate identities and designs for packaging. Soon after he got pulled into designing t-shirts on Threadless and that changed his focus. He started his own tees website store.glennz.com.
Glenn Jones / Glennz | Only Creative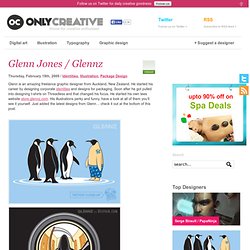 The Select Series - A tee shirt by Jean Jullien titled Monsters
NOTHINGSOMETHING NOTHING:SOMETHING:NY Graphic Design Devin Becke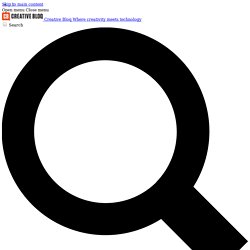 Computer Arts is the magazine for people who believe design matters, and has been inspiring and informing graphic designers and illustrators since 1995. With both a deluxe print edition and a fully-interactive, bespoke iPad edition, Computer Arts brings you behind-the-scenes access to cutting-edge design projects, in-depth analysis and incisive opinions from the design world's thought leaders, plus the very best new work from the global design community. Whether it's a shift in creative thinking or a change to the business of design, you can rely on Computer Arts to bring you detailed analysis of the pivotal events.
Fed by Birds: Best Wardrobe of All Time?
57 Creatively Designed Examples Of Typography In Logo Design @ S
40 Seriously Funny Print Ads | Webdesigner Depot
Hypnoteis / +31 (0) 6 280 66 253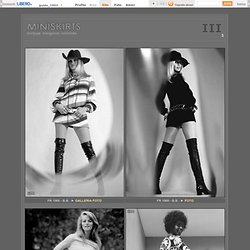 Something in the way she moves, Attracts me like no other lover. Something in the way she woos me. I don't want to leave her now, You know I believe in how. Somewhere in her smile she knows, That I don't need no other lover. Something in her style that shows me.
Miniskirts 60's 70's • Galleria immagini minigonne pictures girl
7 advertising insights for 2010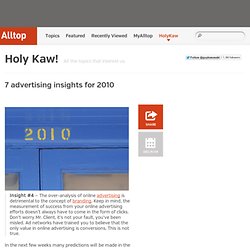 Insight #4 — The over-analysis of online advertising is detrimental to the concept of branding. Keep in mind, the measurement of success from your online advertising efforts doesn't always have to come in the form of clicks. Don't worry Mr.