Healthcare
Salud pública/ Public Health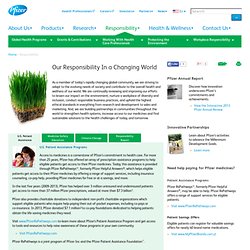 Health Care Professionals Careers Contact Us Copyright © 2002–2011 Pfizer Inc. All rights reserved.
Public Health Books - Medical & Academic Partnerships (MAP) Awards
download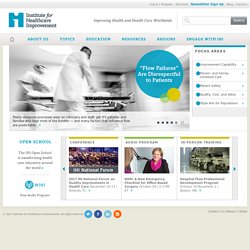 14th Annual International Summit on Improving Patient Care in the Office Practice and the Community
Quotes from Healthcare Kaizen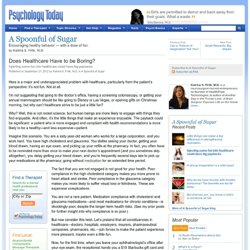 Does Healthcare Have to be Boring?
Here is a major and underappreciated problem with healthcare, particularly from the patient's perspective: it's not fun.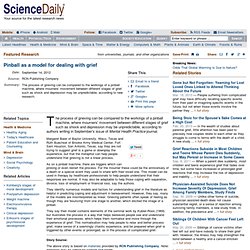 Pinball as a model for dealing with grief
Sep. 14, 2012 — The process of grieving can be compared to the workings of a pinball machine, where mourners' movement between different stages of grief such as shock and depression may be unpredictable, according to authors writing in September's issue of Mental Health Practice journal. Margaret Baier of Baylor University, Waco, Texas and Ruth Buechsel of Brooke Army Medical Center, Fort Sam Houston, San Antonio, Texas, say they are not trying to suggest grief is a game or downplay the experience, but that the metaphor can help people understand that grieving is not a linear process.
'We Built It': The Neuroscience of Success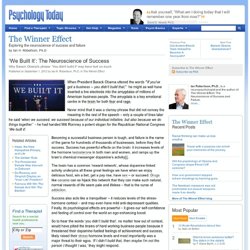 When President Barack Obama uttered the words '" If you've got a business -- you didn't build that, " he might as well have inserted a live electrode into the amygdalas of millions of American business people.
Bill Davenhall: Your health depends on where you live
I got an interesting inquiry from a reader that I thought I'd post (with their permission) here, along with my (heavily revised with references added) reply. While they ask about a particular self-help guru, my answer applies to lots of approaches, not just this one, so I edited out the specifics. "I was wondering what do you think of XXXXX?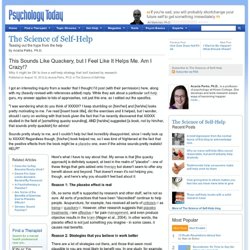 This sounds like quackery, but I feel like it helps me. Am I crazy!?
8 Minutes to A Longer Life
Recent research has shown that prolonged sitting time is associated with increased risk for all-cause mortality, cardiovascular disease, and cancer, regardless of how active you are in your non-sitting time (Katzmarzyk et al 2010). These findings are disconcerting to those of us who toil away at office jobs that force us to sit for hours. Sitting time is suspected to be harmful not just because it decreases metabolism but also because of the lack of muscle activity in the lower limbs (Dunstan et al, 2012a).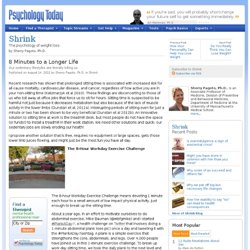 ¿Cuál dedo tienes más largo, índice o anular?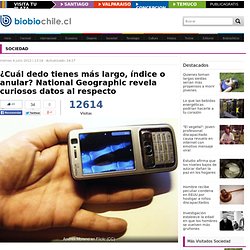 ¿Cuál dedo tienes más largo, índice o anular? National Geographic revela curiosos datos al respecto
Breast milk kills HIV and blocks its oral transmission in humanized mouse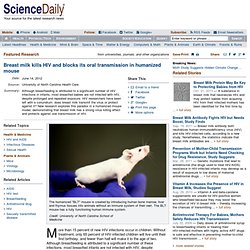 June 14, 2012 — More than 15 percent of new HIV infections occur in children.
Breathe: Your Life Depends On It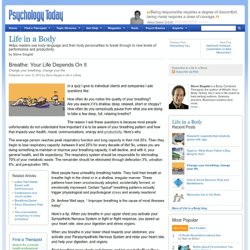 In a quiz I give to individual clients and companies I ask questions like: How often do you notice the quality of your breathing?
Each summer seems to bring with it shoes that are increasingly bad for your health.
Are you a shoe fashion victim?
Midwifery Today - Pregnancy, Birth, Homebirth and Midwife Information
El "Test rápido" que puede salvar vidas: 4 pasos para detectar un derrame cerebral
El "Test rápido" que puede salvar vidas: 4 pasos para detectar un derrame cerebral
El narcicismo es particularmente nocivo para la salud de los hombres, según un estudio
www.medivac.com.ar/Alumnos/nuevo.pdf
Out in the Rural on Vimeo
Twenty Quotations About Health
Chinese porcelain Laughing Buddha
Introducción a la enfermería - María del Carmen Ledesma Pérez