Gen-Information
eMail
9 content curation tools that better organise the web. Content curation is a huge deal on the web today.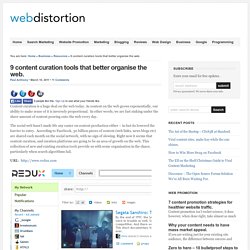 As content on the web grows exponentially, our ability to make sense of it is inversely proportional. In other words, we are fast sinking under the sheer amount of content pouring onto the web every day. The social web hasn't made life any easier on content production either – in fact its lowered the barrier to entry. According to Facebook, 30 billion pieces of content (web links, news blogs etc) are shared each month on the social network, with no sign of slowing.
100 Websites You Should Know and Use. Entertainment Meet David Peterson, who developed Dothraki for Game of Thrones There are seven different words in Dothraki for striking another person with a sword.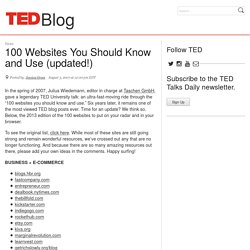 Among them: "hlizifikh," a wild but powerful strike; "hrakkarikh,"a quick and accurate strike; and "gezrikh," a fake-out or decoy strike. But you won't find these words in George R. R. PING : Welcome. PIXELS OLD SCHOOL - AMAZING RENDER. Find the Best Social Media Tools - oneforty. OpenStreetMap. IdeaMarketers - free content directory. Top7Business.com Delivers 7 Tips & Secrets To Help Build & Grow Your Business.
Encyclopida
---