Social justice
Race, Poverty, and the Environment | Urban Habitat. By Christine Joy Ferrer About five years ago, more than anything, I wanted to be a journalist who truly represented the voice of the people.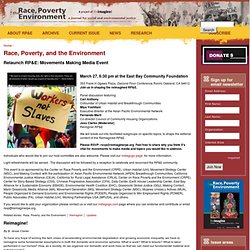 A job at a corporate, mainstream publication never appealed to me. Today, I'm honored to have worked as the web and design editor for Race, Poverty & the Environment, a journal that has mirrored my passion for a myriad of issues in the realm of social and environmental justice. And it's also great being able to say, I worked for Urban Habitat, "an organization that builds power in low-income communities and communities of color. Project Free World. Waging Nonviolence - People-Powered News and Analysis.
Prison–Industrial Complex. Entrepueblos. Immigration and Refugees. Gender Equality. Just Foreign Policy. RootsAction. Youth for Justice. GLBT. Indigenous and first nations. PeopleOverPolitics.Org - POPnetwork. Cordaid. Seed Freedom | A GLOBAL MOVEMENT TO DEFEND SEED FREEDOM.
Cultures of Resistance | Cultures of Resistance. OFS | Organization for a Free Society - Global Exchange.
---