Post-it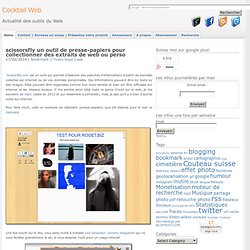 Scissorsfly.com est un outil qui permet d'élaborer des planches d'informations à partir de données collectée sur internet ou de vos données personnelles. Ses informations peuvent être du texte ou des images. Elles peuvent être organisées comme bon nous semble et bien sûr être diffusées sur internet et les réseaux sociaux. Il me semble avoir déjà testé ce genre d'outil sur le web, je me souviens de clipix (testé en 2012 et qui ressemble à pinterest), mais je sais qu'il y a bien d'autres outils sur internet. Pour faire court, voilà un exemple de clipboard (presse-papiers) que j'ai élaboré pour le test ce clipboard
scissorsfly presse-papiers pour collection d' extraits de web
welcome back! Forget your password? Click here. Trouble signing in? Click here.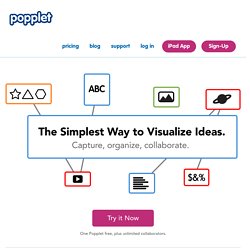 Stixy est un nouveau service qui permet de créer un espace collaboratif en ligne pour partager des informations avec d'autres utilisateurs ou pour travailler ensemble sur un tableau blanc virtuel. Stixy aide les utilisateurs a organiser leurs informations sans contrainte sur un tableau blanc en ligne. Vous allez pouvoir créer des tâches, des rendez-vous, y accrocher des fichiers, des photos, des notes, des liens et les organiser graphiquement comme bon vous semble. Vous pourrez ensuite partager cet espace ou ces espaces avec vos amis, collègues ou famille. Stixy est un espace collaboratif pour monsieur tout le monde.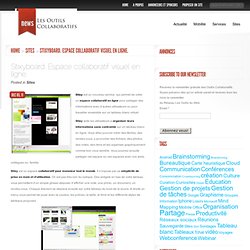 Drawitlive. Un paperboard collaboratif en ligne pour dessiner à plusieurs
Drawitlive est une application en ligne d'une extrème simplicité. Vous accèderez à un tableau blanc avec tous les outils nécéssaires pour déssiner et partager vos réalisations. Pas besoin de s'inscrire, le service Drawitlive est entièrement gratuit. Vous créez un paperboard vierge et obtenez immédiatement une url qu'il vous suffira de partager pour que d'autres internautes qu'ils soient dans la même ville que vous ou au bout de la planète puissent dessiner avec vous.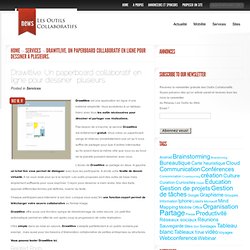 To-Do DeskList, free desktop to-do list software To-Do DeskList is a simple desktop to-do software that is powerful in its simplicity and effectiveness. To-Do DeskList surprised us by delivering a fresh, unusual design and just the right number of features. If you're in the market for an unobtrusive but flexible task manager, this just might be the one. To-Do DeskList's interface is sleek and attractive. (...)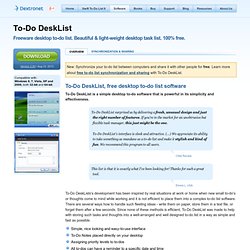 Freeware desktop to-do list. Beautiful & light-weight desktop task list. 100% free.
My Canvases
is Windows desktop application for keeping your notes on Windows desktop, like sticky notes. It helps you to keep your ideas in the place you visit and see the most of the time while sitting in front of your computer. The things which should not be seen by everybody going around your Windows desktop can be .
DeskNotes
tentative by professeur
Shareable sticky notes web-app.