Shambhala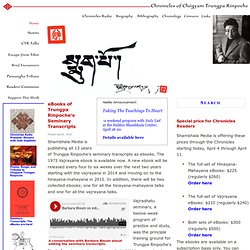 eBooks of Trungpa Rinpoche's Seminary Transcripts Posted April4, 2014 Shambhala Media is publishing all 13 years of Trungpa Rinpoche's seminary transcripts as ebooks. The 1973 Vajrayana ebook is available now.
The Chronicles of Chogyam Trungpa Rinpoche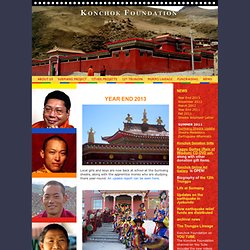 Local girls and boys are now back at school at the Surmang shedra, along with the apprentice monks who are studying there year-round. An update report can be seen here. A new slide show of meditational dance at Surmang is available for viewing here on the Shambhala Times. November 2012 UPDATE The children's educational program at the Surmang shedra is now gearing up for its busiest time of the year.
Konchok Foundation
Keith Dowman
Shambhala Times Community News Magazine
FEATURING: Andrea Miller's transformational retreat and interview with THICH NHAT HANH; Six Buddhist teachers on Joyful Giving; JACK KORNFIELD and JOSEPH GOLDSTEIN on what makes us free; LARRY ROSENBERG on the Buddha's famous exhortation, "Be a Lamp Unto Yourself"; RAM DASS, JUDY LIEF, GINA SHARPE, ANYEN RINPOCHE, book reviews, and more. Jack Kornfield on beginning this time-honored, heart-opening practice. From our new, January 2014 magazine. • Being Here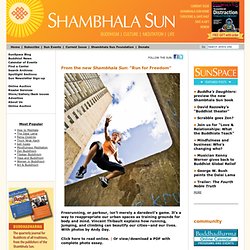 ShambhalaSun.com: Buddhism | Culture | Meditation | Life
Home - Silicon Valley Shambhala Meditation Center
Welcome to Shambhala. You have found a place to rest your mind and make friends with being human. The Silicon Valley Shambhala Center is part of an international community of meditation centers founded by Tibetan Buddhist meditation master, Chogyam Trungpa Rinpoche, and led by his son and lineage holder, Sakyong Mipham Rinpoche. We offer a friendly, uplifted environment in which to explore meditation and the qualities it can bring to your life. Our center offers free meditation instruction and a well-defined path of practice and study.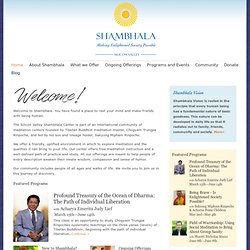 Shambhala Training Glossary
This glossary is compiled from the writings and teachings of the Venerable Chogyam Trungpa Rinpoche, the Dorje Dradul of Mukpo, and his students. To study these teachings in depth, one may attend Shambhala Training weekends and read Trungpa's book, "Shambhala, Sacred Path of the Warrior", (Shambhala Publ., 1984), from which the material in this glossary is derived. This document is referenced in accordance with MLA guidelines for academic citations. The book is transcribed from talks by Chogyam Trungpa. Most of the grammar and spelling is from oral transmission, thus it is not in perfect English. It is left as is from the the publication.