Articles
Advertisement
A Dad's Plea To Developers Of iPad Apps For Children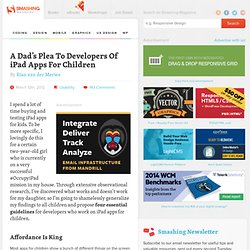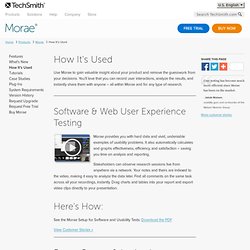 Use Morae to gain valuable insight about your product and remove the guesswork from your decisions.
Website testing, user testing, and market research done with Morae by TechSmith
Tobii Technology is a world leader in hardware and software solutions for eye tracking. Eye tracking enables a computer to tell exactly where a person is looking.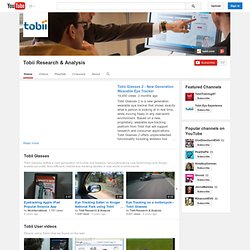 TobiiEyeTracking's Channel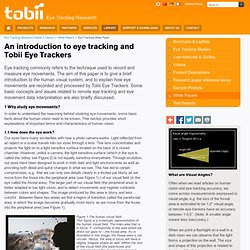 Eye Tracking White Paper
Eye tracking commonly refers to the technique used to record and measure eye movements. The aim of this paper is to give a brief introduction to the human visual system, and to explain how eye movements are recorded and processed by Tobii Eye Trackers. Some basic concepts and issues related to remote eye tracking and eye movement data interpretation are also briefly discussed.
Heck Yes, Windows Is Still Relevant
She & Me - Creative Web Strategy and Content Development
Get Great Insights with Morae Morae is the gold standard in usability and market research.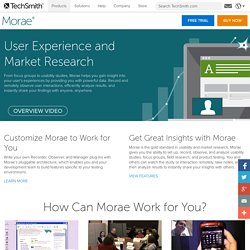 by anthony on 08/04/11 at 10:05 pm Icons are visual cues that help users use interfaces more efficiently.
Why Distinct Icon Outlines Help Users Scan Faster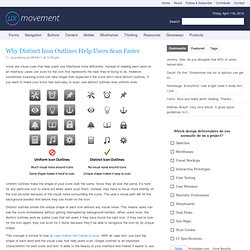 9 Rules to Make Your Icons Clear and Intuitive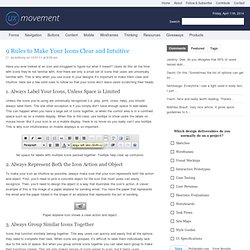 by anthony on 10/31/11 at 9:09 am Have you ever looked at an icon and struggled to figure out what it meant? Users do this all the time with icons they're not familiar with.
px - em - % - pt - keyword
Published by Chris Coyier Keyword Valid options for setting font-size in keyword are xx-small, x-small, small, medium, large, x-large, and xx-large as well as relative keywords smaller and larger.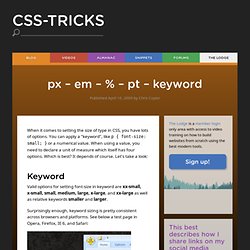 Advertisement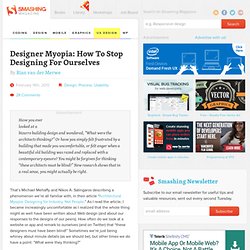 Designer Myopia: How To Stop Designing For Ourselves
Is There Ever A Justification For Responsive Text?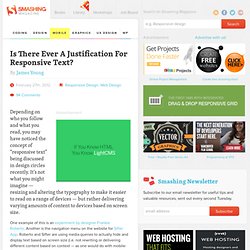 Advertisement Depending on who you follow and what you read, you may have noticed the concept of "responsive text" being discussed in design circles recently.
Abstract HTML4 and CSS2 currently support media-dependent style sheets tailored for different media types. For example, a document may use sans-serif fonts when displayed on a screen and serif fonts when printed.
Advertisement Everyone would agree that usability is an important aspect of Web design.
Hick's law, or the Hick–Hyman Law, named after British psychologist William Edmund Hick and Ray Hyman, describes the time it takes for a person to make a decision as a result of the possible choices he or she has: increasing the number of choices will increase the decision time logarithmically. The Hick–Hyman law assesses cognitive information capacity in choice reaction experiments.
Hick's law
Advertisement
9 Common Usability Mistakes In Web Design
CSS Text-Rendering
This morning I saw a couple of tweets from @seangaffney and @maxvoltar about the CSS text-rendering property, which is in the W3C Working Draft. Aesthetically Loyal has outlined the differences in kerning pairs and browser support for text-rendering: optimizeLegibility; quite nicely, and after seeing how well capital As, Vs, Ys and Ts display I had to test it for myself. Similar to Kyle Meyer's experiment, I noticed a significant improvement and added the property to my body CSS for this site.
4 Tips and Tricks for more Legible Content
What's the most readable font for the screen?
Care With Font Size - Quality Web Tips
The Myth Of The Sophisticated User - Smashing UX Design
and Sogeti Testing Services | Videos
4 forgotten principles of usability testing
How to use multitasking gestures on your iPad
User Experience Consulting | Northridge Interactive
The guide may have missed one. The iPad entire hand finger open then closing together to return to home. by hfernety Nov 22
Persona-Lene.jpg (809×1156)
Touchscreens UX: Godsend or disaster?
The Relevance of User Experience: Using Every Opportunity to Impress Users
AN GREAT QUOTE - "a recent epiphany I had when thinking about software UX: its all ones and zeroes. Every single bit of it. All we are selling is what you do with it, and how." by hfernety Nov 22
LOVED THIS QUOTE - By capitalizing on a best not first strategy, the combination of marketing and critical mass reached the large, profitable group of non-tech savvy users. by hfernety Nov 22