Hermannmucke
Hermann Mucke
cloudsider • Online Cloud Vergleich
Online Data Backup Solutions | Online Server Backup Software | Remote Backup Services | Data Backup Software | Offsite Backup Software | - Vembu Technologies.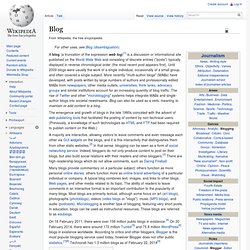 A blog (a truncation of the expression web log)[1] is a discussion or informational site published on the World Wide Web and consisting of discrete entries ("posts") typically displayed in reverse chronological order (the most recent post appears first). Until 2009 blogs were usually the work of a single individual, occasionally of a small group, and often covered a single subject.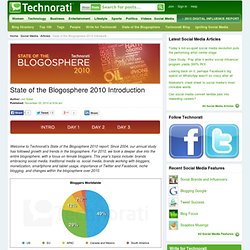 Welcome to Technorati's State of the Blogosphere 2010 report. Since 2004, our annual study has followed growth and trends in the blogosphere. For 2010, we took a deeper dive into the entire blogosphere, with a focus on female bloggers.
Technorati is an Internet search engine for searching blogs. By June 2008, Technorati was indexing 112.8 million blogs and over 250 million pieces of tagged social media.[3] The name Technorati is a blend of the words technology and literati, which invokes the notion of technological intelligence or intellectualism.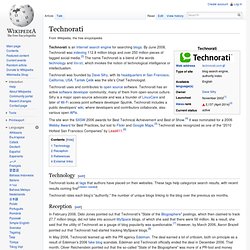 Technorati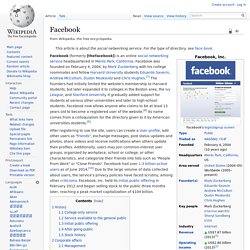 Users must register before using the site, after which they may create a personal profile, add other users as friends, exchange messages, and receive automatic notifications when they update their profile.
Facebook: Facts, Figures & Statistics For 2010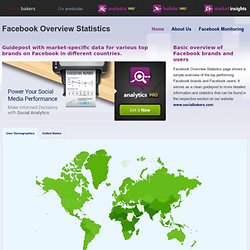 Socialbakers Analytics - Power Your Social Media Performance Facebook Overview Statistics page shows a simple overview of the top performing Facebook brands and Facebook users. It serves as a clean guidepost to more detailed information and statistics that can be found in the respective section on our website www.socialbakers.com.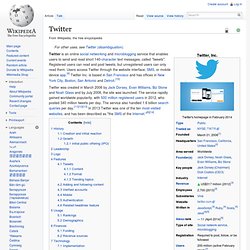 History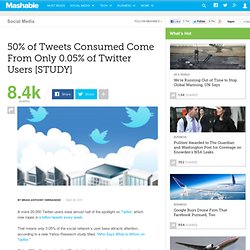 A mere 20,000 Twitter users steal almost half of the spotlight on Twitter, which now ropes in a billion tweets every week. That means only 0.05% of the social network's user base attracts attention, according to a new Yahoo Research study titled, "Who Says What to Whom on Twitter."
50% of Tweets Consumed Come From Only 0.05% of Twitter Users [STUDY]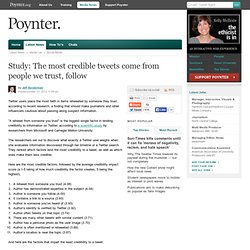 Most credible tweets come from people we trust, follow
Twitter users place the most faith in items retweeted by someone they trust, according to recent research, a finding that should make journalists and other influencers cautious about passing along suspect information.
Trick or Tweet
Obsessed with the idea that Google doesn't have the one right answer, in late 2008 Micah Baldwin joined Lijit Networks—his sixth startup—which believes each blogger has a right answer. What if you didn't know who to follow on Twitter?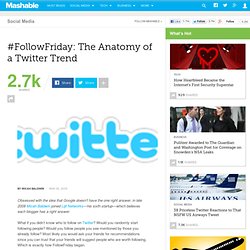 #FollowFriday: The Anatomy of a Twitter Trend
Twitter in business
An article in today's London Metro paper startlingly reports that in the Global Top 10 for businesses who use Twitter, just one is British – PriceWaterhouse. Twitter celebrated it's 5th birthday yesterday amid the buzz of 200 million users and 1 billion tweets per week.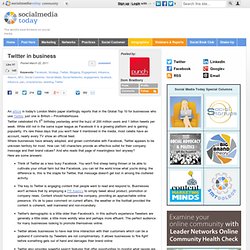 How Can you Model Twitter Traffic?
Traffic data can be addicting at times. I mean, who doesn't like seeing who is looking at your pages?
How to Predict the Spread of News on Twitter
Twitter has revolutionised the way millions of people receive news and the type of news they get.
iUnfollow | Twitter Unfollow Tool
Pharma TWANK (Twitter Rankings) 2011
TWANK.
Top Pharma Tweeters: Tracking Pharma's Use of Twitter in Real-Time | ePharma Rx
About a year ago, I published a chart that looked like the one to the right in a post titled "Pharma Finds its Voice on Twitter."
Pharma on Twitter: Developing a Presence - a Nexus report
Why Twitter Matters Now in Biotech, and Why Executives Can't Ignore it Anymore
Twitter for Health Campaigns (10 tips)