Hermannmucke
Hermann Mucke
Cloudsider • Online Cloud Vergleich. Online Data Backup Solutions | Online Server Backup Software | Remote Backup Services | Data Backup Software | Offsite Backup Software | - Vembu Technologies.
Mobile Tags. Pearltrees videos. Help. Blogging. A blog (a truncation of the expression web log)[1] is a discussion or informational site published on the World Wide Web and consisting of discrete entries ("posts") typically displayed in reverse chronological order (the most recent post appears first).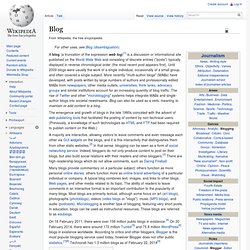 Until 2009 blogs were usually the work of a single individual, occasionally of a small group, and often covered a single subject. More recently "multi-author blogs" (MABs) have developed, with posts written by large numbers of authors and professionally edited. MABs from newspapers, other media outlets, universities, think tanks, advocacy groups and similar institutions account for an increasing quantity of blog traffic. The rise of Twitter and other "microblogging" systems helps integrate MABs and single-author blogs into societal newstreams. Blog can also be used as a verb, meaning to maintain or add content to a blog. State of the Blogosphere 2010 Introduction - Technorati Blogging. Welcome to Technorati's State of the Blogosphere 2010 report.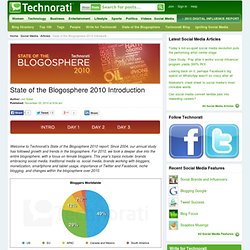 Since 2004, our annual study has followed growth and trends in the blogosphere. For 2010, we took a deeper dive into the entire blogosphere, with a focus on female bloggers. Technorati. Technorati is an Internet search engine for searching blogs.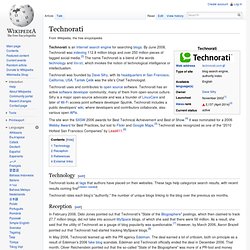 By June 2008, Technorati was indexing 112.8 million blogs and over 250 million pieces of tagged social media.[3] The name Technorati is a blend of the words technology and literati, which invokes the notion of technological intelligence or intellectualism. Technorati was founded by Dave Sifry, with its headquarters in San Francisco, California, USA. Tantek Çelik was the site's Chief Technologist. Technorati uses and contributes to open source software.
Technorati has an active software developer community, many of them from open-source culture. Facebook (Wikipedia) Users must register before using the site, after which they may create a personal profile, add other users as friends, exchange messages, and receive automatic notifications when they update their profile.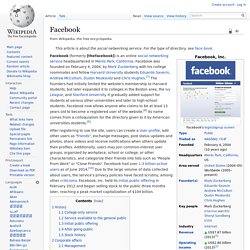 Additionally, users may join common-interest user groups, organized by workplace, school or college, or other characteristics, and categorize their friends into lists such as "People From Work" or "Close Friends". In September 2012, Facebook had over one billion active users,[8] of which approximately 9% were fake.[9] In 2012, Facebook was adding over half a petabyte of data every 24 hours, amounting to about 180 petabytes per year.[10] History. Facebook: Facts, Figures & Statistics For 2010  Facebook Marketing Statistics, Demographics, Reports, and News – CheckFacebook. Socialbakers Analytics - Power Your Social Media Performance Facebook Overview Statistics page shows a simple overview of the top performing Facebook brands and Facebook users.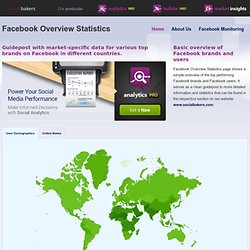 It serves as a clean guidepost to more detailed information and statistics that can be found in the respective section on our website www.socialbakers.com. United States Age: Male/Female. Twitter (Wikipedia) History Creation and initial reaction Twitter's origins lie in a "daylong brainstorming session" held by board members of the podcasting company Odeo.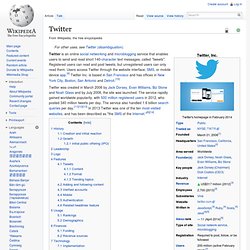 Dorsey, then an undergraduate student at New York University, introduced the idea of an individual using an SMS service to communicate with a small group.[15][16] The original project code name for the service was twttr, an idea that Williams later ascribed to Noah Glass,[17] inspired by Flickr and the five-character length of American SMS short codes. The developers initially considered "10958" as a short code, but later changed it to "40404" for "ease of use and memorability.
50% of Tweets Consumed Come From Only 0.05% of Twitter Users [STUDY] A mere 20,000 Twitter users steal almost half of the spotlight on Twitter, which now ropes in a billion tweets every week.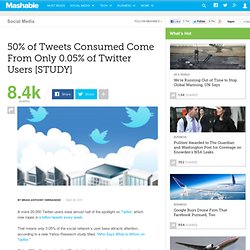 That means only 0.05% of the social network's user base attracts attention, according to a new Yahoo Research study titled, "Who Says What to Whom on Twitter." Of the 260 million tweets with URLs that the study's authors analyzed, nearly 50% of the tweets consumed were created by what they called "elite" users who fall into four categories: media, celebrities, organizations and bloggers. "Ordinary" users encompass everyone else. Like findings in previous studies, the researchers for this one conclude Twitter resembles an information-sharing hub rather than a social network, with the top generators garnering huge follower tallies but not following their content consumers in return. Unlike previous studies though, this one delves deeper into the production and flow of tweets. Most credible tweets come from people we trust, follow. Twitter users place the most faith in items retweeted by someone they trust, according to recent research, a finding that should make journalists and other influencers cautious about passing along suspect information.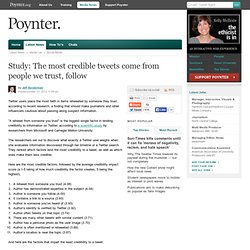 "A retweet from someone you trust" is the biggest single factor in lending credibility to information on Twitter, according to a scientific study by researchers from Microsoft and Carnegie Mellon University. The researchers set out to discover what exactly a Twitter user weighs when she evaluates information discovered through her timeline or a Twitter search.
They ranked which factors lend the most credibility to a tweet, as well as which ones make them less credible. Here are the most credible factors, followed by the average credibility impact score (a 1-5 rating of how much credibility the factor creates, 5 being the highest). Trick or Tweet. #FollowFriday: The Anatomy of a Twitter Trend. Obsessed with the idea that Google doesn't have the one right answer, in late 2008 Micah Baldwin joined Lijit Networks—his sixth startup—which believes each blogger has a right answer.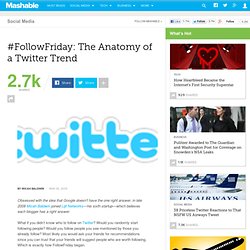 What if you didn't know who to follow on Twitter? Would you randomly start following people? Would you follow people you see mentioned by those you already follow? Most likely you would ask your friends for recommendations since you can trust that your friends will suggest people who are worth following. Which is exactly how FollowFriday began. Twitter in business. An article in today's London Metro paper startlingly reports that in the Global Top 10 for businesses who use Twitter, just one is British – PriceWaterhouse.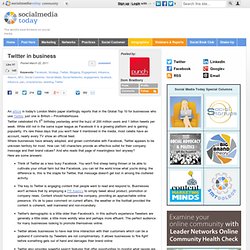 Twitter celebrated it's 5th birthday yesterday amid the buzz of 200 million users and 1 billion tweets per week. While still not in the same super league as Facebook it is a growing platform and is gaining popularity. It's rare these days that you won't hear it mentioned in the media, most celebs have an account, nearly every TV show an official feed. Where businesses have already adopted, and grown comfortable with Facebook, Twitter appears to be unknown territory for most. How can 140 characters provide an effective outlet for their company message and their brand values? How Can you Model Twitter Traffic? Traffic data can be addicting at times. I mean, who doesn't like seeing who is looking at your pages? So, check this out. This is the real time data bit.ly will give you on any bit.ly link. How to Predict the Spread of News on Twitter. Twitter has revolutionised the way millions of people receive news and the type of news they get.
So it's no surprise that there is huge interest in predicting what kind of stories are likely to spread furthest and fastest. One way to make this kind of prediction is to study how a story spreads soon after it is released into the wild. Various groups have shown that this early popularity can be a good predictor of a story's later spread. A couple of years ago, Bernardo Huberman and pals at HP's Social Computing Lab in Palo Alto used this approach to predict the eventual box office revenues based on the rate of tweets about a film soon after it was released. iUnfollow | Twitter Unfollow Tool.
Pharma TWANK (Twitter Rankings) 2011. TWANK. I made it up. Stands for Twitter Ranking. Just before Christmas, I wrote a post that reviewed pharma YouTube channels and assessed how they are doing. There, for the most part, it did not seem that the industry has really grasped how to utilize YouTube very well for the most part. Top Pharma Tweeters: Tracking Pharma's Use of Twitter in Real-Time | ePharma Rx. About a year ago, I published a chart that looked like the one to the right in a post titled "Pharma Finds its Voice on Twitter. " This functional but not-so-pretty graphic featured known pharma companies actively tweeting, their Twitter handle, the date they joined, and the number of following, followers, and updates.
The pharma community response was positive, and everyone seemed to appreciate having a central resource for this type of info. The problem was, of course, that as soon as we compiled the data, it was outdated. Pharma on Twitter: Developing a Presence - a Nexus report. Why Twitter Matters Now in Biotech, and Why Executives Can't Ignore it Anymore. Twitter for Health Campaigns (10 tips)
---