Teknologiat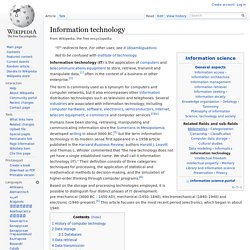 Information technology (IT) is the application of computers and telecommunications equipment to store, retrieve, transmit and manipulate data,[1] often in the context of a business or other enterprise.[2] The term is commonly used as a synonym for computers and computer networks, but it also encompasses other information distribution technologies such as television and telephones.
Main Page - FISMApedia
Category:CNSSI 4009 Terms - FISMApedia
An introductory overview of Linked Open Data in the context of cultural institutions. Clear labeling of the licensing terms is a key component of Open data, and icons like the one pictured here are being used for that purpose.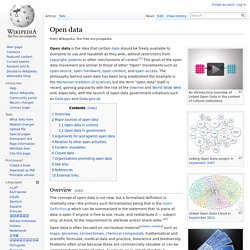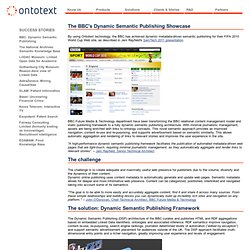 By using Ontotext technology, the BBC has achieved dynamic metadata-driven semantic publishing for their FIFA 2010 World Cup Web site, as described in Jem Rayfield's SemTech 2011 presentation.
The BBC's Dynamic Semantic Publishing Showcase | Ontotext
BBC SPORT | Football | World Cup 2010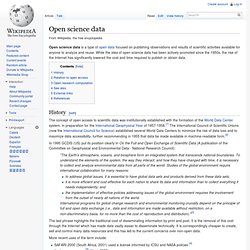 Open science data
Open science data is a type of Open data focused on publishing observations and results of scientific activities available for anyone to analyze and reuse. While the idea of open science data has been actively promoted since the 1950s, the rise of the Internet has significantly lowered the cost and time required to publish or obtain data. History[edit]
Open Data Challenge
Engaging in neighborhood change is empowering! Plan In A Box provides a one-click toolbox for city staff to promote projects and gather input with effective websites. Learn More…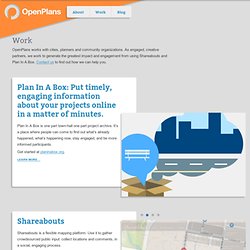 Projects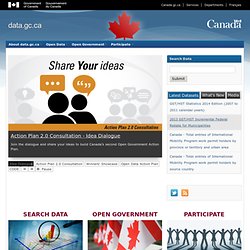 The Open Data Pilot is part of the Government of Canada's commitment to open government, which is being pursued along three streams: open data, open information and open dialogue, and aims to drive innovation and economic opportunities for all Canadians. The Open Data Pilot seeks to improve the ability of the public to find, download and use Government of Canada data. You are invited to search the catalogue, download datasets and explore the possibilities of Open Data.
BioPAX.org
Helsinki Region Infoshare | Avoin seudullinen tieto
OS OpenData™ offers a wide range of digital map products which you can freely view or download, for use in both personal and commercial applications. Coverage Small scale - national
OS OpenData - Ordnance Survey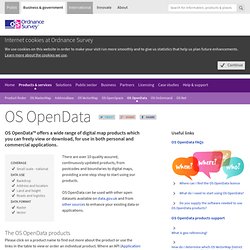 Yhdistetty avoin tieto Suomessa -- Linked Open Data in Finland - Semantic Computing Research Group (SeCo)
Tiistai 5.4.2011, Aalto-yliopisto, TUAS-talo, sali TU2, klo 12:15-16:05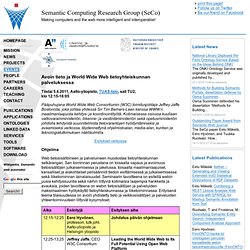 Vaalilupausarkisto
Tarinahaku
Etusivu | KAMU
Yhdistetty avoin tieto Suomessa -- Linked Open Data in Finland - Semantic Computing Research Group (SeCo)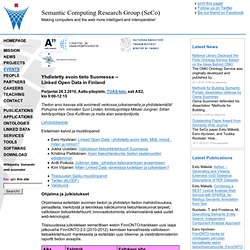 Perjantai 26.3.2010, Aalto-yliopisto, TUAS-talo, sali AS2, klo 9:00-12:15 Tiedon arvo kasvaa sitä avoimesti verkossa julkaisemalla ja yhdistelemällä! Puhujina mm. ministeri Suvi Lindén, toimitusjohtaja Mikael Jungner, Sitran kehitysjohtaja Ossi Kuittinen ja muita alan asiantuntijoita.
Helsinki Region Infoshare | Avoin seudullinen tieto
Forum Virium Helsinki |
Today, a story on Techmeme caught our eye. It was entitled "We Need a Wikipedia for data," and the article, written by X-Googler Bret Taylor, discussed the difficulty of finding open data sets on the internet, something which could spur innovation, allowing programmers to build new applications the likes of which have never been seen before. What was interesting about this story, in addition to, obviously, the concept of a Data Wiki itself, was the amazing and insightful commentary around this concept, not just on the blog, but all over the net, something which led to the discovery of some pretty good data sources that are already available. In Bret's story, he mentioned some of the common data sources currently available, like the US Census Bureau's map data and the Reuters corpus, but his commenters came up with a few more. (See? This is why blog comments matter).
Where to Find Open Data on the Web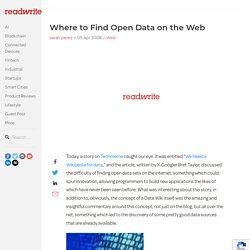 Finnish Open Data Ecosystem
Open Data Group | Open Data builds predictive models over big data.
Datajournalismin päivä 29.9. Tampereella
Patenting VisiCalc
Why didn't we patent the spreadsheet?