SOFTWARE
Get flash to fully experience Pearltrees
Update : We fixed a couple more problems with the Windows binary distribution. The download file has been updated. Our apologies! Version 0.1.1 also contains a new component for a location sensor. In the 90s, a big company from up north was extremely successful with a dialect of the programming language BASIC (acronym for Beginner's All-purpose Symbolic Instruction Code). One of the reasons it was so successful was that the language was easy to learn and use.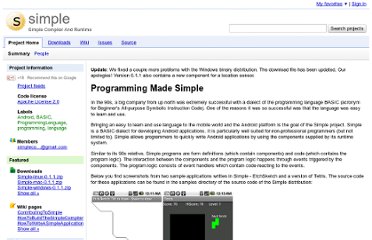 3D Graphics: 3Delight Free - http://www.3delight.com/index.htm Anim8or - http://www.anim8or.com/ Aqsis - http://www.aqsis.com/ Blender - http://www.blender3d.org/ Houdini (Free Edition) - http://www.sidefx.com/apprentice/index.html Now3D - http://digilander.libero.it/giulios/Eng/homepage.htm OpenFX - http://www.openfx.org POV-Ray - http://www.povray.org/ SOFTIMAGE|XSI EXP - http://www.softimage.com/products/exp/v3/ Terragen - http://www.planetside.co.uk/terragen/ Toxic - http://www.toxicengine.org/ Wings 3D - http://www.wings3d.com/ Anti-Virus: a-squared - http://www.emsisoft.com/en/software/free/ AntiVir - http://www.free-av.com/ Avast - http://www.avast.com/i_idt_1018.html AVG - http://free.grisoft.com/ BitDefender - http://www.bitdefender.com ClamWin - http://www.clamwin.com/
Mohawke's Best of the Best Free and Open Source Software Collection from Dark Artistry :: Windows :: Macintosh :: Internet :: Operating Systems :: Games :: Web-Sites :: OSSWIN CD :: For search features you can simply use the search feature in your browser; Ctrl+F or Apple+F - Firefox, or use table tools If you need these pages translated check out FoxLingo (This page contains no ads or cookies, but does require a javascript enabled browser for sorting.) Access <p style="text-align:right;color:#A8A8A8"></p>
Your Android phone may be the best hardware on the market, but everyone knows it's the apps that help you make the most of your Android device—whether it's brand new or a few years old.
3D Modeling
Posted on Tuesday 27th of September 2011 at 13:05 in Software It has always amazed me quite how many incredible, varied and useful applications are available for free on the Internet.
Antivirus Tools Avira AntiVir Personal (18-10-2012) Free anti-virus and anti-spyware on-demand scanner, detects and removes more than 50000 viruses and trojans.