Psychology
8 Things Everybody Ought to Know About Concentrating. "Music helps me concentrate," Mike said to me glancing briefly over his shoulder.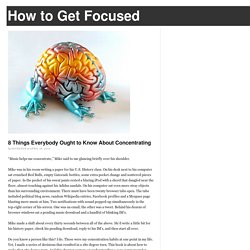 Mike was in his room writing a paper for his U.S. History class. On his desk next to his computer sat crunched Red Bulls, empty Gatorade bottles, some extra pocket change and scattered pieces of paper. Test Yourself - Offering Psychological Tests, Personality Tests, IQ Tests, Emotional IQ Tests, Relationship Tests and Career Tests. University of Miami, Psychology. Graduate Self-Report Measures Available: All of these scales are being made available here for use in research and teaching applications.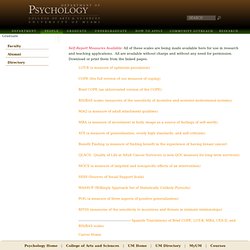 All are available without charge and without any need for permission. PickTheBrain | Motivation and Self Improvement. :: Authentic Happiness :: Using the new Positive Psychology. Psychology Team. Martin Seligman on positive psychology. The Ten Most Revealing Psych Experiments. Psychology is the study of the human mind and mental processes in relation to human behaviors - human nature.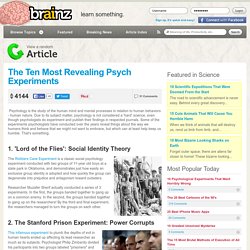 Due to its subject matter, psychology is not considered a 'hard' science, even though psychologists do experiment and publish their findings in respected journals. Some of the experiments psychologists have conducted over the years reveal things about the way we humans think and behave that we might not want to embrace, but which can at least help keep us humble. That's something. 1.
Personality Tests. Top 10 Thinking Traps Exposed. Our minds set up many traps for us.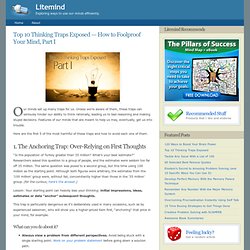 Unless we're aware of them, these traps can seriously hinder our ability to think rationally, leading us to bad reasoning and making stupid decisions. Features of our minds that are meant to help us may, eventually, get us into trouble. Here are the first 5 of the most harmful of these traps and how to avoid each one of them. Psychology studies relevant to everyday life from PsyBlog.
---