Art
Silk – Interactive Generative Art. 424299784_300069_paul-himmel.jpg (JPEG Image, 640 × 479 pixels) Natsumi Hayashi: Levitating Self-Portraits. Photographer Natsumi Hayashi has an inspiring diary of self-portraits capturing her levitating(in the moment that is).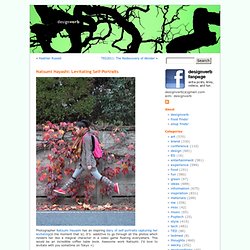 It's addictive to go through all the photos which renders her like a magical character in a video game floating everywhere. This would be an incredible coffee table book. Awesome work Natsumi. Wall.jpg (JPEG Image, 960 × 624 pixels) Sculptures Popping Out of Paintings. Oh, to have been in Tokyo in June!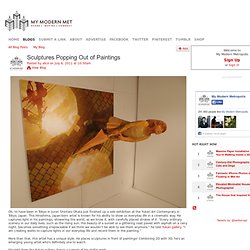 Shintaro Ohata just finished up a solo exhibition at the Yukari Art Contemprary in Tokyo, Japan. This Hiroshima, Japan-born artist is known for his ability to show us everyday life in a cinematic way. He captures light in his paintings, showering the world, as we know it, with carefully placed strokes of it. "Every ordinary scenery in our daily lives, such as the rising sun, the beauty of a sunset or a glittering road paved with asphalt on a rainy night, becomes something irreplaceable if we think we wouldn't be able to see them anymore," he told Yukari gallery.
"I am creating works to capture lights in our everyday life and record them in the painting." Sculpture in the Gibbs Farm. Source: link Gibbs Farm is an unusual setting for a sculpture collection.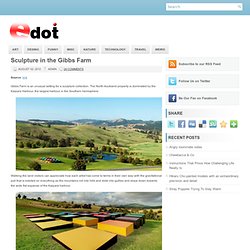 The North Auckland property is dominated by the Kaipara Harbour, the largest harbour in the Southern hemisphere. Street Art Utopia's Best of 2011. I couldn't help but direct everyone to fellow public art loving blog Street Art Utopia as they have compiled a pretty decent list of the best street art of 2011.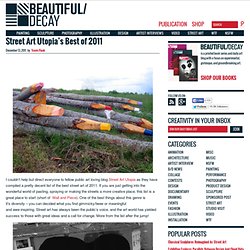 If you are just getting into the wonderful world of pasting, spraying or making the streets a more creative place, this list is a great place to start (short of Wall and Piece). One of the best things about this genre is it's diversity – you can decided what you find gimmicky/twee or meaningful and awe-inspiring. Street art has always been the public's voice, and the art world has yielded success to those with great ideas and a call for change. Judith Ann Braun's Fingers Are Magical. With an art career spanning more than three decades, Judith Ann Braun has tested the limits of her artistic musculature.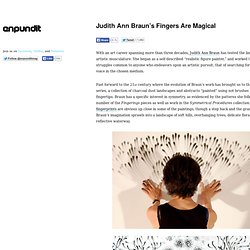 She began as a self-described "realistic figure painter," and worked through the struggles common to anyone who endeavors upon an artistic pursuit, that of searching for one's own voice in the chosen medium. Fast forward to the 21st century where the evolution of Braun's work has brought us to the Fingerings series, a collection of charcoal dust landscapes and abstracts "painted" using not brushes but her fingertips. Braun has a specific interest in symmetry, as evidenced by the patterns she follows in a number of the Fingerings pieces as well as work in the Symmetrical Procedures collection. Her fingerprints are obvious up close in some of the paintings, though a step back and the grandeur of Braun's imagination sprawls into a landscape of soft hills, overhanging trees, delicate florals, and a reflective waterway. Paper_mosaic_octopus_by_chronoperates-d4i27ze.jpg (JPEG Image, 900 × 1350 pixels) - Scaled (41.
眼技_来自櫻桃小丸子的图片分享. Nighthwk.jpg (JPEG Image, 1234 × 673 pixels) - Scaled (85%) Book Of Art. Tinymediaempire. 45 Awesome Abstract Textures. Finding that perfect texture for your design can be quite the search, and also quite time consuming.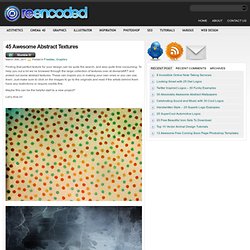 To help you out a bit we've browsed through the large collection of textures over at deviantART and picked out some abstract textures. These can inspire you in making your own ones or you can use them. F E R I C. - STREET ART UTOPIA. More info.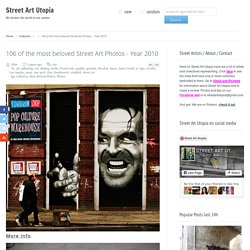 More info. More Banksy on streetartutopia.com. Quick hand-legs-foot tutorial by `Hellobaby on deviantART. MAIN : Marion Bolognesi. The drawings of Leonardo da Vinci. Yarn meets potholes: a different kind of street art.
Koalas to the Max dot Com. Neonflames. Art1. Art from melted crayons.
---