Gypze
Jake
I like video games, being tall, and most anything else.
Dr. Oz Talks About Confronting Death. Whose Line is it Anyway? What Does Your Body Language Say About You? How To Read Signs and Recognize Gestures - Jinxi Boo - Jinxi Boo. Art by LaetitziaAs we all know, communication is essential in society.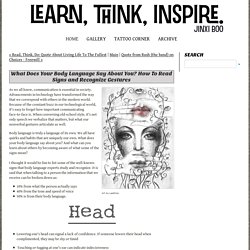 Advancements in technology have transformed the way that we correspond with others in the modern world. Because of the constant buzz in our technological world, it's easy to forget how important communicating face-to-face is. When conversing old-school style, it's not only speech we verbalize that matters, but what our nonverbal gestures articulate as well. Body language is truly a language of its own. We all have quirks and habits that are uniquely our own. The Music Maze. Bay 12 Games: Dwarf Fortress. 09/23/2012 Been toying around with the trees.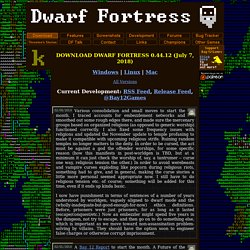 I've been working with one set of rules for growing them so far, but I'll be expanding the parameters and pictures soon (for pines, saguaros, tower caps, etc). In the meantime here are some preliminary images. Issues include grass not being dry below trees, branches looping when they shouldn't, 48x48 boundaries being too visible, crowns hitting other artificial boundaries, and so on, but it is going okay so far. Kotaku, the Gamer's Guide. Breathe. | zen habits. Video: - Obvious Winner. PsyBlog. Damn You Auto Correct! 100 Inspirational Quotes. Inspirational Quotes by Henry David Thoreau 1.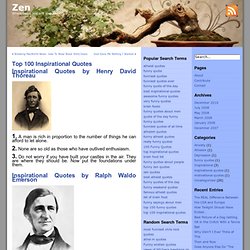 A man is rich in proportion to the number of things he can afford to let alone. 2. None are so old as those who have outlived enthusiasm. 3. "Seven Blunders of the World" by Mahatma Gandhi. Toss a Coin. Jim Jarmuch Quote. 40 Belief-Shaking Remarks From a Ruthless Nonconformist | Raptitude.com. If there's one thing Friedrich Nietzsche did well, it's obliterate feel-good beliefs people have about themselves.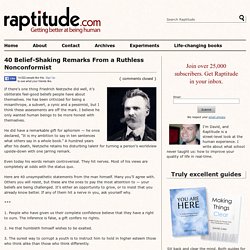 He has been criticized for being a misanthrope, a subvert, a cynic and a pessimist, but I think these assessments are off the mark. I believe he only wanted human beings to be more honest with themselves. He did have a remarkable gift for aphorism — he once declared, "It is my ambition to say in ten sentences what others say in a whole book." 32 Keys: About life. Steal.jpg (JPEG Image, 400x522 pixels) Giant Bomb. Can You Run It.
---