Viral
Best viral of the week
Mixtaroute & Willaxxx - Episode 2 : Bouche-Man
Call of Duty Time - Tea Time
Le Chat - YouTube
Greg from Paris | Best viral videos of the week
Most Shared Ads Of 2013 - So Far: Top 20 Videos
Best viral videos of the week
Glamour sur Dailymotion
Help CaseStudy on Vimeo
Become a blind person - #gamification #integratedmarketing You are blind from Vlad Sitnikov on Vimeo . The Instragram Menu - #instagram #cleveridea Darth Vador at Disney #advertising #funny Saw a lot of content about Disney buying Georges Lucas films but this one is pretty funny An Unexpected Briefing - air newzeland #viral #toolong It's a long movie but still quite funny.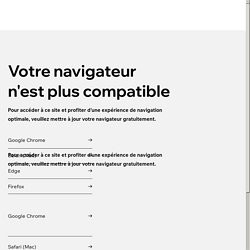 Best #viral videos of the week
Best viral videos of the week
Best viral videos of the week
Contrex - MaContrexpérience saison 2
Best viral videos of the week
viral advertising
BEST DIGITAL CAMPAIGNS 2011 by gregory pouy
World Gone Sour (The Lost Kids) - OFFICIAL VIDEO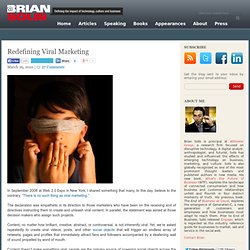 Redefining Viral Marketing
In September 2008 at Web 2.0 Expo in New York, I shared something that many, to this day, believe to the contrary, " There is no such thing as viral marketing ." The declaration was empathetic in its direction to those marketers who have been on the receiving end of directives instructing them to create and unleash viral content. In parallel, the statement was aimed at those decision makers who assign such projects. Content, no matter how brilliant, creative, abstract, or controversial, is not inherently viral. Yet, we're asked repeatedly to create viral videos, posts, and other social objects that will trigger an endless array of retweets, pages and profiles that immediately attract fans and followers accompanied by a deafening wall of sound propelled by word of mouth. Content doesn't make something viral; people are the primary source of powering social objects across the attention nodes that connect the human network .
OFFICE OF ROAD SAFETY
Broken Fingaz -Graffiti Stop Motion on Vimeo