Infographic egs
Get flash to fully experience Pearltrees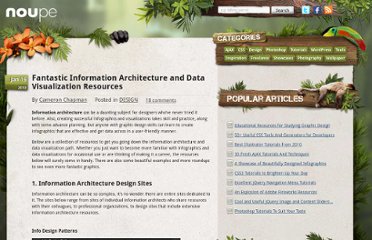 Jan 15 2010 Information architecture can be a daunting subject for designers who've never tried it before. Also, creating successful infographics and visualizations takes skill and practice, along with some advance planning.
Geo-location was a hot topic in 2009. With so many applications on GPS-enabled smartphones, more maps than ever were accessible to the average person. But how can Web designers and developers take advantage of an increasingly location-aware user base?
Data visualizations and infographics can make complex datasets easier to understand and comprehend.
Information graphics or infographics are visual representations of information, data or knowledge.